NEAR NORTH SIDE — Migrants at one North Side police station spent most of Wednesday outside as brutal temperatures and humidity bore down on the city.
Mixed messages had asylum seekers at the Near North (18th) Police District station, 1160 N. Larrabee St., hanging outside the station throughout the day, despite a two-day heat advisory warning and a heat index of 116 degrees on Wednesday, migrants and volunteers said.
While people were allowed to go inside for temporary relief, to use the restrooms or get food, they were told they had to stay outside the station from 8 a.m.-8 p.m., a Police Department protocol that's been in place for months, said volunteer Denise Alberts, who has been donating daily supplies to the migrants.
Mary Mary, a city spokesperson, said in a statement asylum seekers sheltering at police stations are allowed inside all day to get relief from the heat. Migrants and volunteers contradicted that.
A police officer said the station received no communication from the city on allowing migrants to stay inside all day but called the situation inhumane. He said it's normal the migrants stay outside for most of the day but could not answer specifics about the department protocol.
A police spokesperson referred questions to the city.
Inez, a migrant from Venezuela staying at the station, also said it's understood they can be inside from 8 p.m.-8 a.m. and sleep inside, but need to be outside during the day so the station can be cleaned and officers have space to do their work and make reports. They were not told otherwise Wednesday.
"We go in at 8 p.m., and at 8 a.m., you go back outside," Inez said in Spanish. She did not want to give her last name.
Lying on a mattress outside the station Wednesday, Inez said the police officers were respectful and kind, but she wishes she could be inside all day. Neighbors and volunteers brought migrants cold water, ice and other supplies to try to stay cool.
"The heat is horrible …. it's the hottest I've ever experienced," she said. "People have been really generous in bringing us water, ice and cold fruit."
About 20 migrants were seen outside the North Side station Wednesday, some dousing their bodies with water and others sitting under trees in the shade folding clothes or listening to music.
Alberts said she saw about 85 migrants outside the station that morning, including children. By early afternoon, many were gone and had been taken to a local church to get respite from the heat. It wasn't immediately clear where the migrants went or who helped them move.
Police "kick them out everyday; that's not new, but it's too hot — they can't be outside now," Alberts said.
Rosa, another migrant at the station who also didn't want to share her last name, said volunteers have brought copious amounts of water for those staying at the station.
"It's too hot out here … but we have plenty of water," Rosa said.
Just then, she jogged towards a car that stopped on the side of the road to drop off more water and ice for the migrants, which they took with open arms.
Missy Marren, who lives in the area, was driving by the station on her way back from Target but went back to buy water and fresh fruit for the migrants after seeing them outside.
"It's a sh**ty situation [and] it's so hot out here … They did not choose to be here, especially kids," Merren said.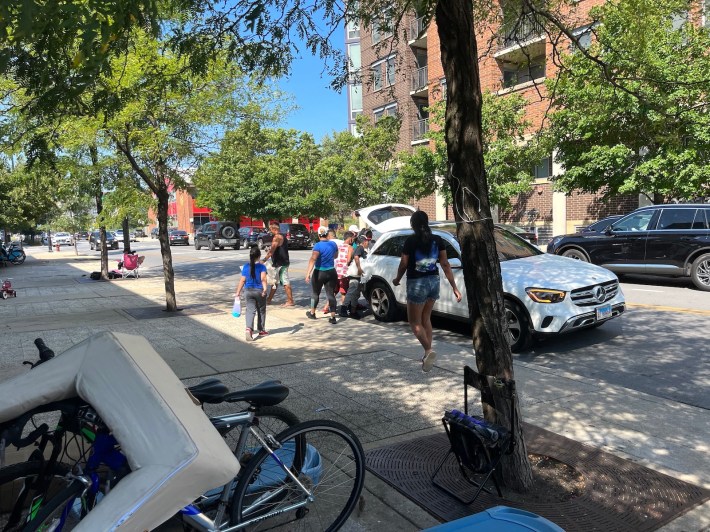 Asylum seekers also have access to the cooling centers throughout the city, and volunteers with the Greater Chicago Food Depository and the city are also providing water for individuals at police stations, May said.
The closest local building operating as a cooling center would be the field houses at Seward Park, 375 W. Elm St., and Stanton Park, 618 W. Scott St.
However, many migrants fear leaving the police station. Inez said she doesn't want to risk leaving or going too far in case a bus comes to take her to a respite center or shelter.
For months, migrants have waited at police stations until buses come without warning to move them to a space with showers and actual beds.
"We will be here until we get picked up for a shelter," Inez said. "Once it gets cold though, it will be worse."
Another woman from Ecuador, who didn't want to give her name, said in Spanish the heat reminds her of the temperatures back home, but the recent heat wave is worse than she's used to, she said.
She arrived with her four children five days ago but luckily, they were enrolled into a nearby Chicago Public School so they have access to air conditioning, she said.
"It's better for them there than here because they have access to air conditioning," she said. "It's much nicer and better for them than staying here."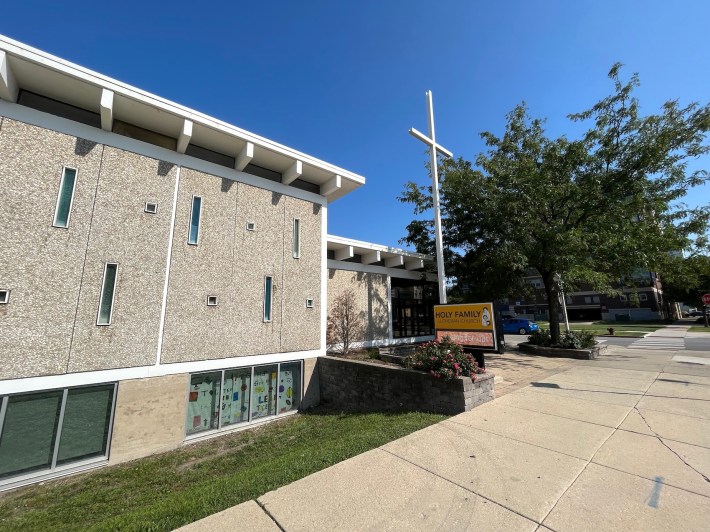 Over 13,000 asylum seekers have arrived in Chicago since last summer, when Texas Gov. Greg Abbott and other Republican governors near the border started sending asylum seekers to Democratic-led cities in protest of federal immigration laws.
Many migrants arriving in Chicago on buses are from Venezuela, which has struggled with political upheaval and an economic crisis resulting in severe food and medicine shortages, surging inflation, rising unemployment and violent crime. 
The demand for help has strained an already overloaded city shelter system, forcing hundreds of people to sleep on police station floors and in city-run shelters where some say conditions are concerning.
The North Side migrants may get some heat relief soon and have a more dignified place to eat and do homework for those in school.
Holy Family Lutheran Church at 542 W. Hobbie St., a block away from the station, plans to open its doors to migrants from the station 9 a.m.-2 p.m. daily starting Thursday, said Vince Carter, executive director of Project Education Plus, an educational nonprofit run out of the church.
The church and its partners welcomed migrants in the spring but not summer, because it was home to a summer camp for children, Carter said. Now that students are back in school, the church plans to host migrants during the day and offer a break from the heat.
Migrant children attending nearby schools will also be able to use the facilities in the afternoons to do homework, along with the church's other kids participating in its after-school programs, Carter said.
"The kids staying over there that are going to school, they can come and we welcome them with the regular kids as long as there's somebody that speaks Spanish," Carter said.
Watch our "On The Block" TV show on The U, CW26 and MeTV.
Listen to "It's All Good: A Block Club Chicago Podcast":