NORTH LAWNDALE — A popular Mexican bar and restaurant in North Lawndale was closed by city officials this month after inspectors reported electrical and other building code violations at the business.
La Antigua Sports Bar and Grill, a nearly 300-person capacity restaurant that hosts live entertainment at 2249 S. Pulaski Road, was shut down by the city Aug. 11 after failing a building inspection the day prior, according to city building records.
The inspection was requested by the Chicago Police Vice Squad following a shooting at La Antigua 10 days earlier, according to city building records.
Building inspectors toured La Antigua and found it had a single, inoperable smoke detector in the facility, emergency lights that were out of order and there was exposed electrical wiring, according to building inspection records.
Flammable gases were found to be stored about six inches from open flame cooking tops, an "extreme explosion hazard," one building inspector noted. The kitchen was also found to have no fire extinguisher.
Inspectors also found issue with La Antigua's performance stage, citing the business for not having a banister on the four steps leading up to the stage, records show. An exit door near the stage was found to be locked and was not clearly marked "exit," in violation of city building codes.
La Antigua received a building permit Aug. 16. to fix the issues, including installing new smoke and carbon monoxide detectors, adding new emergency lights, installing new outlets to eliminate the use of extension cords, shoring up exposed cables on the building's exterior and adding new exit signs, city records show.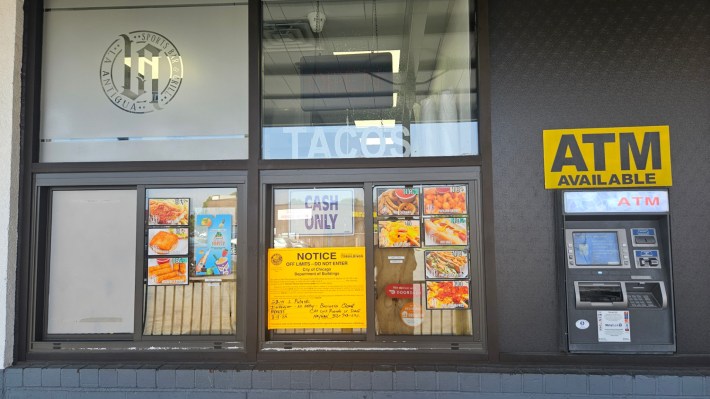 The owners of La Antigua have resolved the issues noted by inspectors and are waiting on a follow-up inspection to reopen, according to the buildings department.
La Antigua also failed a health inspection in November, public records show. Inspectors found a build up of debris in a drain in the kitchen and the lack of a splash guard between the hand-washing sink and the food preparation sink, among other issues. The business passed a re-inspection in late November, records show.
The restaurant was opened April 2017 as La Antigua Hacienda Seafood Restaurant, according to social media posts. It continues to specialize in Mexican food, seafood and live mariachi performances.
The bar became La Antigua Sports Bar And Grill after extensive renovations to the interior and exterior in 2021 to present a nightclub feel to the establishment.
The restaurant has been frequented earlier this year by Chicago rap star G Herbo and U.S. Rep. Chuy Garcia during his run for mayor.
Watch our "On The Block" TV show on The U, CW26 and MeTV.
Listen to "It's All Good: A Block Club Chicago Podcast":