EAST GARFIELD PARK — A former underground rapper-turned-chef is remaking a classic Chicago food and hoping to set a trend for the city's food scene in Garfield Park.
Kevin "K-Smoove" Woodard opened KS'Sandwiches, 2912 W. Madison St., in June. Its signature item is an 8-inch turkey sandwich topped with garlic mustard and cheddar cheese that's served on a French roll soaked in au jus. It costs $12.
Think Italian beef, but with turkey.
Another version of the sandwich, which costs $15, adds a turkey sausage link. Hot, mild or sweet peppers can be added for an extra cost, with water, soda and chips available, as well.
Always wanting to open a sandwich shop, Woodard said he wanted to innovate on the classic Chicago sandwich and create another one the city could be known for.
"When you go anywhere else in the world and ask for a Chicago style hot dog? They already know what to do, they already know what to put on it," Woodard said. "That's what I want to do with my sandwiches. When you come here, you know get healthy, consistent quality."
Born and raised in Garfield Park, Woodard rapped as K-Smoove in the mid-'90s when the Chicago hip hop scene was first establishing its sound and presence nationally.
According to Discogs.com, Woodard's first appearance on a record dates back to 1989 with a group called The Village Crew. He released albums from 1995 until 2002, even releasing songs with Chicago group Do Or Die of "Po Pimp" fame.
Crediting his grandmother and aunt for his love of cooking, he worked in food service during his early rap career and started as a line cook and inventory specialist for Oak Park Hospital.
Once Woodward realized his talent for cooking would take him further than his rap career, he became a full-time private chef while still releasing music occasionally, he said. He never wanted to open a full-scale restaurant, but Woodard has long liked the idea of opening a sandwich shop modeled after Vienna Beef, with a limited menu revolving around a signature item, he said.
With Italian beef as the inspiration, Woodward chose shaved turkey for the sandwich as a way to do something different, he said. It took around 15 tries to nail the garlic mustard cheddar sauce, getting feedback from family and friends on the best flavors to complement the turkey, Woodward said.
Woodard bought the two-story Madison Street building where his restaurant resides in 2018. Previously the site of Lu Lu's Private Social Club, Woodard opened a private event space called FlavaLuxx, where people could host parties or organize sports watching events.
But the pandemic delayed his plans to begin the sandwich shop until this summer, he said.
The restaurant is along the side of the Madison Street building with picnic tables stationed outdoors. Food is served out of a black shed in the back of the space.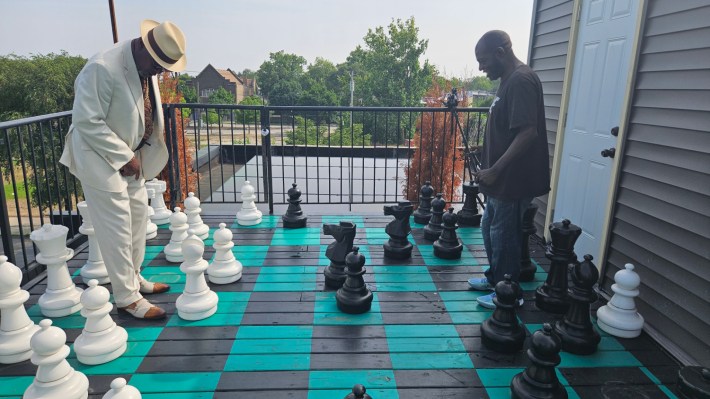 Though the business has only been operating for about two months, Woodard said the reception has been positive and encouraging from the community he grew up in.
"I want to keep the same flavor that my grandma had when cooking without the bad habits that she had, as well," Woodard said. "Our people are always known for making something out of nothing."
True to Woodard's love of hip hop culture, the music playing from speakers features an array of 90's hip hop classics.
A chess fan, Woodard also has multiple spots for playing chess, including a large chess game on top of the building next to the shed.
A mural on the side of the building, titled "Matter," features several groups, occupations and affirmations about those making a difference in their communities, such as LGBTQ+ people, paramedics, veterans, mental health, respect, family, and more. A reflective mirror-like surface appears next to the words "you matter."
"I wanted to give a space that shows everyone matters," Woodard said. "I want children to look in this mirror and know how much they really matter to each other and themselves."
KS'Sandwiches is open 11 a.m.-7 p.m., Fridays and Saturdays.
Watch our "On The Block" TV show on The U, CW26 and MeTV.
Listen to "It's All Good: A Block Club Chicago Podcast":