GRAND BOULEVARD — City officials are rebuffing rumors that a South Side park field house will be the latest city building converted into an emergency shelter for migrants.
Bronzeville parents and organizers told Block Club that Taylor Park staff mentioned in July that current programs at the field house, 39 W. 47th St., would be canceled to prepare the site for migrant housing.
Though there was no official directive issued by the Chicago Park District, word spread throughout the neighborhood and program instructors were left to find space elsewhere, neighbors said they were told.
"I was inquiring about a boxing program, and I was told by staff that the field house was closing July 31," said Marjani Williams, a Taylor Park parent who is vice president of the Ellis Park Advisory Council.
Fellow Taylor Park parent Tricey Robinson said she was on a walk-through of the facility for the annual festival she co-organizes when staff informed her of the news.
Williams said one program that offered music instruction for students, Intonation Music Workshop, moved operations to another park after the announcement. The program has been popular for years, she said.
"We came to understand there were plans to close Taylor Park, but the alderman and folks in the community were pushing back," Williams said.
Former Robert Taylor Homes resident Richard Morgan, who has run the youth basketball program Small Ball United out of Taylor Park for 30 years, said he'd heard rumblings about the plan last summer. Nothing happened, however, so Morgan didn't think anything of it.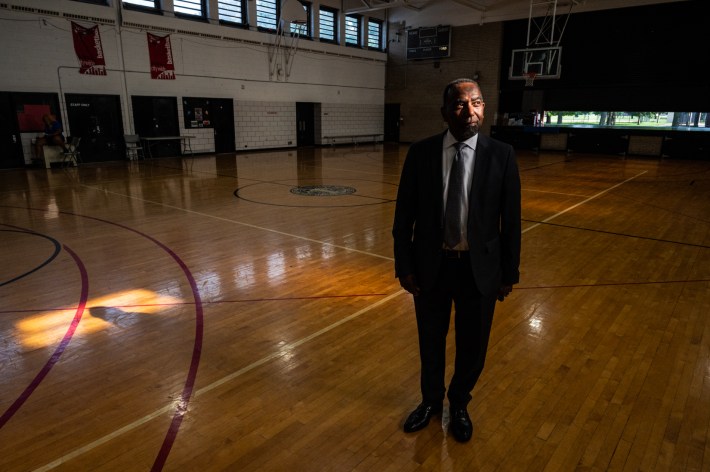 The rumblings returned last month, accompanied by rumors of canceled programming. That's when Morgan, the vice president of the park's advisory council, began to worry, he said.
"For a lot of these kids, this is where they come. They can't go across the bridge because then it's a problem, if they go way east, it's going to be a problem. They've got to have someplace to go," said Morgan.
Ald. Pat Dowell (3rd), whose ward includes Taylor Park, said her office has repeatedly told neighbors the news is not true.
The alderwoman met with neighborhood organizers earlier this month to "tell them Taylor Park was not an option and that I am not in favor of this location," Dowell told Block Club in an email.
A member of her staff then met with neighbors at an Aug. 3 community meeting to say the same thing, Dowell said.
After those initial denials, Williams and Robinson said they were told by Sara Mathers, the city's first deputy mayor of city engagement, at another community meeting Aug. 15 that the site was still being considered as a potential center, just "further down the list."
Asked about that, Dowell reiterated that Taylor Park "was not an option."
"There are no plans to turn Taylor Park into a migrant shelter," Dowell said in an email to Block Club Aug. 16.
Chicago Park District spokesperson Michele Lemons also said Taylor Park programs have not been canceled and will continue as scheduled. The field house was open at its regular times Monday. A staffer who answered the phone said they did not have any information about the migrant shelter, but that "parents can still come and sign up" for fall programs.
Mary May, spokesperson for the city's emergency management department, told Block Club in a statement the field house was a potential site but is no longer being considered.
The city "will continue to identify potential shelter locations on city-owned property as well as other options to open new shelters," May said.
Over 13,000 asylum seekers have arrived in Chicago since last summer, when Texas Gov. Greg Abbott and other Republican governors near the border started sending asylum seekers to Democratic-led cities in protest of federal immigration laws.
Many migrants arriving in Chicago on buses are from Venezuela, which has struggled with political upheaval and an economic crisis resulting in severe food and medicine shortages, surging inflation, rising unemployment and violent crime. 
The demand for help has strained an already overloaded city shelter system, forcing hundreds of people to sleep on police station floors and in city-run shelters where some say conditions are concerning.
Some neighbors aren't entirely convinced by claims the field house is off the table.
There are plans to hold an additional meeting on the issue Aug. 29. Fliers from the Lugenia Burns Hope Center are posted near the field house warning that it was at risk of closing and urging neighbors to contact Dowell and City Hall to oppose any effort to house migrants there.
Part of neighbors' concerns stems from the rollout of the only shelter in the 3rd Ward: a vacant health center in Douglas that was converted into temporary housing in July.
Residents blasted city officials for hosting a community meeting on the shelter less than a day before moving people in, giving neighbors little input on a decision that had already been made.
South Side neighbors also have taken the city to task for poor communication in launching shelters, including in Woodlawn and South Shore. The issue has exposed tensions among residents frustrated that the city has long ignored their demands for better resources in predominately Black neighborhoods.
"There needs to be more transparency, more town hall-type discussions. Just because someone isn't being a 'squeaky wheel' that doesn't mean you don't do the work to figure out what's going on. There are far too many other places that don't affect the youth or the programming that could be utilized," said Morgan.
Morgan, Williams and Robinson say that despite the facility being underfunded for years, the field house has been a safe space and community hub for current and former public housing residents nearby.
"Our kids get the lesser end of the stick. The basketball court over there? Some guys raised money to put in the court so that the other teenage boys could go play," Robinson said. "We shouldn't have to raise money or find resources. We should already be resourced, you know? But we still have to fight or raise money for our communities when other communities don't have any problems with money coming in."
Williams said the city should find a way to help migrants while not adversely impacting neighbors.
"We want to help, and we can't imagine what these people are going through, leaving everything they know to travel here," Williams said. "But we're already stretched in terms of resources, especially for Black children. And the field house isn't even a good site. We can do better than that."
City officials have opened 10 new shelters since Mayor Brandon Johnson took office in May, and many migrants are on a "pathway to independent living," he said in an interview with Block Club on Friday. There are 6,416 new arrivals in shelters, 1,854 of them minors as of Friday, May said.
The mayor declined to say when the city might have a plan for moving people out of police stations. About 891 people in police stations and 114 in O'Hare Airport are still waiting to be placed in shelters, May said.
"I'm still very much committed to removing people from police stations and putting them into more sustainable, suitable shelters," Johnson said Friday. 
Watch our "On The Block" TV show on The U, CW26 and MeTV.
Listen to "It's All Good: A Block Club Chicago Podcast":