LAKEFRONT — Phyllis Keenan does not want this story to be about her.
The story, she insisted, is about the early-morning warriors training for the Chicago Marathon, the parents running with strollers, the older couple who share a tandem, the folks lumbering their way back from injury and the garbage collectors who keep the Lakefront Trail clean for them all.
On one recent morning, Keenan brought the trash guys homemade cookies.
She calls herself "just a quirky old lady who got a bike during COVID."
But Keenan, 73 years old with gusto left to give, has become quite famous for cheering others with a "Woo!" or "Oh yeaaah!" as they zip by.
A small homage to Keenan recently popped up on the trail near Belmont Harbor. "Chicago's…'Woo Lady,'" read the lawn sign with a drawing of a sunrise. "Thank you Phyllis!!!"
The paths of all runners, bikers, speed walkers, dog-walkers, hand-cyclists and tricyclists on the North Side trail lead to Keenan.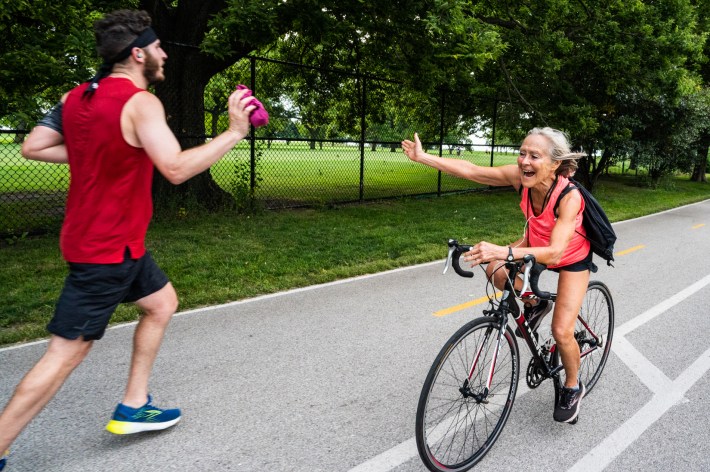 Zipping along the trail, some waved, others raised a triumphant fist and just a few minded their own business as Keenan dished out one after another of her signature encouragements.
By the water fountains near Fullerton Avenue, runner Derek Hahn caught his breath and found Keenan for a big bear hug.
"So much energy," Hahn said. "Any day you're out here and you don't feel up to it, you don't feel your run is going well, and she flys by you screaming 'Woo,' it definitely helps.
"She's a staple."
A roller skater stopped to update Keenan on how she hopes to recover from a hamstring tear by climbing season.
Keenan has gotten to know many of the Lakefront Trail users.
"I know at least a few bikers just named Jeff," Keenan said. "These days, people look back at me and smile. So this is heaven. I like to tell people it's my morning prayer. I want them to feel like they matter."
The retired grade-school teacher from Oak Lawn has a poster above her bed that reads "Rise and Ride."
A four-time Chicago Marathon runner (her first was the famous 2010 race — 10/10/10), Keenan took up biking during the pandemic as a way to get out the house and stay active while putting less stress on her knees.
What she saw were a lot of stressed-out people.
"So I thought if I said hi to them, they'd want to go say hi to someone else," Keenan said. "It all becomes a habit. You roll out of bed and get on your bike."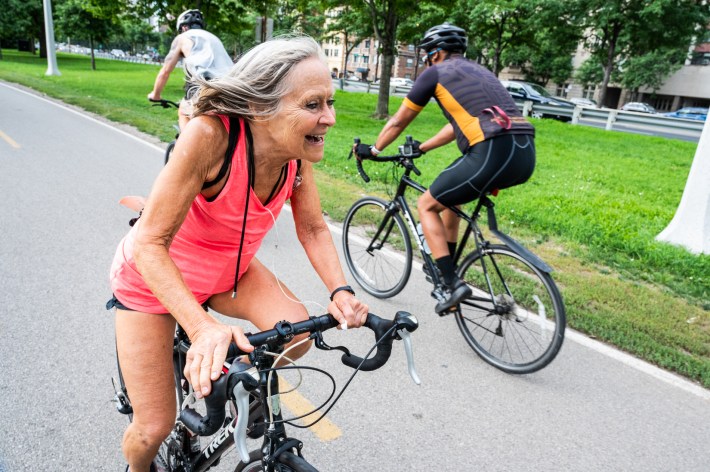 Barely 5 feet tall off her wheels, Keenan would slip past barriers and onto the shuttered lakefront during the city's pandemic lockdown in March 2020. By the third day, "the cops were wooing back at me," Keenan said.
As the crowds came back, she bumped into her former students and her three children's friends, snagged invites to lakefront barbecues and birthdays and became a fan of both the DePaul and Loyola University cross country teams.
"She would bake us cookies every once in awhile," former Loyola runner Riley DeMeulenaere said. "They were always very good."
The Ramblers once invited Keenan to root them on at a meet. Keenan didn't know what to do when DePaul's Blue Demons showed up to compete, too.
"But the good news for me is that I just shout 'Woo!' so I got away with cheering for everyone," Keenan said. "Afterwards they all introduced me to their parents."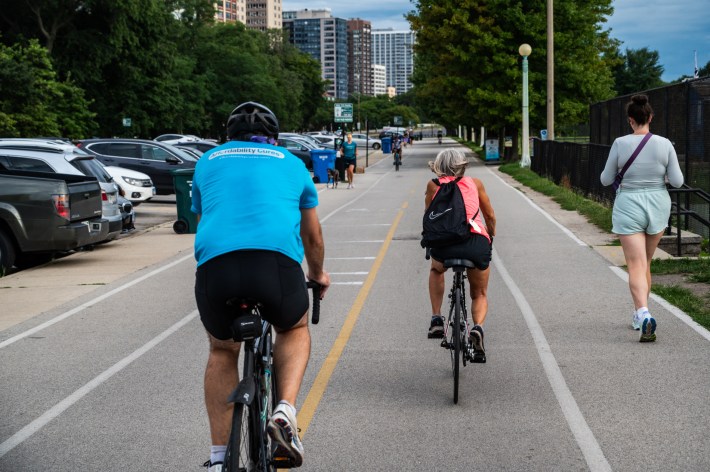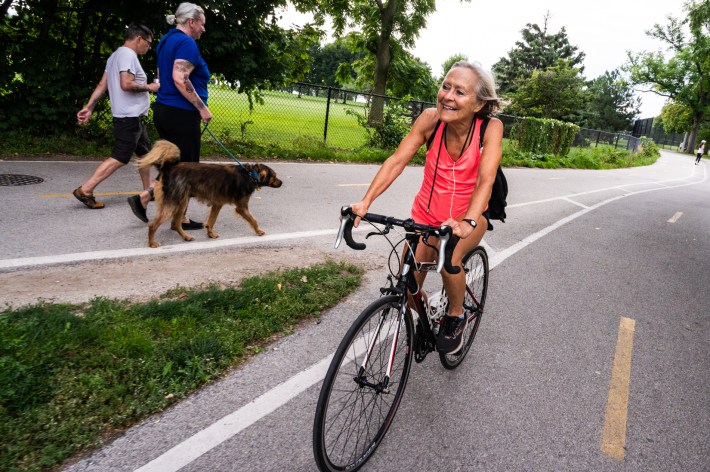 Keenan credits her spirited selflessness to her faith and growing up with four brothers.
About four years ago, Keenan was diagnosed with Guillain-Barré syndrome, a rare neurological disorder. She started feeling numbness and tingling in her toes, which slowly intensified and crept upward — leaving Keenan "pretty much totally paralyzed."
She spent three months of rehab at the Shirley Ryan AbilityLab, "where I had the best time ever," she said.
She learned to walk and talk again, despite her doctors' uncertainty that she would. And she soon trained her way back to climbing the stairs of the Willis Tower in about 30 minutes.
"I need to stay out and keep doing my thing," Keenan said. "I wake up in the morning and I don't want to forget those scars. I'm thankful everyday for everything I've gotten back."
The garbage men hopped off the sides of their truck as Keenan ruffled through her bag for the batch of cookies she'd baked for them. She sometimes lets them know about a spot or two on the trail that could use a little extra love.
"The experiences I've had make me want to be even more compassionate to people," Keenan said. "All we can be is better than yesterday, and not as good as tomorrow."
Watch our "On The Block" TV show on The U, CW26 and MeTV.
Listen to "It's All Good: A Block Club Chicago Podcast":