LINCOLN PARK — Marigrow, the weed company looking to open Lincoln Park's first dispensary, was granted a special use permit Friday allowing for the business to operate.
Marigrow, which runs the Nature's Care dispensary in the West Loop, is looking to turn the former Salt n' Pepper Diner, 2573-81 N. Lincoln Ave., into Ümi, a 4,970-square-foot dispensary.
The company is a majority Black-owned social equity applicant that has presented plans for the dispensary to neighbors over the last two years through two community meetings and 43rd Ward Ald. Timmy Knudsen's newsletter.
The Zoning Board of Appeals voted Friday to approve Marigrow's request for a special use permit that would allow for a dispensary in that location.
Knudsen expressed his support for the proposal because it will fill a long-vacant storefront and includes a plan of operations negotiated between Marigrow and local stakeholders. The Wrightwood Neighbors Association and Lincoln Park Chamber of Commerce have both written letters supporting the project.
"Over the last two years, we have worked to fully vet this proposal and negotiate a plan of operations that makes clear certain commitments the applicant has made to the surrounding community," Knudsen said. "Our support will be tied to this plan of operations."
But the proposal was met with opposition from a group of three neighbors who formed a nonprofit, Neighbors Against A Marijuana Dispensary At 2573-81, Inc. They fought the plans by requesting a continuance until October's Zoning Board of Appeals meeting.
"We just got our answers to the FOIA request, and we need the time in order to take a look at what we've got," said the neighbors' attorney, Michael Rettger.
Rettger said the FOIA request was made last week because his "clients only got recent notice," but Paul Link, the nonprofit's treasurer, later said he attended a June community meeting about the proposed dispensary.
Brian Sanchez, chair of the Zoning Board of Appeals, denied the request for a continuance after deciding the FOIA request was filed late.
Link said he opposed the dispensary because he was concerned it would increase crime in the surrounding area and pose a risk to children walking to and from school.
Saint Clement School, 2524 N. Orchard St., and Alcott Elementary School, 2625 N. Orchard St., are both 2-3 blocks away from the site, although neither falls within 500 feet of the dispensary, which is the required space dispensaries need from schools to operate.
"The applicant is required to have security, and the reason they need security is because there's an increased risk of crime," Link said. "If there's ever a need for that armed security, there may be school children walking by who could be caught in the crossfire."
Sam Toia, one of the zoning board's members, questioned Link's concerns, noting that cannabis dispensaries have been approved near schools in Jefferson Park, Rogers Park and other neighborhoods across the city.
"I have not experienced, seen or heard of any children in crossfires in front of cannabis [dispensaries], so why do you think it's going to happen in Lincoln Park when it's not happening in the South Side, West Side or Far North Side?" Toia asked.
Link said he did not have time to prepare an "exhaustive report" about crime near dispensaries because he was expecting a continuance.
"There may have been [a shooting in front of a dispensary], but neither of us have heard about it," Link said. "If they don't think there's an increased likelihood of crime because that business is there, then why do they need the security?"
Knudsen said the concern about proximity to schools "is not a concern from many members of the community."
"We're very lucky to have many schools in the 43rd Ward, which is a denser area," Knudsen said. "But the applicant has shown good faith and we've had in-depth conversations on making sure the security measure is also not intimidating. And [the dispensary's hours] start after schools open."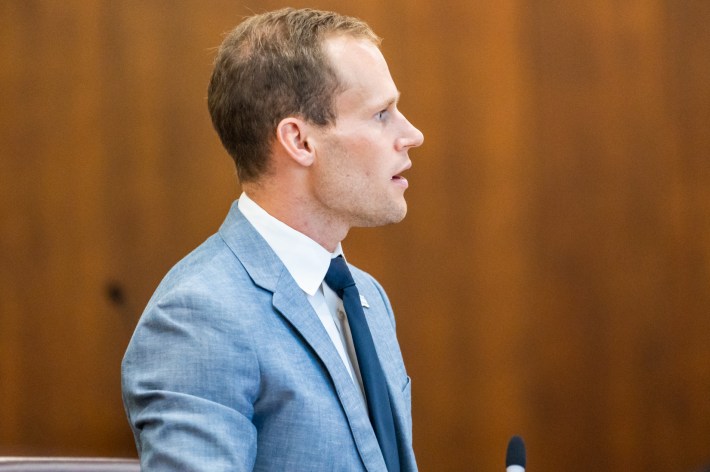 Some neighbors praised the proposal during previous community meetings for bringing more security, lighting and eyes on the street to help with safety.
In its plan of operations, Marigrow has promised to have on-site security officers, cameras, customer ID checks and regular patrols of the premises and surrounding area, including Jonquil Park. These officers would enforce the no-public consumption policy.
"We've gone above and beyond what's required and above the standards of our competitors had to meet to get to this point," said Akele Parnell, CEO and cofounder of Marigrow. "But we're OK with that because we're committed to being the best-in-class operators of our own business."
City Council already approved plans for the dispensary in January. Its new special use permit is the final zoning approval needed to operate, Parnell said. Marigrow still needs construction permits, an occupancy permit and other approvals related to renovation before opening.
Watch our "On The Block" TV show on The U, CW26 and MeTV.
Listen to "It's All Good: A Block Club Chicago Podcast":