JEFFERSON PARK — A new kind of sports competition has Maureen Blake smiling big and packing her bags for an unforgettable week.
Blake, 71, is a longtime Jefferson Park resident and athlete who plays bocce and other sports with Special Olympics Chicago. In over 35 years with the program, she's racked up 35 medals for her athletic achievements.
"I'm pretty good with bocce and I've been getting a few gold medals for bocce," Blake said.
This week, she hopes to add more to her personal Hall of Fame wall at home as she joins other athletes from around the city for the first-ever Golden Games, a Special Olympics Chicago competition paired with social activities to celebrate current and retired Special Olympics athletes ages 45 and up.
"I like competing [and] I like to win," she said. "The Golden Games will be interesting because you meet so many different people … plus we get to stay at a nice Downtown hotel."
In partnership with the Chicago Park District, 150 athletes and coaches from different Special Olympics park fieldhouse teams will have a staycation Downtown and compete in bowling, track and field, basketball skills, softball skills, bocce, fishing, archery and adaptive bicycles.
The Golden Games are Monday-Wednesday and take place at facilities around the city.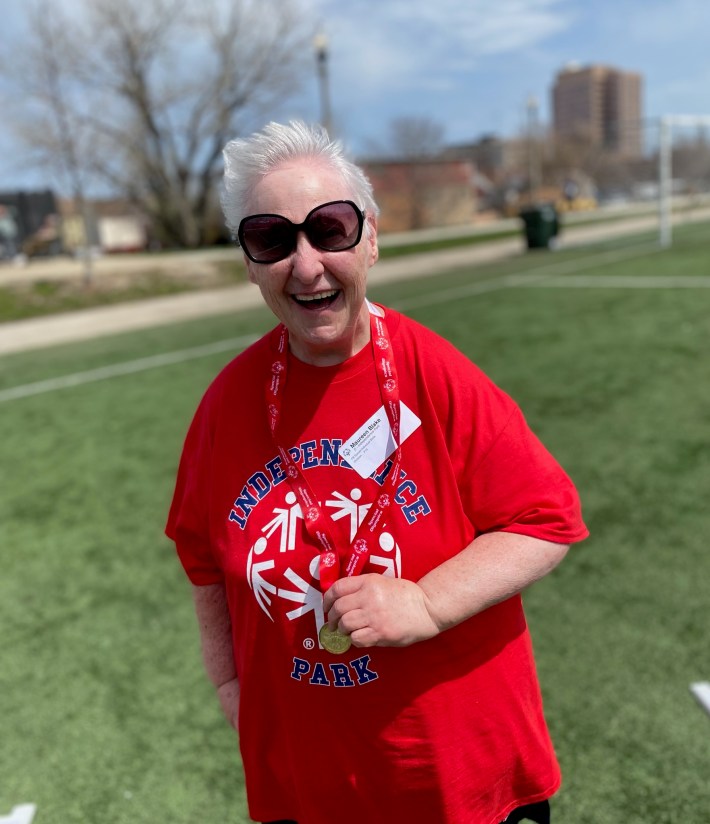 Blake is looking forward to competing in a pickleball match, since the sport has gained popularity in recent years — but she's equally excited for the social activities that will allow her to check some items off her bucket list, she said.
The athletes have a field trip to see a White Sox game, where they will be acknowledged on the big screen, according to a press release.
"I've never been to a Sox game, but I'm excited … but I'm a Cubs fan," said Blake, who wore a necklace with a Cubs logo when interviewed Friday.
The program will also take the athletes on a tour of Northerly Island, another spot Blake has never visited and is excited to see, she said.
"The newly created Golden Games gives us the opportunity to really shine the spotlight on our older athletes in a fun way, where they can gather and enjoy experiences they may not otherwise have the opportunity to do so," Ray Baker, president of the Board of Directors of Special Olympics Chicago, said in a statement.
Marion Blake, Maureen Blake's sister, said she's competitive and the most athletic person in the family. Participating in the Golden Games will further her sports recognition and her talents, she said.
"Just listening to what she's done, I get tired," Marion Blake said. "She is very competitive."
Maureen Blake earned the nickname "Queen of Bocce" years ago from older athletes in the program because of her bocce skills and her 25 gold medals in the sport, she and her sister said.
During regular Special Olympics games, Maureen Blake also competes in track and field, volleyball and basketball skills, she said.
Blake trains at Independence Park, 3945 N. Springfield Ave., where she has become a helping hand and inspiration to younger athletes in the program, she said. The community of athletes is like her second family, she said.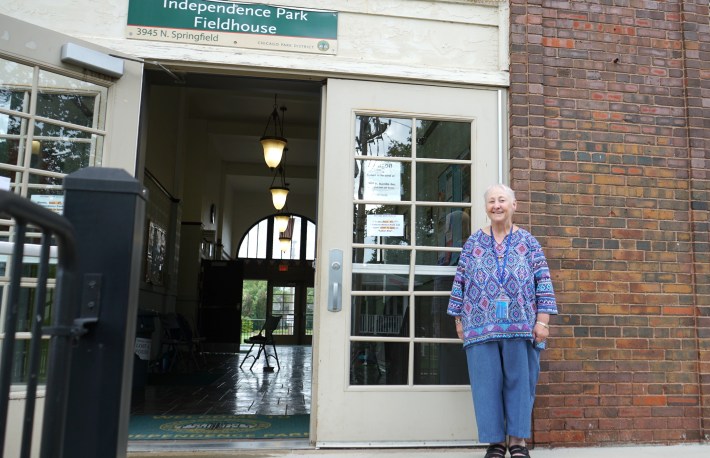 Maureen Blake credits the Special Olympics Chicago program for keeping her active, improving her sports skills and meeting people who have become her community, she said.
Over the years, she's also developed strong ties with her Jefferson Park community, which she's called home for 27 years.
When she isn't winning medals, she enjoys volunteering at her local church, St. Constance, 5843 W. Strong St., where she is an usher for Sunday Mass and is part of a group that knits and crochets blankets for church families in need, she said.
"We make blankets for babies that are getting baptized in our church, and for people who are sick," she said.
Maureen Blake also enjoys helping people at St. Mary of Providence, a disability services and support organization in Portage Park where she regularly volunteers.
The "Queen of Bocce" hopes to make new friends and add wins to her name during the Golden Games. She has a special phrase to help her prepare: "Help me win, but if I cannot win, help me be brave in the attempt," she said.
Watch our "On The Block" TV show on The U, CW26 and MeTV.
Listen to "It's All Good: A Block Club Chicago Podcast":