ROGERS PARK — Gerber/Hart Library and Archives, the Midwest's largest collection of LGBTQ+ titles, has tripled its staff after receiving a public knowledge grant.
Gerber/Hart, located within the Howard Brown Health building at 6500 N. Clark St., received the $200,000 general operations grant from the Mellon Foundation, which supports arts and humanities across the country.
It's the largest grant Gerber/Hart has received in the last 42 years, and it follows a $100,000 grant Mellon gave the library and archives that allowed the organization to hire a full-time development staffer.
That development staffer — Michael Rashid — is now joined by long-time volunteers Erin Bell as operations director and Jen Dentel as community outreach and strategic partnerships manager.
Dentel and Bell previously collaborated on Gerber/Hart's podcast, "Unboxing Queer History," which offers deep dives into the facility's archives to share stories about queer people throughout Chicago history.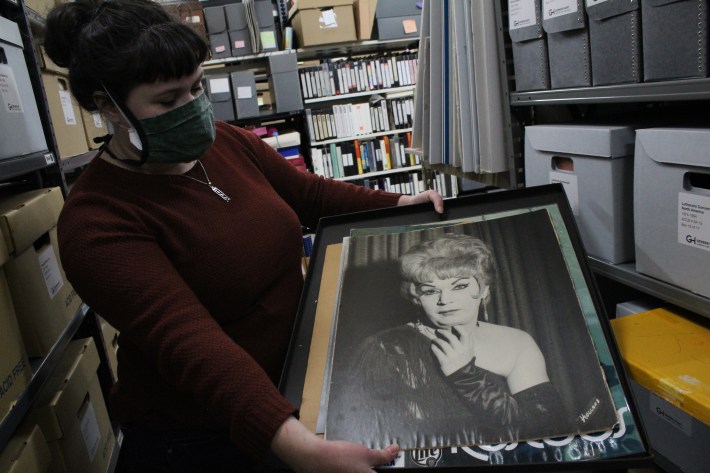 In a joint statement, board co-chairs James Conley and Kevin Nunley said the grant "will enable Gerber/Hart to strengthen its foundation as one of the oldest LGBTQ+ cultural institutions in Chicago."
"This grant from the Mellon Foundation will be truly transformational in the growth of Gerber/Hart and the fulfillment of its mission to preserve LGBTQ+ history in Chicago and the Midwest, and to make it accessible for all," Conley and Nunley said.
Gerber/Hart, founded in 1981, aims to collect, preserve and make accessible the history of LGBTQ+ people in Chicago and the Midwest. It runs a free public library of books, e-books and other media and holds events and exhibitions throughout the year.
Its current exhibits include "A Dreamhouse of Our Own: An Examination of Dolls, Play and Queer Identity," which uses Barbies to explore queer relationships with dolls, and "Moving Beyond Medicine," which looks at how LGBTQ+ organizing in the 1980s-2000s aligned with visions of health and care.
"Moving Beyond Medicine" ends Oct. 1 and the Barbie exhibit runs through December.
Do you want to receive more LGBTQ+ news from Block Club? Sign up here for our Proud City newsletter.
Watch our "On The Block" TV show on The U, CW26 and MeTV.
Listen to "It's All Good: A Block Club Chicago Podcast":