HEGEWISCH — City and county officials will host a guided bike tour of the Southeast Side this weekend as they gather input on a project to improve the South Side's bike infrastructure.
The bike ride rolls out 10 a.m. Saturday at the Henry Booth House, 2725 E. 130th St. in Hegewisch.
The 7-mile ride will include some walking along 106th Street and under the 100th Street viaduct. It will end by noon at Calumet Park Beach, 9801 S. Avenue G in East Side.
Riders should bring a helmet, water and cell phone, officials said. Attendees who need a bike should email aoviedo@ruddresources.net to reserve one.
The bike ride is part of the Lake Calumet bike network study, which will outline needed improvements to the South Side's bike infrastructure and the necessary steps to complete them.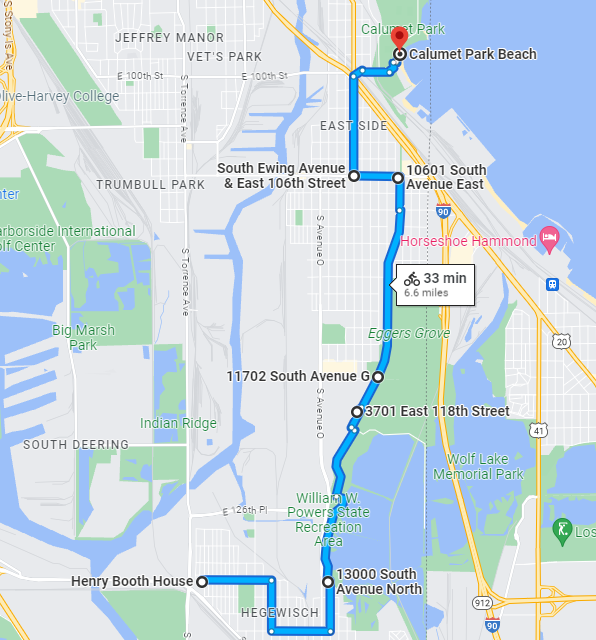 Residents can weigh in on how to make biking safer from 95th Street to Sibley Boulevard and from the Indiana state line to Michigan Avenue through the Lake Calumet study.
Far South Side and south suburban communities are in "great need" of improved bike infrastructure, Benet Haller, transit manager for the county's transportation department, told Block Club last month.
The Lake Calumet study aims to "overcome those gaps" through major investments in bike routes, trails, bridges and other on- and off-street infrastructure while "making sure local folks are aware of those big moves," Haller said.
One proposal included in the study would fill a nearly 3-mile gap in the Burnham Greenway trail. Two existing stretches of the greenway — from East Side to Hegewisch and from the village of Burnham to the Pennsy Greenway trailhead in suburban Lansing — are disconnected.
Officials are also continuing to plan for a proposed Lake Calumet Trail, which they say would improve travel between Big Marsh Park and the Pullman National Monument while creating access points for lake visitors.
Neighbors who can't participate in Saturday's bike tour can travel the route on their own and give feedback through the bike network study's website, officials said.
Saturday's ride is hosted by the Cook County and Chicago departments of transportation.
Watch our "On The Block" TV show on The U, CW26 and MeTV.
Listen to "It's All Good: A Block Club Chicago Podcast":