WOODLAWN — A South Side café in a shipping container was recently burglarized for the second time in a year, and its owner is again turning to neighbors for help in restarting the business.
7323 Chicago Café opened August 2022 at Flying Squirrel Park, 6600 S. Woodlawn Ave., selling panini, lemonade and other treats to Woodlawn neighbors.
Less than two months later, burglars damaged the café and took its generator and some electronics.
Marquinn Gibson, 7323's owner and executive chef, launched a GoFundMe in October to get the business back on track. Within days, neighbors donated enough to meet the fundraiser's $3,000 goal, but numerous setbacks kept the business sidelined for another eight months, Gibson said.
The café finally reopened June 17, Gibson said.
Burglars hit the café again a few weeks later on July 31, Gibson said. They stole the replacement generator — which was paid for with the money people donated after the first theft — kitchen appliances, electronics and other needed items, Gibson said.
"It's just so many small things that are instrumental to our daily operations that they took," he said. "I'm in there looking for salt and pepper and things like that. It's completely gone."
Gibson is hoping to raise $3,500 through GoFundMe to cover repairs, security upgrades and new equipment. Supporters donated $900 as of Tuesday morning.
To donate to 7323 Chicago Café's fundraiser, click here.
Despite the "devastating" losses, 7323 is "committed" to reopening in Woodlawn, Gibson said. He even rented a "really expensive" generator to open for business Aug. 6 in honor of the café's first anniversary.
The burglars must have been "shocked to see we had reopened last Sunday in lieu of them," Gibson said.
"A lot of people are in my ear — 'You ever think about going somewhere else? Going up north?'" he said. "I can't do that, man. … I've just built too much rapport in just one year to bail out like that. I still live in the neighborhood, so I feel like if I just move, I would be letting the people who burglarized me win."
7323 Chicago Café is named after Gibson's childhood home in Englewood, which has been in his family since his great-grandmother moved from Alabama during the Great Migration, he said.
The café serves panini, wraps, salads, beverages, smoothies, ice cream sandwiches and mini cheesecakes daily, as well as Sunday brunch.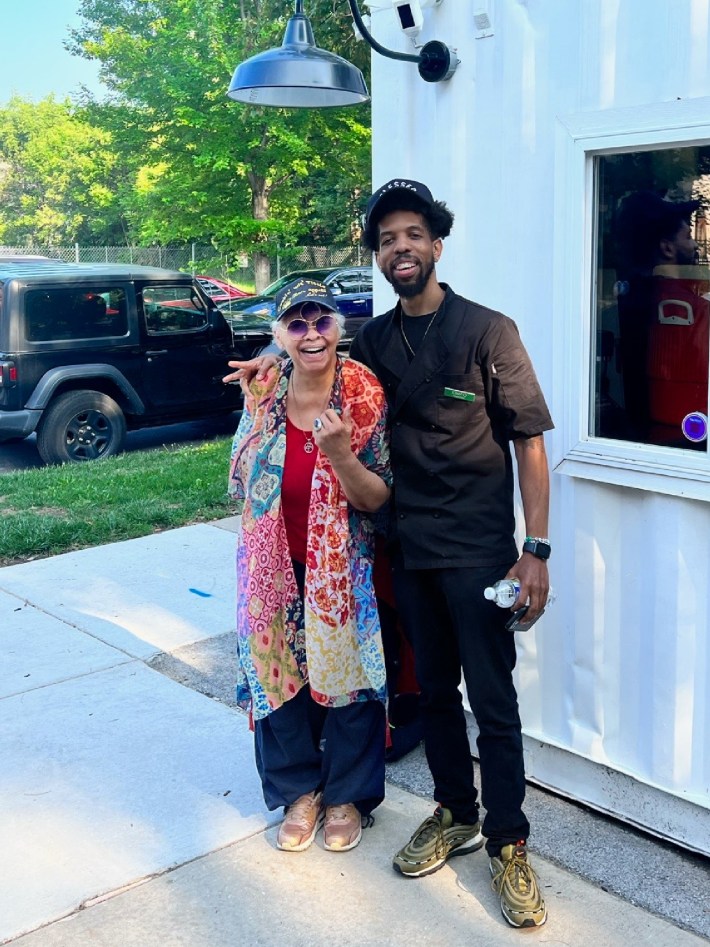 The most recent burglary happened when Gibson went to California for his mom's birthday and his business partner left town for a family reunion, he said. The café posted to Instagram before the burglary that it would be closed until Aug. 2.
The first burglary also occurred after 7323 posted about an upcoming closure, so "something is clearly up," Gibson said.
"Somebody is clearly watching us. I've got to be really careful with what I say and show at this time," Gibson said.
There are now more security cameras and locks on the shipping container that hosts 7323, and the café hired local welding company Johnnie and Son to strengthen the locks, Gibson said.
Gibson is planning to shift the cafe to an "early morning to late lunch" schedule for the fall, which would allow children and teachers to stop by before the start of their school days.
An earlier start time would also "mitigate anyone trying to break in" by ensuring someone would be at 7323 in the early morning, Gibson said.
Gibson owns the container, and he wants to "build upon the container concept" pioneered locally by Boxville on 51st Street and open a food court of containers, he told Block Club last year.
"The container concept is so new, [and insurers] feel like we are such a liability," Gibson said this week. "If a reputable company wouldn't mind covering us, that would be awesome. We have to come out of pocket to replace all this."
It's been "gut-wrenching" dealing with a second burglary, but Gibson is trying to maintain a positive attitude, he said.
He is set to do a live cooking demonstration at the Aug. 27 Hyde Park Farmers Market, has a few catering gigs lined up in the coming months and is considering pursuing a Retreat at Currency Exchange Café residency, he said.
Watch our "On The Block" TV show on The U, CW26 and MeTV.
Listen to "It's All Good: A Block Club Chicago Podcast":