HYDE PARK — Miss Major, the legendary transgender activist who participated in the 1969 Stonewall Uprising, returned to Chicago last week to connect with community leaders amid a wave of anti-trans legislation.
Miss Major Griffin-Gracy, often referred to as Miss Major, visited the Brave Space Alliance, 1515 E. 52nd Place, last week to discuss the hundreds of proposed bills targeting trans people, the ongoing murders of transgender people seen across the country and other issues facing the community.
The stop was part of Griffin-Gracy's ongoing tour across the United States to meet with transgender community groups and leaders to share her wisdom.
"They are coming after us again," Griffin-Gracy said to a room of a couple dozen community members. "I've seen it so many times before, and this time is different than the other times because they're serious about it."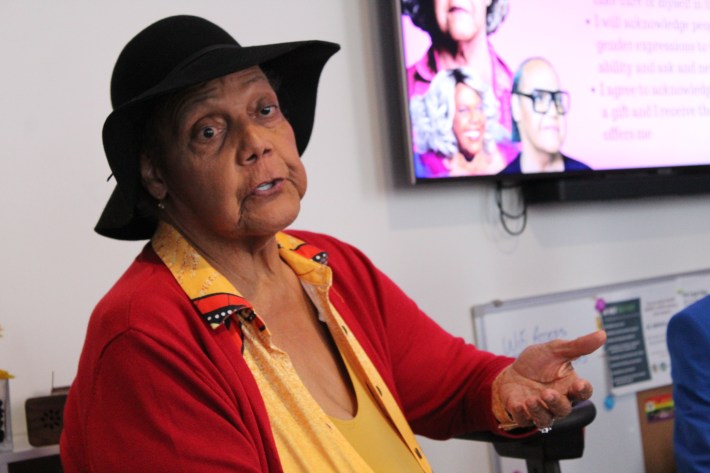 Griffin-Gracy was born on the South Side of Chicago in the 1940s and moved to New York City in 1962. There, she made money as a sex worker and got involved with the local drag scene, in which she performed as a showgirl.
At the time, queerness was criminalized and police raids of drag shows and LGBTQ+ bars were common, which came to a head June 28, 1969, when cops raided the Stonewall Inn, a New York City gay bar that Griffin-Gracy frequented.
Griffin-Gracy was there the night the five-day riot began. The Stonewall Riots are often deemed a catalyst for change in the fight for LGBTQ+ rights, but Griffin-Gracy has stressed that she and other activists had long before been putting in the work.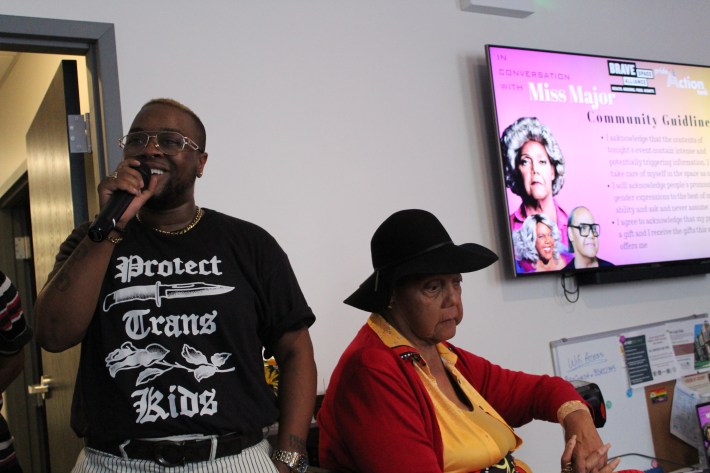 Griffin-Gracy, who now lives in Arkansas, told her audience at the Brave Space Alliance she felt inspired to tour the country and meet with trans organizers in the wake of anti-trans legislation sweeping the country.
More than 500 bills have been proposed in 49 states this year, according to the Trans Legislation Tracker, a data project that monitors state and national legislative developments affecting transgender people. Of that, 80 have been passed while 358 of them remain active.
These bills target gender-affirming care, bathroom and locker room access in schools, sports and the prison system, said B.W., an attorney traveling with Griffin-Gracy.
"I'm here to rally the troops because they're taking advantage of everything now to make sure that we are not existing and back in the closet," Griffin-Gracy said. "And I'm not going back."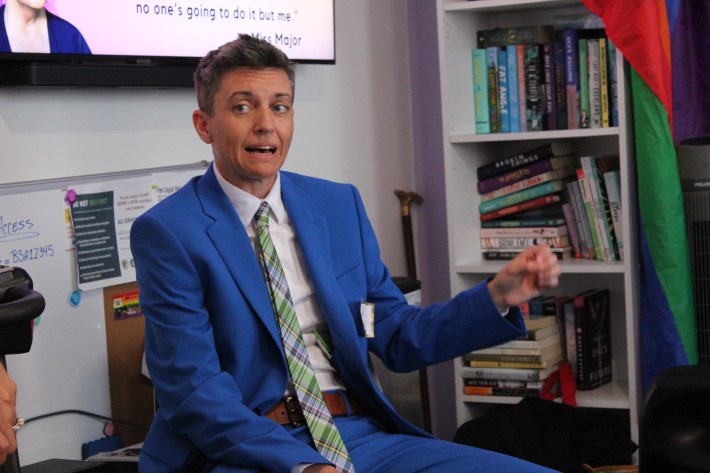 Griffin-Gracy said the younger generation of LGBTQ+ people needs to lead the charge while engaging their elders in the process.
"With your help, we can do it together," Griffin-Gracy said. "You can reach the people that are in the streets, and we've got to show them and the community that we love you, we want to stand by you and all of us together and do something."
In addition to tackling anti-trans legislation in the courts and at a legislative level, building a strong sense of community at the grassroots level is key to winning the fight, Griffin-Gracy said.
"Relax and feel the security of all of you together," Griffin-Gracy said. "You're part of a group — a family — so count on that and feel it in your heart and soul. Believe in one another and fight together."
Watch our "On The Block" TV show on The U, CW26 and MeTV.
Listen to "It's All Good: A Block Club Chicago Podcast":