HYDE PARK — Distance swimmers off Promontory Point are calling on the Park District to improve safeguards as they say nearby jet skiers and boaters increasingly endanger people in the water this summer.
But advocates worry that pushing for better protections will prompt park leaders to instead enforce a ban on swimming off the Point, where people have enjoyed the water for decades while officials have largely looked the other way.
Swimmers and Point advocates have taken it upon themselves this summer to raise awareness on best practices among boaters, jet skiers and other lake users to ensure everyone can be in the water safely.
Buoys along the Point and 57th Street Beach, placed annually to keep vehicles away from the shore, are fewer and more erratically spaced than in previous years, swimmers said.
The buoys are "half-sunk and they move around," and their irregular spacing "could be confusing" for unfamiliar boaters, swimmer Barbara Koenen said.
That's led to people in water vehicles edging too close to swimmers in some instances, some said. While some jet skiers and boaters flagrantly flout the rules, many dangerous encounters seem to be caused by riders who are confused by the few-and-far-between buoys, swimmers and advocates said.
"When there's [few] buoys, it's not as hard to understand why people feel like they can approach the shore," swimmer and Promontory Point Conservancy member Jorge Sanchez said.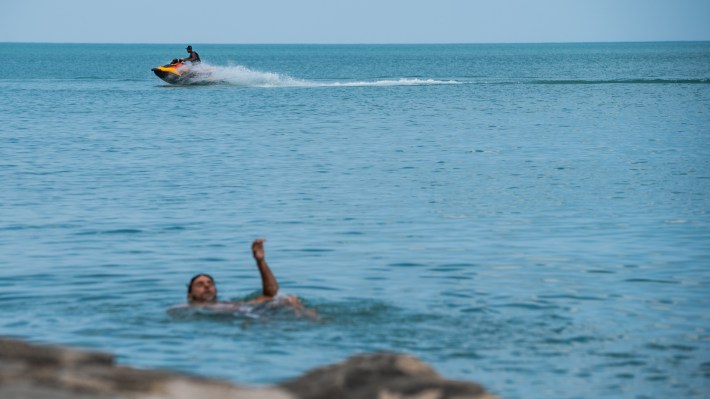 Distance swimmers largely take to the Point's south side, where round trips to and from the pier near 59th Street are roughly a convenient 1-mile checkpoint. Swimmers on the north end generally take a more leisurely approach.
There's only one "half-sunk" buoy on the north end this year, creating a safety hazard for people in that area, Koenen said.
"If [buoys] were better placed, if there was better signage, if [boaters] were notified at all the harbors, I think it would be a big help," Koenen said.
"More and more" Point swimmers are wearing fluorescent floaties this year so they stand out in the water, Koenen said. She encouraged swimmers to continue that practice and consider wearing bright swim caps, shirts and other noticeable gear, she said.
Park District leaders also could help by adding ladders for safe exits, more buoys and formally recognizing the community of swimmers who have long used the waterway, Andre DeMar said last week during a swim with several other longtime Point swimmers.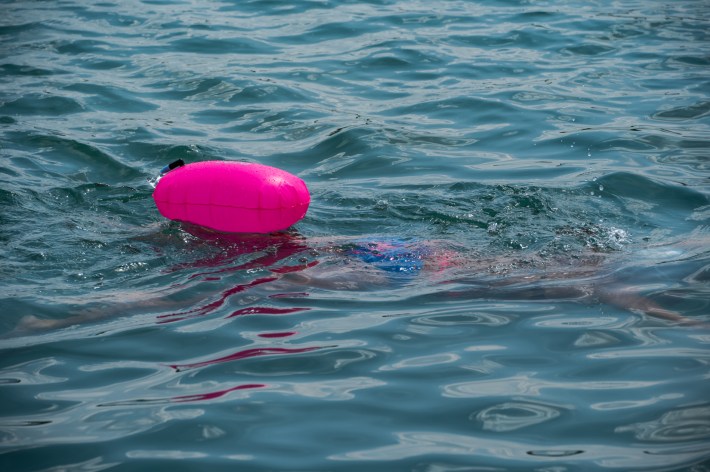 Reggies Waves, which rents jet skis and other equipment for recreation on the water from 63rd Street beach, has been "really stressing" awareness of Point swimmers since the end of last summer, co-owner Donnie MacEachron said.
Every renter receives safety instructions, and two of the three "major points that I cover" are for riders to respect the existing buoys and to "completely stay away from 57th Street Beach and Promontory Point by at least 200 yards," MacEachron said.
"I tell [riders] specifically: 'People swim off the Point, and there's a lot of contention with jet skiers and people swimming off the Point, so avoid that area completely,'" he said.
Since then, renters coming too close to swimmers "hasn't been an issue," MacEachron said.
But private jet skiers are a growing concern for south lakefront swimmers, Reggies owner Robby Glick said.
Glick doesn't swim at the Point, but is "on board" with the Point swimmers' safety push as jet skiers are "showing off and wreaking havoc" when he swims at 63rd Street Beach, he said. He encouraged Point swimmers to continue wearing bright floaties to keep themselves safe.
"I hate all the careless boaters and jet skiers, because I try to swim" at 63rd Street, Glick said. "The jet skiers are coming way too close to the shore where they shouldn't be."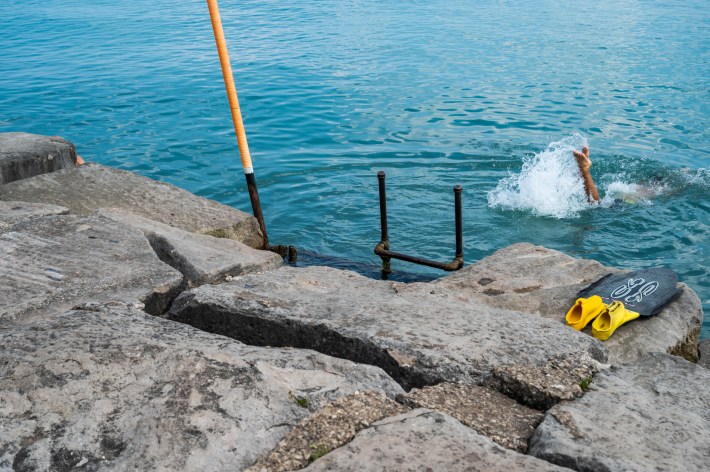 'I Don't Want Them To Over-Regulate'
When conservancy members reached out to the Park District about their concerns with the buoys earlier this summer, an official responded by saying swimming is prohibited in the area.
Promontory Point is a popular year-round swimming spot despite the ban, swimmers and advocates said.
Swimming is only allowed in designated areas where lifeguards are present, which does not include the Point, Park District officials said. The rocks along the shoreline can be dangerous for swimmers, in part because people can get stuck in hollow cavities in certain conditions, according to an email sent to the group.
The closest authorized swimming areas are 57th and 63rd Street beaches to the south, and 41st Street beach to the north.
Park District spokesperson Michele Lemons did not answer Block Club's specific questions on whether the Park District will add more safety measures for Point swimmers, reiterating that swimming is banned there.
"Non-sanctioned swim locations are prominently marked with stenciled signage and visitors are strictly prohibited from entering the water in these areas," Lemons said in a statement, not naming the Point specifically.
This isn't the first time Parks officials resisted efforts from water safety advocates near "unsanctioned" swim areas.
Officials removed a life ring and caution signs installed by neighbors after a 19-year-old drowned off the North Side's Pratt Pier in 2021.
Officials said installing life rings at non-swimming locations could put the Park District at risk of legal liability. Illinois then passed a law in 2022 requiring rescue equipment along piers, beaches and other Lake Michigan access points, WTTW reported.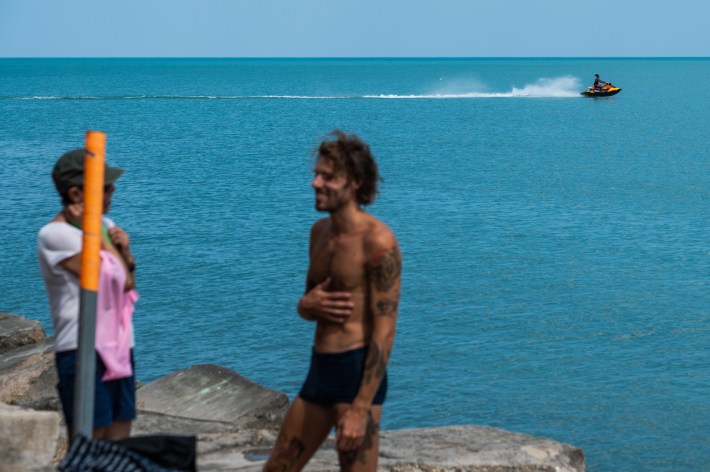 The last time city officials enforced a Point swimming ban was more than a decade ago, as officials pushed to replace the limestone steps with concrete as part of the Shoreline Protection Project, Sanchez said.
Sanchez, an attorney, represented one of several people was ticketed amid the heightened enforcement, he said. He hoped officials would impose the citations and fines so he could fight the rule in court, but the charges were eventually dropped, he said.
"There was a bit of a correlation to these conversations starting to happen, and then, just randomly, enforcement started — pretty haphazardly," Sanchez said.
A swimming ban won't keep neighbors out of the water, but officials' refusal to add more buoys makes it "more likely someone will get injured or killed" by a jet skier or boater, conservancy members said in a statement.
"The community has been swimming at Promontory Point since it opened in 1939, and we will keep swimming there," the statement reads.
"The Park District [should] participate [in] easing up the access to the water," DeMar said.
It would be "stupid and awful" to once again enforce the ban and disrupt the Point's swimming community, Koenen said.
Other swimmers and advocates agreed. Similarly unsanctioned swims like the Friday Morning Swim Club, which draws thousands of swimmers, takes place outside of lifeguard-monitored hours without consequence on the North Side, they said.
"I don't want them to over-regulate, but I do want them to have that awareness campaign so boaters know to look for swimmers," Koenen said. "It's kind of simple."
Watch our "On The Block" TV show on The U, CW26 and MeTV.
Listen to "It's All Good: A Block Club Chicago Podcast":