UPTOWN — A chef who helped turn Wilson Avenue into a plant-based dining destination has opened his first non-vegan spot specializing in chicken.
Floreen's Chicken & Roost opened in early July at 1303 W. Wilson Ave. It's the latest restaurant from owner Andy Kalish, who with his wife, Gina, launched pioneering vegan spots like Kal'ish and Sam & Gertie's.
Kal'ish, which offered vegan takes on all-American staples, closed in January after six years in Uptown. The Kalishes then opened Sephardic Sisters, serving plant-based versions of Middle Eastern cuisine.
That concept only lasted four months, with Kalish saying he closed it for much of the same reason he shuttered Kal'ish: the business was seeing take-out customers but had little dine-in traffic.
Kalish said he wanted a restaurant more conducive to in-person dining, one that would create another community hub on Wilson Avenue. That's how Floreen's was born.
"Floreen's was meant to cast a wider net," Kalish said. "We put a lot of effort into creating things that people would enjoy and feel that it was worth walking across the street and spending a few dollars with us."
The restaurant is named after Kalish's mom, who died in December. She raised her son as a single parent and would often cook for the community as well as her own family, Kalish said.
Floreen's specializes in roasted and fried chicken and other homespun foods. It is inspired by the French style of roasting chicken and home recipes from Kalish's mom.
"Our love of chicken and the picnics that she and I would go on … all those memories came to the fore," Kalish said. "I'm better at things that I am passionate about, that have deeper meaning."
The menu is decidedly non-vegan, full of what Kalish describes as "aspirational comfort picnic food."
One of the more popular dishes at Floreen's is the chicken fries with gravy and rolls, Kalish said. It includes a bed of fries topped with roasted chicken and "schmaltz gravy," made from rendered chicken fat. It comes with two dinner rolls, there to sop up the leftover gravy and conjure memories of family dinners past.
Menu highlights include "butter roasted" chicken dinners and chicken fingers, which are doused in a house-made dill pickle brine, lightly breaded and fried. There's also "Amish pull-apart wings" plus rib tips, chicken tacos and sides including macaroni and cheese and lemon Parmesan broccoli.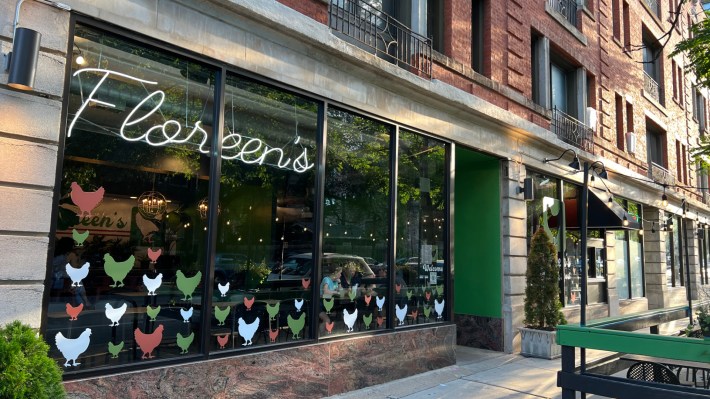 Floreen's is the first permanent establishment opened by Kalish that is not plant-based.
While Gina Kalish is vegan, Andy Kalish hasn't been a dedicated vegan for "many years." After opening Sephardic Sisters, Gina Kalish decided to get out of the restaurant business.
That left Andy Kalish to try his hand at opening a non-vegan venture. He previously held a pop-up, Longacre Pizza, that served vegan and non-vegan pies and helped start the Detroit-style pizza craze in Chicago.
"Breaking up with our vegan customers was really difficult," Kalish said. "We had a nice business and people liked us and supported us. I owed it to the people to address their concerns and to say, 'I'm sorry, I know that what I'm doing is hurtful. But, you know, this is my path.'"
Floreen's offers vegan versions of multiple menu items, including chicken fingers, chicken tacos, most of its sides and ice cream.
Sam & Gertie's, Kalish's vegan Jewish deli, is still open next door to Floreen's.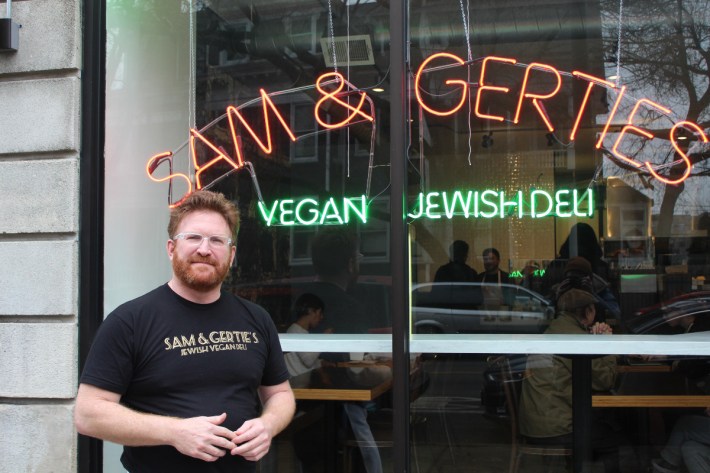 Floreen's occupies the Wilson Avenue storefront that most recently housed L/A Mex, a vegan taco joint the Kalishes opened as and shuttered last summer.
The space includes a take-out counter, bar seating, a dining room, a spacious outdoor patio and sidewalk cafe seating.
On a recent Friday evening, Floreen's began filling up shortly after opening, with a number of young families pushing strollers onto the patio. Kalish handed out dinner rolls to fidgety children as he said hello to customers.
Just over one month after opening, Kalish said Floreen's is achieving his goal of giving neighbors another option for congregating in Uptown.
"One of the things that was lacking from my vision of a plant base [restaurant] was that … I didn't create something that was engaging to a great many people around here," Kalish said. "This makes me happy to see people here."
Floreen's Chicken & Roost is open 5-9 p.m. Wednesday-Thursday, 5-10 p.m. Friday, noon-10 p.m. Saturday and noon-9 p.m. Sunday.
Watch our "On The Block" TV show on The U, CW26 and MeTV.
Listen to "It's All Good: A Block Club Chicago Podcast":