WASHINGTON PARK — New lemonade stand Little Squeeze is the latest vendor to join Boxville, kicking off their grand opening with an open mic event Wednesday.
Alena and David Wilson began setting up their lemonade shop at the space, 330 E. 51st St., a few weeks ago right next to Da Book Joint, a mother and daughter bookstore, they told Block Club.
Other tenants include Stoviink, Life Bowls Hibachi Bar and The Work Spot.
Alena Wilson had no idea the homemade batch of lemonade she made in the early days of the pandemic would turn into a career, but she and husband are enjoying the ride, she said.
It all began with a citrus squeezer from Amazon and a craving for fresh orange juice.
"It's sometime in August 2020 and Alena wanted fresh orange juice," David Wilson recalled. "She'd just gotten this little hand squeezer she wanted to use right away but we were out of oranges. So we're chillin' at home, talking and she decides to use some lemons. She makes this concoction and it looks absolutely horrific. She tells me to try it. It's the best-tasting lemonade I've ever had. I told her she needed to bottle this but she thought I was hyping her up."
After praying on it, Alena Wilson designed her new company logo, bottled her concoction and signed a contract with a lemon distributor.
She and her husband, both army veterans, sought the counsel of two friends who'd just started businesses of their own. That — coupled with online research and reading books like Robert T. Kiyosaki's "Rich Dad, Poor Dad" — made the dream seem possible.
While the process didn't go as smoothly as anticipated, the mother of two knew she was on the right path. The Wilsons soon lucked upon an opportunity to debut their new beverage line at a pop-up shop event in Woodlawn, the first of several.
"I had just finished my time in the military and did eight years and just had two kids just bought a house. And so I was just kinda just breathing for a moment and then stumbled upon what is now Little Squeeze. Growing up, I'd always been in the kitchen but with this there was so much to learn," said Alena Wilson, who met her husband when they were teenagers at Salem Baptist Church.
Having never done this before, the couple didn't realize they could no longer make the lemonade in their home kitchen. City law required them to make their all-natural elixir in a commercial kitchen. Between that, daily business expenses and the pop-up shops that were becoming increasingly more expensive, they decided to try Boxville.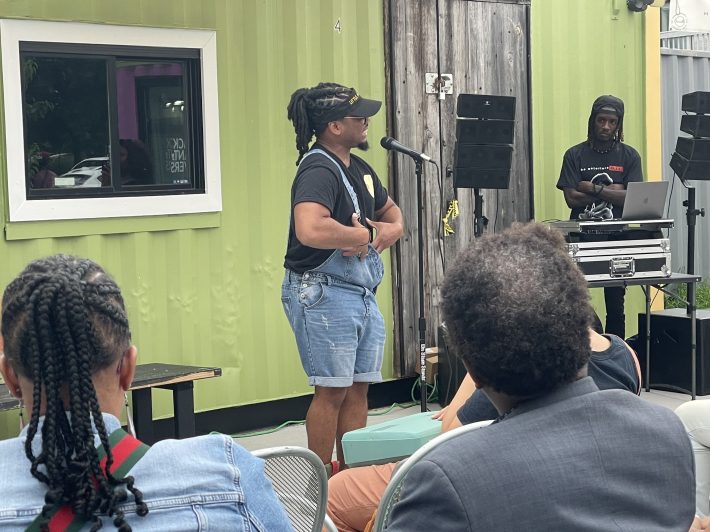 Unfortunately there was no room. All the slots had been taken for the season. When the opportunity arose earlier this year to apply for a container, they jumped at the chance.
"We went through the course that they that they put us through. At first they just wanted us to be their preferred vendor for their markets, and we were like, 'Nope that's not what we want. We want to buy.' That's when they told us, 'Okay, you have to show us that you're ready,'" said David Wilson.
The couple did just that. When they were invited to apply again they had to put together a quick elevator pitch to present to senior staff, Alena taking lead. The staffers were impressed and soon they were invited to move in.
It takes a certain kind of alchemy to make the kind of lemonade that stands apart from other, established brands, and the Wilsons believe they have found the perfect recipe.
Their drinks use only natural ingredients, with additives or preservatives. Flavors include strawberry, blueberry and "Danny's Tantrum," named for their youngest son who threw a fit after being denied lemonade for a post-dinner treat.
Prices start at $7 for a 16-ounce bottle, with a 64-ounce "family sized" bottle costing $17. The store also offers a smaller, 8-ounce size for parties and special events.
The couple hopes to eventually move into a brick and mortar space of their own, preferably a cafe or bar. Something to pass down to the kids, perhaps. In the meantime, Little Squeeze has opened up a stand at North Avenue Beach for the summer and at the 95th Street Farmers Market in Beverly.
"Our sons love it. They tell everybody that they own a lemonade stand. It's a family business," said Alena Wilson.
Watch our "On The Block" TV show on The U, CW26 and MeTV.
Listen to "It's All Good: A Block Club Chicago Podcast":