HYDE PARK — A group of amateur and professional artists on the South Side finished a play about Black history and prosperity in less than a month, and they hope their work can inspire other community artists to share their creativity as part of an annual series.
"Fertile Ground: Celebrating the Great Migration and Green Living in Black Chicago," brought together 17 South Siders to create a play about their experiences and histories.
The stories — told through spoken word, dance, movement and music — were developed into the play through a deeply emotional process over the last three weeks, the cast and crew said.
"A lot of these stories are really personal, and might be stories [the performers] haven't ever spoken of," director Daniel J. Bryant said. "Some major revelations happened in that room during that first week that are connected to the play, yes — but most importantly, are connected to these folks lives."
The sold-out performance takes place Saturday at the Logan Center for the Arts, 915 E. 60th St. in Hyde Park. It's presented by Deeply Rooted Dance Theater and Blacks in Green.
This weekend's performance is an "intimate" test run for a series of community storytelling performances that will hopefully grow to include dozens more neighbors in the years to come, participants said.
"Our vision is this project will happen annually and we'll be able to nurture this community through this process," said Kevin Iega Jeff, the producer and choreographer of "Fertile Ground" and Deeply Rooted's co-founder.
"I can't tell you how much [telling] stories — people sharing their lives — helps people to build bridges to each other," Jeff said.
From the beginning, Jeff intended to partner on "Fertile Ground" with Blacks in Green, a Woodlawn-based environmental nonprofit, Jeff said.
Executive director Naomi Davis has a background in theater and once served on Deeply Rooted's board, while the group's focus on eco-friendly community development and green energy guided the production, Jeff said.
"It's essential for neighbors to have an infrastructure for fun and self-love," Davis said.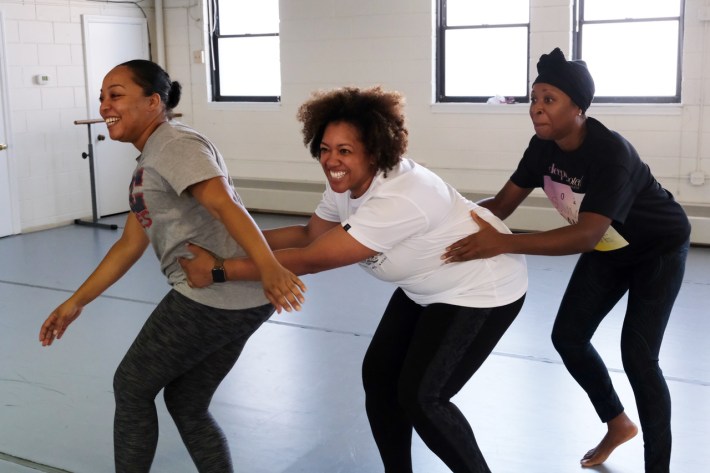 The Power Of Community Performance
"Fertile Ground" started with nothing but a room full of volunteer cast members and a series of prompts around Black Chicagoans' origin stories, the Great Migration and green living, Jeff said.
"The room becomes transformed as people build relationships and we began to understand organically what stories we're going to tell," he said.
One of the stories is that of Hyde Park resident Darlene Dennard, who called the community performance a "godsend." A former dance teacher and dancer on her church's worship team, Dennard has wanted to work with Deeply Rooted for years, she said.
"When I got [to the 'Fertile Ground' casting call], it was almost like it was too good to be true, that this was an opportunity for me to be creative and to be within my community," Dennard said. "I just stood at the door and kind of peeked in, just to say, 'OK girl, are you gonna do this or not?'"
After being welcomed into the group, Dennard took the "green living" prompt to represent the opportunities she's been given in the "fertile land" of Chicago, she said.
Her performance tells of her time with the Team Dream triathlon training group, where women of color developed their swimming, cycling and running skills regardless of age or prior experience — similar to the process behind "Fertile Ground," she said.
Bryant, Jeff and other professional artists helped Dennard and her fellow community cast members shape their stories into a 50-minute piece.
"I was like, oh my God, I am here in this space with all of these great Black creative celebrities … [and] they want our success just as much as we do," Dennard said. "That just gives us one mind, one purpose."
Scriptwriting was healing for participants, as they were challenged to "show up as fully present and open" as possible during rehearsals, Bryant said. One cast member initially was unable to complete an acting exercise that called for childlike playfulness, due to trauma in their youth, Bryant said.
"They came back in after shedding tears, acknowledged what that thing was for them, and they said, 'I'm ready to play now," Bryant said. "That performer has been playing freely in this play, and in their life, from that moment on. It doesn't get more powerful than that. That's the power of community performance."
Keeping Black History Alive
"Fertile Ground" is part of two initiatives that will be central to Deeply Rooted's future dance center in Washington Park: the Creative Communities and Story Bridge programs, Jeff said.
Creative Communities is an outlet for non-professional neighbors to learn and move together, while "Fertile Ground" is a prototype for the Story Bridge program, which will develop theatrical performances through personal storytelling and relationship-building among neighbors.
"These actors, these participants will become ambassadors for the larger project we'll be working on through 2024 and 2025," Jeff said.
Some stories from "Fertile Ground" will carry over to the expanded Story Bridge project, while other material will be cut to make room for "new voices that need to come forward as well," Jeff said.
Future productions could feature "upwards of 60, 90, even 120 cast members when we deepen and premiere it," Jeff said. The project received a $500,000 grant from the city's Department of Cultural Affairs and Special Events last year.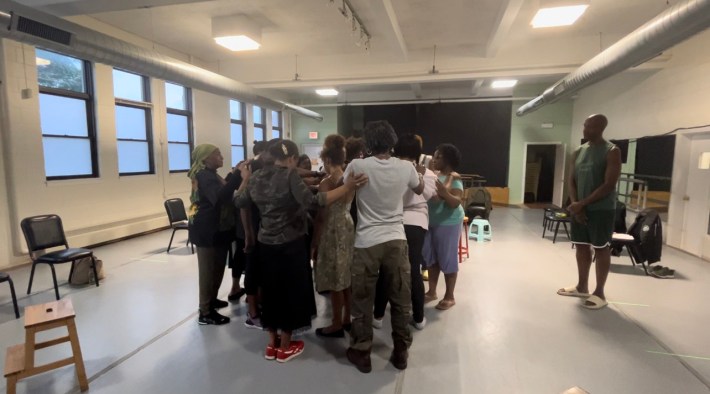 "Fertile Ground's" development "reminds us of the tradition of the griot in Western Africa" — the oral historians who are responsible for "holding stories for generations to come," Bryant said.
Black storytelling is a critical practice at a time where politicians are "trying to rewrite history and the impacts African Americans have had on this country," Bryant said. "The truth is the truth. The important thing is, with this piece, we are reigniting the responsibility we have to tell our own stories and keep our own histories alive."
On a smaller scale, the neighbors' storytelling efforts can build community and confidence among South Side artists, Dennard said.
"We're doing this for [the audience,] so they can hear our stories and be inspired to tell their stories," Dennard said. "Then, when an opportunity opens up, they will second-guess themselves, but they will step in and try new things. That's my hope."
Watch our "On The Block" TV show on The U, CW26 and MeTV.
Listen to "It's All Good: A Block Club Chicago Podcast":