CHICAGO — A marathon bike ride through every Chicago community area led one North Side man to a number of "hidden gems" he believes more residents should explore.
In an effort to challenge himself and bring awareness to all of Chicago's neighborhoods, 27-year-old Benjamin O'Malley, a self-described "amateur hardcore cyclist," took a 150-mile trip around the city on July 15.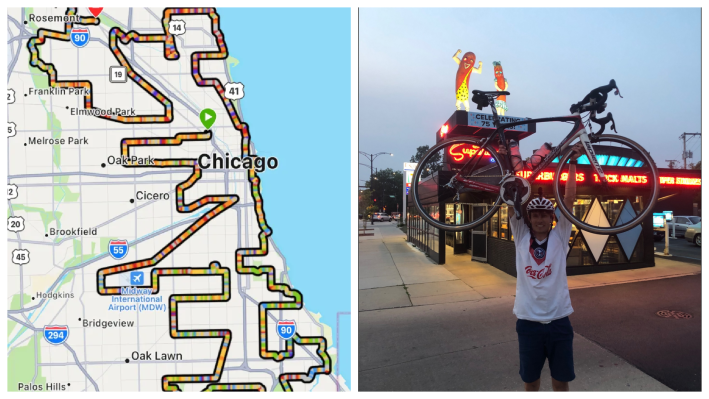 The idea to travel around the city by bike first came to mind when he was brainstorming things to do over the summer. O'Malley began researching Chicago's litany of neighborhoods and realized the city doesn't have official neighborhood boundaries, although officials did approve a neighborhood map in 1993.
Instead, the city has 77 officially recognized "community areas," which include specific borders and community names. O'Malley's neighborhood of Noble Square, for example, is within the West Town community area.
"Once you get into each nook and crannies … I realized you could do the 77 community zones," O'Malley said.
Some of the notable places O'Malley said he biked through include the Des Plaines River Trail on the city's Far Northwest Side, Big Marsh Park in South Deering, Wolf Lake in Hegewisch, the Major Taylor Trail stretching through several South Side neighborhoods, Pullman National Historical Park and The Great Wall of Chicago mural in Auburn Gresham.
Of all the places he visited, one of his favorites was Sharks Fish & Chicken Express, 101 E. 51st St. in Washington Park, where he ordered catfish, shrimp and banana pudding which "was the secret to having the energy," to finish the lengthy trip, O'Malley said.
The day of his citywide bike ride was "extremely hot," leaving O'Malley "pretty much beat by the end of the day." That didn't stop him from ending the trip with a classic Chicago-style hot dog from Superdawg Drive-In, 6363 N. Milwaukee Ave. in Norwood Park.
"You get to a certain point where you're so hungry [that] you're thinking, I want a milkshake [and] a Chicago hot dog," he said.
This won't be the last of his lengthy bike trips, as O'Malley is part of a cycling club known as Bicycle Illinois. He hopes to gather a group of people to bike around the entire city together.
"Change up the route a little bit, but to turn this into some sort of event going forward," O'Malley said. "We could bring out the communities, [have] a free event and everyone can start in the neighborhood and there's a big loop we build… like a tour of Chicago Day."
Watch our "On The Block" TV show on The U, CW26 and MeTV.
Listen to "It's All Good: A Block Club Chicago Podcast":