NORTH PARK — Fans of are Taqueria Las Flores are rallying around the owner and employees after a fire devastated the family-run restaurant over the weekend. 
A fire broke out around 10 a.m. Saturday at Taqueria Las Flores, 3352 W. Foster Ave., Fire Department spokesman Larry Merritt said. No one was hurt and the cause of the fire has not yet been determined, Merritt said. 
Now, owner Jazmin Flores is trying to raise money to help her staff recover from the sudden loss of the business, she said. A GoFundMe to benefit the employees raised $14,637 as of Thursday morning.
"I don't feel okay. I understand that material things come and go, and that's fine. But losing this restaurant feels kind of like losing a piece of me," Flores said. "Opening Las Flores felt like stepping out of my father's shadow." 
Flores grew up working at her father's restaurant, Taqueria El Asadero in nearby North Center before striking out on her own.
Taqueria Las Flores quickly developed a following thanks to owner Flores' carne asada, al pastor and chicken tinga tacos and other Mexican dishes. 
"The loss of Taqueria Las Flores is felt deeply by the community and resonates as a poignant reminder of the challenges faced by local businesses," said Catherine George, the North River Commission and the Albany Park Chamber of Commerce's economic development specialist. "Jazmin's commitment to her neighbors, employees and the culinary landscape she helped shape is a testament to the vitality of our community."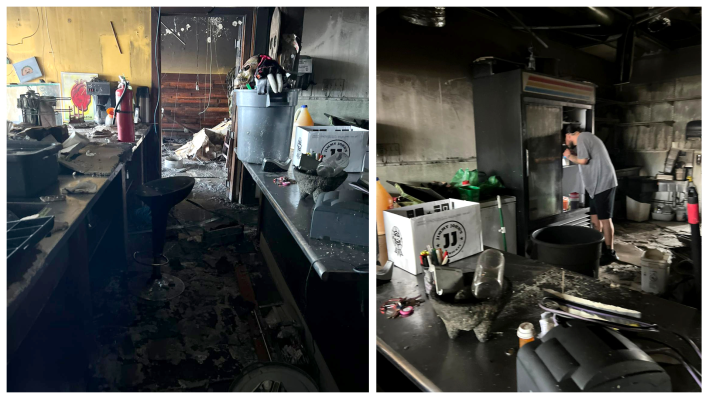 Next Steps After Years Of Setbacks
Flores was staying at her boyfriend's home near the restaurant when an employee opening the business that day called her about smelling smoke inside, she said. 
Flores told the worker to go back outside and wait for her so she could investigate where the smoke was coming from, she said.
"I thought maybe the night shift forgot something or something was happening in the kitchen with the appliances. But it wasn't that," Flores said. "The cook, the prep, the cashier, everybody always checks everything before they leave." 
As she checked out the restaurant's bathrooms and office area, she began coughing and holding her breath because of the increasingly dense smoke, she said.
She left the building to catch her breath, then went back inside to try and shut off the business' electrical panels to try to stop whatever was causing the smoke, she said.
"As I checked the doorknobs, I didn't feel any heat on the bathroom doors," she said. "But I noticed my office door had smoke seeping through its edges and I f—-ed up by turning the f—ing doorknob."
Cracking the door open, Flores felt a rush of air enter the office which she thinks fed the fire that was already underway inside, she said. 
"The only thing I have in that office is my little desk with all of my papers like taxes. Stuff like that storage of my dry goods like paper bags, foil, straws and cups burned up," she said. 
Flores rushed back outside to call 911, but she was out of breath and panicked which made it difficult for the dispatcher to hear the address for building, she said. 
Flores hoped at least part of the restaurant could be salvaged, but once she saw crews smashing the front windows and spraying everything inside with water, she knew that the restaurant would have to shut down, she said. 
The fire is the latest setback the restaurant has faced over the last three years, including pandemic-related dine-in shutdowns and supply chain disruptions.
Developer Murad Fazal bought the building that housed her restaurant in 2021. Ald. Samantha Nugent (39th) and neighborhood leaders recently signed off on the developer's plan to tear down the building and replace it with 47 apartments and ground-floor retail. 
The construction was going to force existing tenants, like Taqueria Las Flores, to relocate. The majority of the businesses besides Flores' restaurant have already closed or moved, according to the neighborhood association.
Fazal had offered his tenants long-term leases and the option to return once the development is complete, but business owners had said moving away to come back didn't make logistical sense.
Besides raising money to help her employees Flores is unsure what her next steps are, she said. 
"I worked so many days, so many hours, more than 80 hours a week in that place. And now I wake up and it's like, 'Okay, now what do I do with myself?,'" Flores said. "I have no restaurant to buy merchandise. I have no kitchen to cook in. I have no money to pay employees. It sucks."
Earlier this week Flores ventured into the burnt-out remains of her restaurant to try to salvage what she can.
"My art and my cookbooks, everything in there destroyed by the fire were things I'd collected since I was young," Flores said. 
While most of her possessions are gone for good she was surprised to find three small, hand carved wooden figures — a donkey, a skeleton and crocodile — she brought back from her first trip to Guerrero, Mexico when she was 25, she said.
"I don't know what the hell happened. Everything around them was scorched except those three figures," she said. "So that was awesome. I used to have them at my dad's restaurant, too. That made me happy." 
Watch our "On The Block" TV show on The U, CW26 and MeTV.
Listen to "It's All Good: A Block Club Chicago Podcast":