CHICAGO — From Printer's Row Art Fest and Titan Walls Mural Festival to the Japanese cultural BON Fest and Northalsted Market Days, there is something for everyone this weekend.
Here's a roundup of 21 things to do in Chicago this weekend:
10 a.m.-4 p.m. Saturday
Parade kicks off at 35th Street and King Drive in Bronzeville, marching down King Drive before ending at Washington Park on 55th Street for a picnic and festival.
Chicago poet J. Ivy headlines the 94th annual edition of the parade, the longest-running, largest African-American parade in the United States. The event kicks off back-to-school season as paradegoers and performers highlight Black culture, dance and music. Nearly two dozen performing art teams will dance or march the roughly 2-mile route.
The event is free, but tickets to a VIP breakfast 7:30 a.m. Saturday at Mandrake Park are still available for $94-$250. It will also be broadcast on ABC7.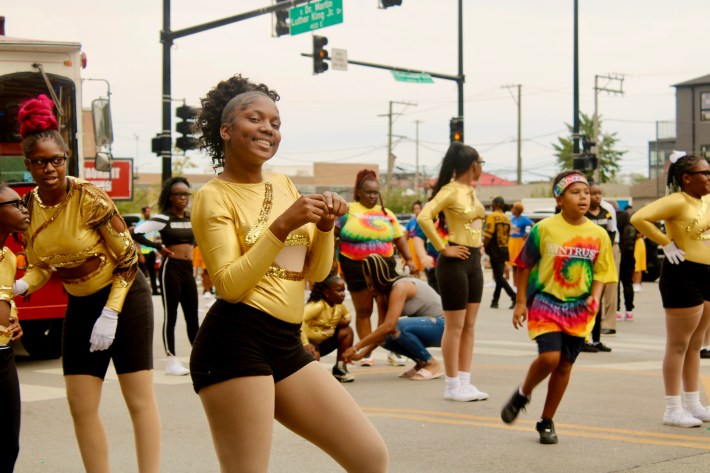 5-10 p.m. Friday, noon-10 p.m. Saturday-Sunday
2000 W. Roscoe St.
Three stages of live music, an antique and classic car show, a kid's area, vendors and more will be at this weekend-long festival. Plus, the neighborhood's top restaurants will be serving up summer treats and small bites. There is a $15 suggested donation with entry.
5-9 p.m. Friday
Various locations throughout Bronzeville
Celebrate Bronzeville and support local businesses with live pop-ups, surprise entertainment and more at shops throughout the neighborhood. Learn more here.
10-11 a.m. Friday
Counter Culture Coffee, 177 N. Ada St. – Suite 106
Every Friday morning, Counter Culture opens its Training Centers for free coffee tastings and to learn more about the coffee and its sustainable origins.
7 a.m.-3 p.m. Friday, 8 a.m.-3 p.m. Saturday-Sunday
Perkolator, 6032 W, Irving Park Rd.
Photographer Jody Magrady is displaying her nature photography at a neighborhood coffee shop this weekend. Stop by Perkolator, grab a cup of coffee and check out Magrady's solo exhibition, "Equinox," which will be on display through Oct. 29.
10 a.m.-5 p.m. Saturday and Sunday.
701 S. Dearborn St.
Stroll through this South Loop art fest and check out work from 90 painters, street artists, jewelers, photographers, sculptors and more. There will also be live music and local restaurants, cafes and bars with eating and drinking options. This is a free event and artwork is available at varying price points. Attendees are invited to bring their gently used wall art to the fest to be donated to the Chicago Furniture Bank, a nonprofit that distributes furnishings and art to people who are leaving shelters and moving into permanent housing.
10 a.m.-1 p.m. Saturday
Kelvyn Park, 4438 W. Wrightwood Ave.
Alongside vendors, food, raffles, face painting and kid's activities, there will be free backpacks, school supplies and COVID-19 and flu shots at this fair in Hermosa.
Noon-8 p.m. Saturday
District Brew Yards, 417 N. Ashland Ave.
Muros Titan Walls is Chicago's largest mural festival, featuring local and international artists. Watch them collaborate on art activations at the fest while enjoying music, local vendors, food and drinks.
8 p.m.-midnight Saturday
Thalia Hall, 1807 S. Allport St.
BYOS (bring your own skates) and roll through the night at this 17+ event hosted by Chicago's Myesha McCaskill, also known as SmoothGoddess. General admission tickets for $25 are available online.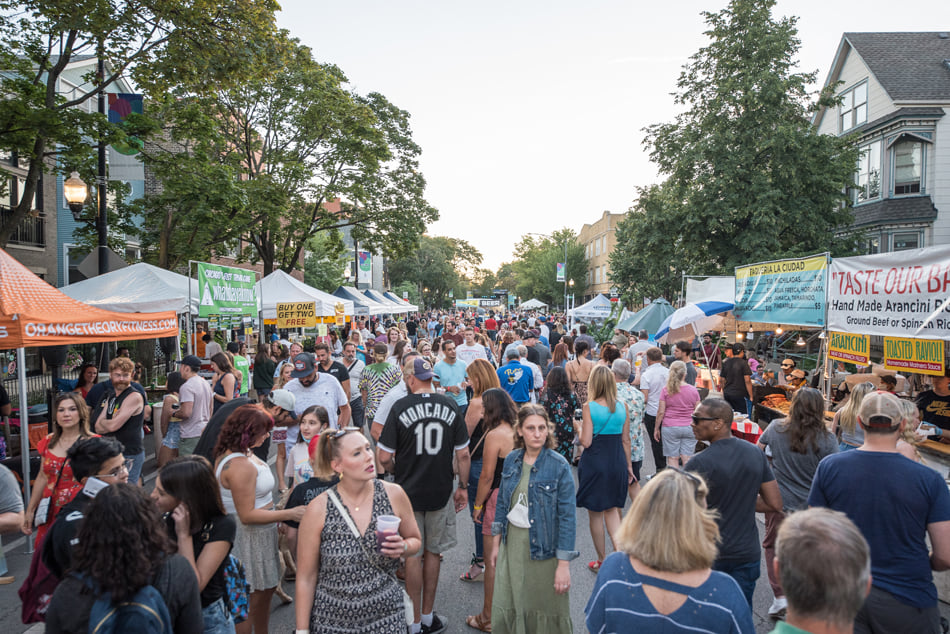 8-10 p.m. Saturday
Jackson Park – Garden of the Phoenix, 6300 S. Cornell Ave.
Gather in Jackson Park's Garden of the Phoenix for an evening of drumming, bon odori dancing and festivities. This Japanese cultural fest is traditionally a time when people come together to remember ancestors and community members who have passed away and to welcome spirits through dance. You can get your ticket free online, and donations are appreciated.
1-4 p.m. Saturday
Moody Bible Institute – Solheim Center, 900 N. Wells St.
Four Point Play is hosting its third annual Back To School Basketball Clinic this weekend, filled with basketball drills, games, a raffle for two Chromebooks, school supply giveaways and more. Youth of all ages are welcome.
1-5 p.m. Saturday
La Follette (Robert) Park, 1333 N. Laramie Ave.
There will be free backpacks, school supplies and groceries, lunch, a live DJ, free haircuts, braids and retwisting, games and more at this family-friendly, back-to-school gathering.
Welles Park Summer Work Day
9 a.m.-noon Saturday
Welles Park, 2333 W. Sunnyside Ave.
Community members will gather to clean the park and add mulch to the NaturePlace trails and play areas this weekend. The Welles Park Advisory Council will supply tools and gloves, but any extra tools neighbors bring would be helpful, including wheelbarrows, scoop shovels, pitch forks, metal rakes and more. Attendees should RSVP to wellesparkgreening@gmail.com.
11 a.m.-3 p.m. Saturday
Haymarket House, 800 W. Buena Ave.
Buy radical used books on sale, paperbacks for $2 and hardcovers for $4. Shoppers should bring their own reusable bags. Money raised will help support Haymarket's 2023 Socialism Conference scholarship fund.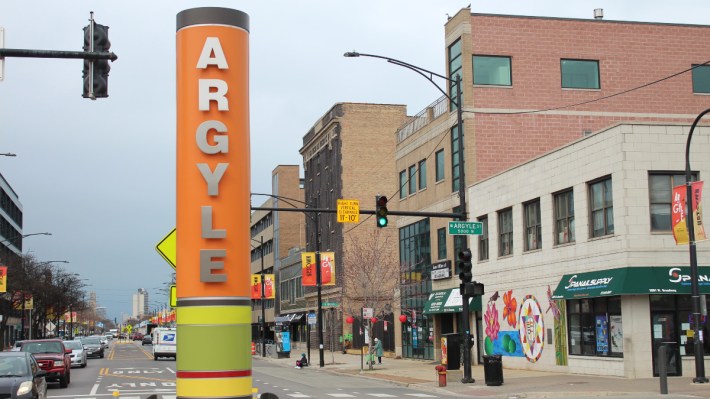 9-11:30 p.m. Saturday
Alhambra Palace Restaurant, 1240 W. Randolph St.
Comedians Nasser Al-Rayess and Shawn Chidiac are coming to Chicago this weekend for a night of comedy, Arab music and dancing. Tickets starting at $35 are available online.
Noon-3 p.m. Saturday
Stony Island Plaza, Stony Island Ave. and 95th St.
This Back-To-School Bash will have lots of free family fun, including music, face painting, balloon artists, games, crafts and more. RSVP online.
6 p.m. Saturday-1 a.m. Sunday
5744 W. Irving Park Rd.
Get a tattoo Saturday at this pop-up tattoo parlor, complete with $4 drink specials. a magic bar, an art exhibit and tacos. This is a 21+ event with a $3 cover at the door. Attendees must RSVP.
10 a.m.-noon Saturday
Everybody's Coffee, 935 W. Wilson Ave.
​Chicago for Chicagoans, a nonprofit "pay-what-you-can" tour service created by and for Chicagoans, is offering a tour of Uptown this weekend. Uptown superfan Leyla Royale will lead walkers through the multicultural neighborhood's old architecture, new highrises, its glitzy 1920s past and more. The tour ends at the Asia on Argyle district, 1100 W. Argyle St. Tickets are free, but a $10-20 donation is appreciated.
11 a.m.-10 p.m. Saturday-Sunday
Halsted St. from Belmont to Addison
Northalsted Market Days • Northalsted Business Alliance
Along half a mile of Halsted Street, enjoy live music across five stages, over 250 vendors, food and drink, dance exhibits, drag performances and more. This fest is estimated to draw in 100,000 people. There is a suggested $20 donation with entry to help support performers, festival workers and local organizations. You can also skip the line and get express entry into the festival with a $50 advance donation online.
11 a.m.-5 p.m. Sunday
Artifact Events, 4325 N. Ravenswood Ave.
Vintage House Chicago will be taking over two floors of Artifact Events with more than 100 vintage and handmade vendors. There will also be food trucks and a bar. This event is free and open to all ages.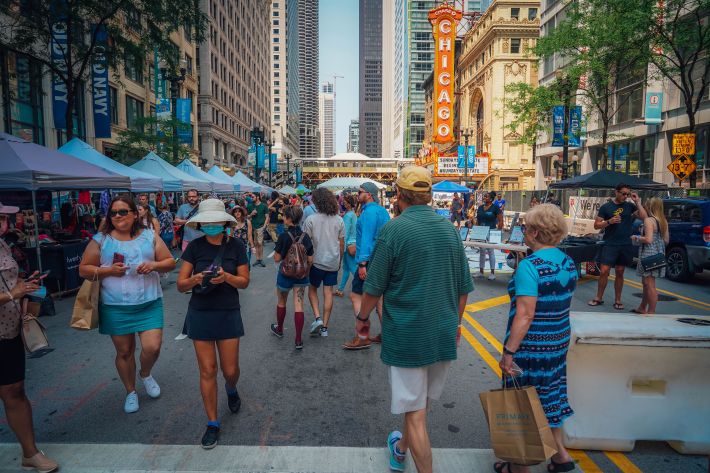 11 a.m.-6 p.m. Sunday
State Street between Lake and Adams
This summer's edition of Sundays on State is closing out this weekend, with shopping, food and drinks, art, musical and dance performances and more across State Street. Register for free online to be entered for a chance to win a $1,000 "Loop Staycation" package.
Noon-2 p.m. Sunday
Damen Blue Line Station, 1558 N. Damen Ave.
Chicago for Chicagoan's Lance Baker is also leading a Wicker Park walking tour this weekend. Kicking off at the Damen Blue Line stop, Baker will take walkers through this "hipster neighborhood," Milwaukee Avenue's commercial legacy and more. The tour will end at Sultan's Market, 2057 W. North Ave., which is a cash-only Mediterranean eatery. Tickets are free, but a $10-20 donation is appreciated.
PLUS: Five Picks From Our Partners At
7:30 p.m. Friday
Wrigley Field, 1060 W. Addison St.
Catch Bruce Springsteen rocking out at Wrigley Field this Friday.
6-10 p.m. Friday
Cafe Oliva, Ohio St. Beach
Beach bash: Join Amazon Prime's Tampa Bay stars for an LGBT+ friendly party with live DJs.
8 p.m. Sunday
United Center, 1901 W. Madison St.
Unleash real creative energy at LL Cool J's 'The F.O.R.C.E Live' alongside a dynamic lineup of artists.
8 p.m. Sunday
Ravinia Festival, 200 Ravinia Park Rd.
Get serenaded by the sound of summer with John Legend live at Ravinia Festival – an event you won't want to miss!
10 p.m. Saturday
Concord Music Hall, 2047 N. Milwaukee Ave.
Get ready to have fun with Nurko and Midnight Kids in an electrifying night of jams and music!
Watch our "On The Block" TV show on The U, CW26 and MeTV.
Listen to "It's All Good: A Block Club Chicago Podcast":