BRIDGEPORT — Ald. Nicole Lee (11th) and local organizers have converted the alderwoman's South Side campaign headquarters into a hub where migrants can pick up essential items donated by neighbors.
Neighbors can drop off donations at the 11th Ward service office, 3659 S. Halsted St., during normal business hours. Those interested in volunteering should fill out the Google form here.
The center has more than enough women's clothing and general toiletries, but organizers said they desperately need new or gently used men's and kids' clothes and new underwear. Diapers, formula, baby wipes and luggage (so families won't have to carry their belongings in garbage bags) are high priorities as well, organizers said.
Asylum seekers also need SIM cards, said Erin Vogel, a 9th District police council member who's been contributing to migrant aid efforts.
"The cards some of [the migrants] had only worked in Mexico and they still need to keep in touch with family back home, so some neighbors are working on getting those. We also need usable Android phones," Vogel said.
Nearly 12,000 asylum seekers have arrived in Chicago since last summer. Many migrants arriving in Chicago on buses are from Venezuela, which has struggled with political upheaval and an economic crisis resulting in severe food and medicine shortages, surging inflation and rising unemployment and violent crime. 
Several Chicago Park District facilities have been overhauled into housing for migrants. While there were no suitable shelter spaces in the 11th Ward, neighbors and residents still wanted to help and have organized to collect supplies, Lee said.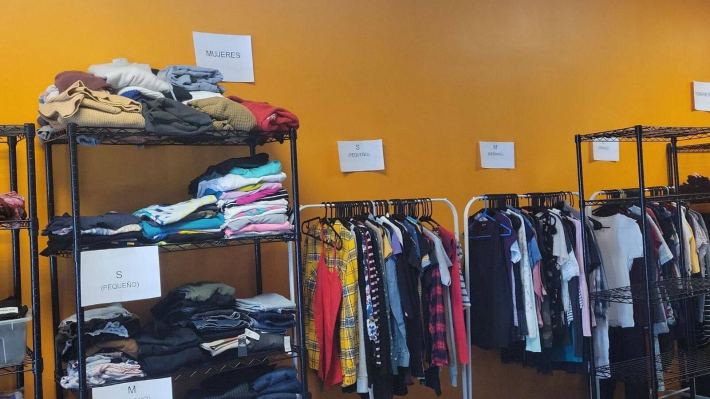 The need for supplies has grown even more acute since Title 42, a Trump-era federal deportation policy, was lifted in June. That meant in part that migrants could again apply for asylum, according to Andrew Selee of the Migration Policy Institute.
"We were beginning to collect donated items — the mutual aid group had already been on top of this from the beginning — but when Title 42 ended, that's when everything just really amped up. And that's when I really got more connected to these mutual aid groups and the residents that were volunteering," Lee said.
It was after a shopping run for a donation drop-off that Lee realized there was a need for space to collect donations, she said.
Lee's campaign office hadn't yet been rented out, it had just enough square footage to store supplies and it was close enough to the Deering (9th) District police station, 3120 S. Halsted St., where some migrant families had been temporarily staying, Lee said.
With the Unity Center, 3339 S. Halsted St., also operating a makeshift store where migrants could discreetly shop for supplies, opening a similar spot in her old campaign office would help accommodate the growing need, Lee said.
"We made a little bit of investment in getting the place set up like a shop so that migrants could come in dignity to get the things they needed and not have to sort through trash bags of donated items, which unfortunately, is happening way too much," she said.
The city has no central depository for donations, which makes it trickier for mutual aid groups and other organizations to facilitate drives like these, resulting in donations of a lot of items that aren't needed, Lee said.
"We wanted [the center] to be something that was a way for asylum seekers to get items that they would need without us needing to take everything to the police station, and we could provide them stuff there at the store," said Mimi Guiracocha, an 11th Ward mutual aid group volunteer who helps run operations at the donation center.
Vogel and Guiracocha credit neighbors from the area's mutual aid groups, who initially came together to provide meals for migrant families, for making the donations center a reality.
The two worked with Lee to take over the Halsted Street storefront.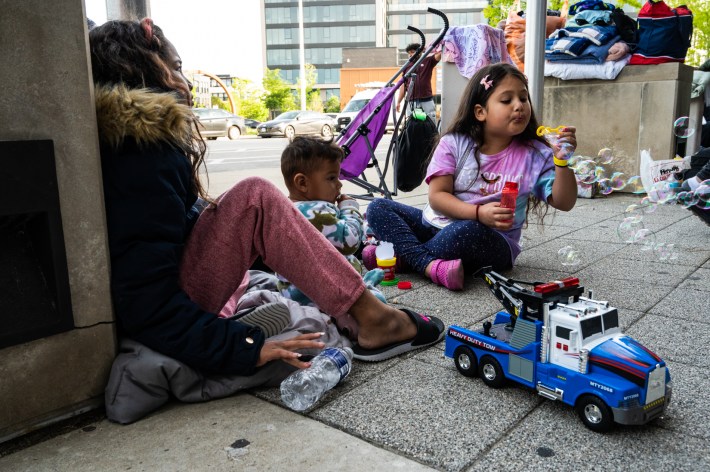 Since opening a month ago, the center has had a steady staff of volunteers to help out during operating hours, mostly teachers on summer break. But as they return to campuses for the new school year more, volunteers will be needed to fill the gap, Vogel and Guiracocha said.
"It's critical that we get more volunteers, especially on the weekends. The shifts aren't that long; it's only a few hours a day," Vogel said.
Both also said more federal support is necessary.
"We're making the best we can out of a crap situation," Vogel said. "These people have made journeys I could never fathom making for a better life for their families, so providing them with some basic needs is the least we can do so that they can have meaningful lives here."
Watch our "On The Block" TV show on The U, CW26 and MeTV.
Listen to "It's All Good: A Block Club Chicago Podcast":