GRANT PARK — Veteran Lollapalooza fans said they struggled to get up close to their favorite acts over the weekend thanks to a pricey new VIP section — which was frequently empty during early performances each day.
Some general admission fans called the move a blatant money grab gone wrong.
"You only need to watch the video boards to see how awkward it is, too," said Peter, a River North resident who has been attending Lollapalooza for 14 years. "They can't even show half the crowd up there because it's empty on one side."
RELATED: All Lolla 2023 coverage
New to this year's festival were fenced-off viewing areas near Lollapalooza's main stages that were accessible to only premium and VIP ticket holders.
Premium ticket holders — the priciest passes to the fest — get their own viewing area nearest the stage. Those who coughed up a tier below "platinum," which are called VIP passes, also have access to their own "on-field viewing" directly behind the platinum areas at main stages, a Lollapalooza spokesperson said in a statement.
The standing-room areas replace previous VIP amenities, which included elevated seating areas behind the general admission sections, a spokesperson for the festival confirmed.
Michael Merritt Mitchell, a Chicago resident who attended with his wife and two grade-school aged kids, told Block Club that the revamped VIP section actually worked out better for them this year than in previous years.
"Platinum's been going on for a few years; it's just so much more expensive. Even VIP is pushing it a little. But this year for VIP they removed the seating they had around the fields before at different ends, which kind of opened things up. And they added a spot on the field for VIP … so we could go to the main stages without waiting all day to get a pretty decent spot toward the front."
The new seating areas, however, leave general admission ticket holders to crowd behind the cordoned-off premium viewing sections, leaving the masses with worse viewing options than they've had previously at the festival.
One attendee posted on social media: "a friend of a friend gave me a 4-day vip pass for lollapalooza for free and i am very grateful and i just want to say the space that vip folks have is ridiculous lol. like why is there this much space between GA and the stage lol."
At early evening sets for acts from Maggie Rogers to DJ Diesiel (aka basketball legend Shaquille O'Neal), VIP fans leaned on their own railings with wiggle room to spare as general admission fans packed around the fences many rows behind them.
For some sets, including for metal DJ Svdden Death's Friday performance at Perry's stage, the top-tier areas were unoccupied.
But the first-class digs appeared full for headliners like Kendrick Lamar and Tomorrow X Together — although it left diehard fans who had camped out the stages for up to eight hours pushed back and disappointed they couldn't snag a front stage view.
Regarding vacant spots, Mitchell reported: "For Chili Peppers, Billie Eilish, all those spots were packed for the headliners. So it probably looks a bit worse during the day."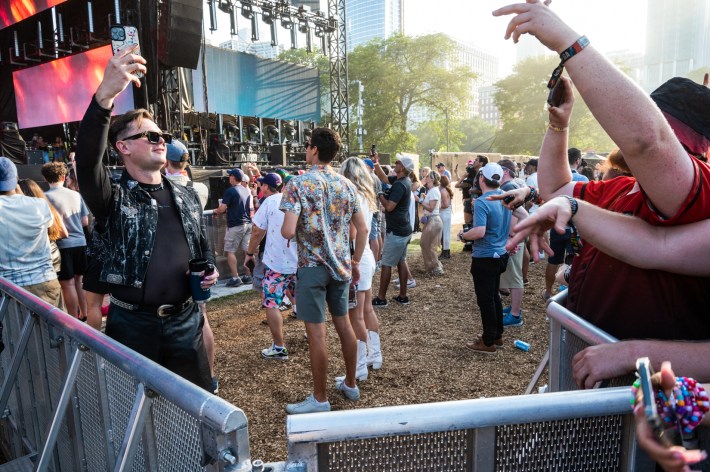 General admission ticket-holder Mark Rayski said he's been going to Lollapalooza for years and was able to stand up-front for Travis Scott during the rapper's 2018 headlining slot.
This year, even for smaller acts, Rayski said getting up close is "near impossible." The festival's size growing by an additional 15,000 fans a day under a new city contract has only exacerbated the increasingly cramped confines, Rayski said.
"All of the stages are so much more packed," Rayski said. "It's just baffling that prices continue to rise but our level of enjoyment lowers."
Drinks and other amenities are high-priced as well. "You buy like one drink with tip and tax, you're pushing twenty bucks. There's no drinks included for VIP," said Mitchell. "Platinum does have drinks and stuff included but their tickets are even more insanely priced."
Peter, another longtime Lollapalooza patron who asked his last name not be used, said he'll still keep attending the festival anyway.
"I admit it's the first time I felt like [Platinum] was taking something away from from the GA," Peter said. "[Still], no better way to spend a summer weekend in Chicago."
Platinum passes for four days at Lollapalooza cost over $4,000 before taxes and fees. VIP tickets for all four days start at $1,600.
A four-day general admission pass cost $385 plus fees and taxes, according to Lollapalooza's website.
In addition to "front-of stage" viewing, those paying for Platinum also receive access to two "Platinum Lounges" with all-inclusive dining, a free full-service bar and views of the main stages on both ends of the festival, according to Lollapalooza's website.
Other Platinum perks include free drinks in all viewing areas, a golf cart shuttle around the grounds, a concierge and "express festival hair and glitter treatments."
The sticker price for four-day Platinum passes is $150 more than last year, the biggest jump of any ticket tier, according to an archive of Lollapalooza's website. The price of a one-day Platinum ticket has remained the same at $2,000, while a one-day GA ticket has risen $10.
MORE FROM LOLLA 2023:
Sunday At Lolla: Packed Crowds Sing Along To Lana Del Rey, Chance The Rapper Makes Appearance
Tomorrow X Together's Lollapalooza Set Shows Power Of K-Pop In Chicago
Karol G Makes History As First Latina Lollapalooza Headliner And Billie Eilish Does 'Barbie'
Watch our "On The Block" TV show on The U, CW26 and MeTV.
Listen to "It's All Good: A Block Club Chicago Podcast":