NORTH CENTER — Midnight Circus in the Parks has brought their unique brand of acrobatic entertainment to Chicago neighborhoods since 2007.
Founded by local performers Jeff and Julie Jenkins, the troupe includes a variety of trapeze artists, tightrope walkers and acrobats, including world-class Cirque du Soleil performers in addition to the couple's own kids. Seeing the Midnight Circus during the troupe's autumnal tour was a highly anticipated tradition for families from Oriole Park on the Far Northwest Side to Foster Park in Auburn Gresham.
But last week, Midnight Circus fans were devastated when the founders announced they will not be able to host their usual citywide tour. The troupe had to call off the shows because of a lack of funding from the Chicago Park District and after the Chicago Department Of Cultural Affairs and Special Events denied a key grant request for $125,000, the founders said.
"I had my call last week, and they told us that we didn't talk enough about how we would change the game. So it could be replicated for other arts organizations," Jeff Jenkins told Block Club Chicago. "I expressed that we already changed the game… I've asked them who are the panelists that grant these funds because clearly there's a disconnect. They don't understand the Circus."
This year's Chicago Arts Recovery Program had a "high volume" of "very competitive" applications which led officials to prioritize groups that "met the criteria of the program," officials from the city's events department said in an emailed statement. 
That criteria included groups with specific projects with "potential to impact the rebuilding and recovery of Chicago's arts and culture sector at large," officials said.
Grant recipients for the department's CityArts Program, which supports nonprofit arts and culture organizations of all sizes, will be also be announced this week, officials said. 
A Park District spokesperson said in a statement Midnight Circus was not eligible to receive funding this year because it did not plan to offer "events at no cost to attendees."
Midnight Circus offered free shows over the last three years due to the COVID-19 pandemic, but that was never going to be sustainable without increased funding, Jeff Jenkins said.
Ticket sales have accounted for about 62 percent of the Midnight Circus' annual operating budget over the group's history, he said.
"We need tickets to sustain our organization. We always did from the very beginning. And we would love to offer the program for free if we were being properly funded. But we're not," Julie Jenkins said. "[The Park District] lessened the funds that they gave to us and cut off the avenue of revenue that we've always had, which was ticket sales."
"I think it's awful, that the Circus has not been able to get the level of support that's needed to sustain terrific offerings they made available to parks across the city, including but certainly not limited to Welles Park," Ald. Matt Martin (47th) said.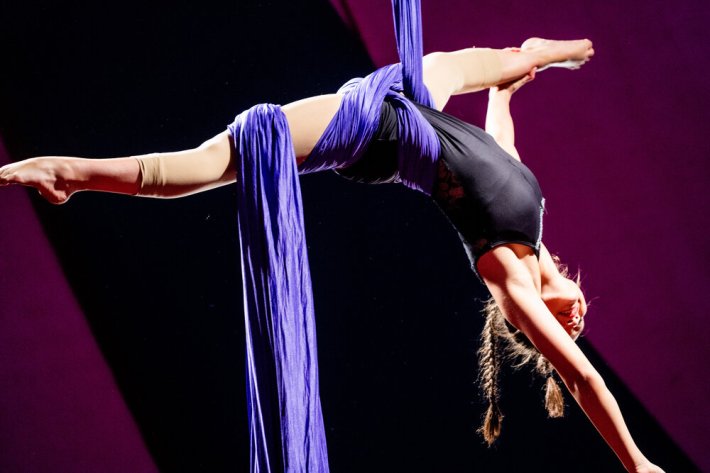 Years Of Dwindling Funding
Though Midnight Circus was one of the first acts under the Night Out At The Parks umbrella, the Chicago Park District started reducing funding for the nonprofit in 2018, the founders said.
At the time, the troupe was required to do a certain number of reduced-price shows in underserved neighborhoods, Julie Jenkins said. As the Park District scaled back funding, the troupe would start their citywide tour in the red and hope to make up the difference in proceeds from higher ticket prices in other parks, she said.
Ticket prices for past Midnight Circus performances cost between $5-$22, depending on the location.
In 2020, Midnight Circus was in the final year of a three-year agreement with the Park District with an annual budget of $100,000. But once the pandemic hit, "Night Out in the Parks stated that they would not be giving us the money," the founders told Block Club.
But even during COVID, Midnight Circus managed to put on performances, forgoing their usual circus big-top in favor of an open-air scenario.
"Aldermen and community leaders reached out to us and said, 'Our communities are hurting. Is there anything you can do to give a boost of joy to our communities?' This was at the height of the pandemic," Julie Jenkins said. "We were the first organization to be issued a permit to do something. And we spent tremendous resources working with the city health department, state health department, bringing in extra staff and volunteers and making sure we could do it and do it safely."
The Jenkins' said they negotiated with the Park District and received $10,000 for the open-air, free show in 2020. In 2021 and 2022, they received $25,000, they said.
"It's really kind of been like a perfect storm where they were bringing less and less and less to the table," Jeff Jenkins said.
But Midnight Circus not getting the city grant this year proved too big a hurdle.
"The hard part is, unless somebody's actually been to the show, they don't exactly understand the power of the show," said Christopher Haite, a longtime member of the Midnight Circus core committee and volunteer.
The Jenkins' reached out to Martin and other elected officials to let them know about this year's scaled-down production due to a lack of funds from city, state grants and corporate sponsorships, Martin said.
Midnight Circus did not get a significant state grant, which led to questions about who reviews applications and decides which groups get funding, Martin said. It was not immediately clear how much the grant would have been for.
"There were some questions raised about how the grant decisions overall were made, not just specific to Midnight Circus, but a whole host of different grant applications," Martin said. "But the state will not be in a position to make any changes to those decisions before Midnight Circus needs to make its own decisions internally about how to move forward."
Martin has also given the Jenkins a letter of support for a different, "modest grant" from the city, he said. That grant's approval is still pending, Martin said.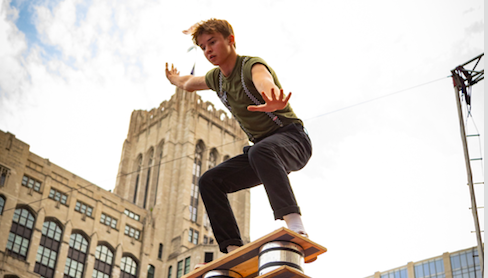 "My understanding is that what had been offered by the Park District earlier this year is unlikely to expand significantly unless the Park District itself gets additional programming-related funds," Martin said.
Without funds for a full tour, Midnight Circus instead suggested to the Park District that they do one big blowout performance weekend this year as a fundraiser in Welles Park, their home base near the Jenkins' home in North Center.
The mission of Night Out in the Parks is to offer "free and accessible performances and events to all 77 communities, and providing a platform and resources for local artists to perform," a Park District spokesperson said.
While Midnight Circus has offered free performances at various parks in the past, the founders said they can't afford to do that for the Welles Park performance, where the troupe has historically charged reasonable ticket prices.
Thus, Midnight Circus did not qualify for assistance like waived permit fees, Park District officials said.
"The [Park District] said, 'Well, you'll have to pay full price for the park. We're going to make you do the permitting. We won't donate anything; we will treat you like any other vendor in our park," Julie Jenkins said.
The Jenkins said they did not pay for permitting in the past, and the requirement felt like a slap in the face.
They estimate Midnight Circus has raised nearly $2 million in through ticket sales, concessions and more that supported park advisory councils, after-school programs, community groups and capital improvements in parks and playlots across the city.
"Funds from the circus helped rebuild Chase Park's playlot, Welles' playlot and nature walk, Hamlin Park… helped offer after-school tutoring services at McKinley Park…" said Julie Jenkins.
"And helped build Independence Park's fully accessible playlot," Jeff Jenkins added.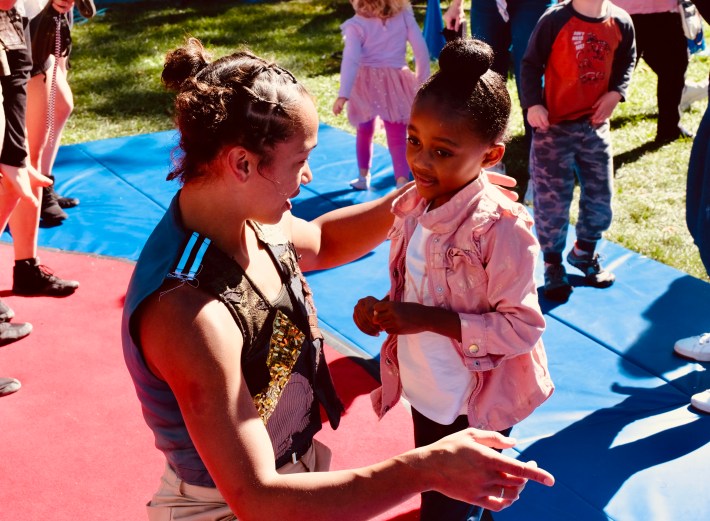 What Now?
Many arts groups lose funding due to low community support or lack of audience. But that has never been an issue with the Midnight Circus, which routinely sells out and works with community groups across the city.
"It has never been an issue of audiences or community support for us… And we didn't just park ourselves on the North Side, we never have," Jeff Jenkins said. "Our partners that we work with, in Englewood and Roseland and McKinley Park and Douglass Park, we would have thorough discussions for months at a time because we were in those communities for months and years."
But this year, those communities will have to come to the circus instead of the other way around.
Discussions are continuing between Midnight Circus and the Park District, the Jenkins said. They added that they hope to release more details about this year's Midnight Circus performance in Welles Park shortly.
Martin is hopeful future collaboration with state leaders could provide more sustainable funding in the future, he said.
"And I'm hopeful with a smaller DCASE grant application that the circus will be successful," Martin said. "I touched base with DCASE last week just to see when they were planning to finalize decisions, and most importantly, make those announcements. They said, within the next week or so [they'd have an announcement]."
Meanwhile, the founders said they are grateful for the outpouring of community support they've received since last week's announcement. They are still accepting donations online.
"I have several families and children where I've got pictures for three and four years in a row," said Haite, who helps usher fans to their seats in full clown gear. "That brings joy to me; I can see the joy on their faces. And if we can't go to Foster Park, if we can't go to McKinley Park, if we can't go to Welles Park, then those families that have seen us for the last number of years, they won't have the opportunity to see us. And that's what makes me sad."
Watch our "On The Block" TV show on The U, CW26 and MeTV.
Listen to "It's All Good: A Block Club Chicago Podcast":