BEVERLY — They call him the "Bike Whisperer."
Miraculous tales abound of reluctant children who still use training wheels transforming into confident bicycle riders within minutes of starting a lesson with Beverly resident Louie Burrel.
But Burrel is humble about it all. He laughs and looks a little embarrassed when asked about the "bike whisperer" moniker.
"I'll take it," he said, still wiping sweat from his brow after a lesson in the scorching heat on Monday. "People just started calling me that, and it just stuck. When people call me that now, I can't do anything but laugh, because I never saw it coming."
"I take pride in it because I want to be good at whatever I do," he said.
And he is.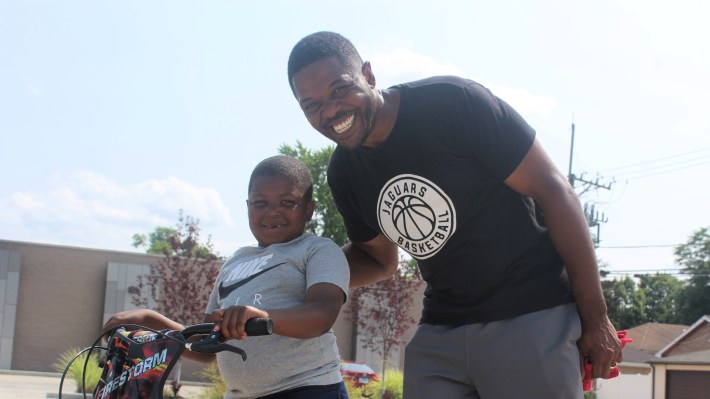 Over the past three years, Burrel, a physical education teacher and girls basketball coach by day, has offered bike riding lessons to local kids — and sometimes adults.
Unlike companies that offer lessons, Burrel is a one-man operation and keeps things informal and personal. He teaches kids one-on-one in empty parking lots around the neighborhood and schedules lessons over text messages. Nearly all of the more than 200 kiddos he's taught have learned to ride in two to four 30-minute lessons, and sometimes less, he said.
What's his secret? He's not really sure, but his clients note his patience, calm and the sense of trust he establishes with the kids. And, they say, there might be a little magic, too.
"You see it in some people when they work with children," said Kaleya Johnson, whose child, Anaya, was Burrel's first student. "There is just this magic that comes alive that I see in him that just somehow imprints on these kids…[There's] just something magical about him in the work that he does."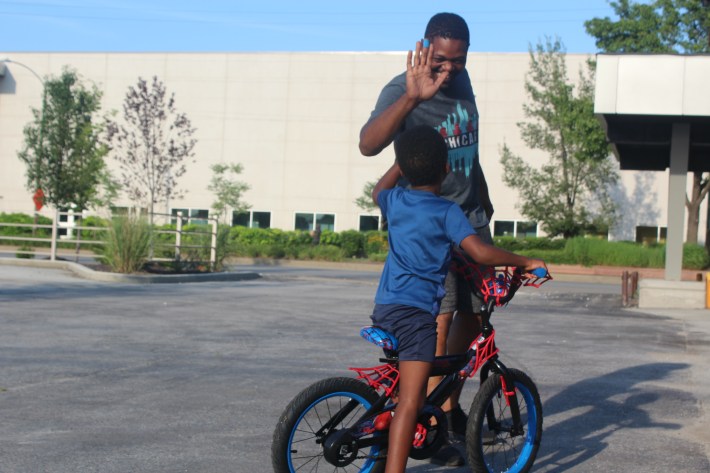 How It All Got Started
Burrel still has scars from when he learned to ride a bike the old fashioned way when he was 5.
"It was definitely like the old-school approach, right? 'Get up, get back on. You'll be OK,'" he said.
When it was time to teach his son Brayden, now 12, he used the same method. But when Brayden fell while riding and his helmet cracked in the middle, Burrel kept the helmet as a reminder to prioritize safety going forward.
"I was so glad that he wasn't hurt, but that also made me more aware of the safety aspect," Burrel said. "He had already learned how to ride, so I couldn't go back and say 'let me hold you while you go down…' But that definitely made me make that decision of not letting my daughter fall."
When his daughter, Nia, was ready to ditch the training wheels and join the family trail rides in 2020, he was there next to her every step of the way. He held her shoulders while she rode and ran alongside her even when she had gotten the hang of pedaling and steering on her own. Most importantly, he kept it fun.
After 15 minutes of learning with her father's new method, Nia was riding, Burrel said.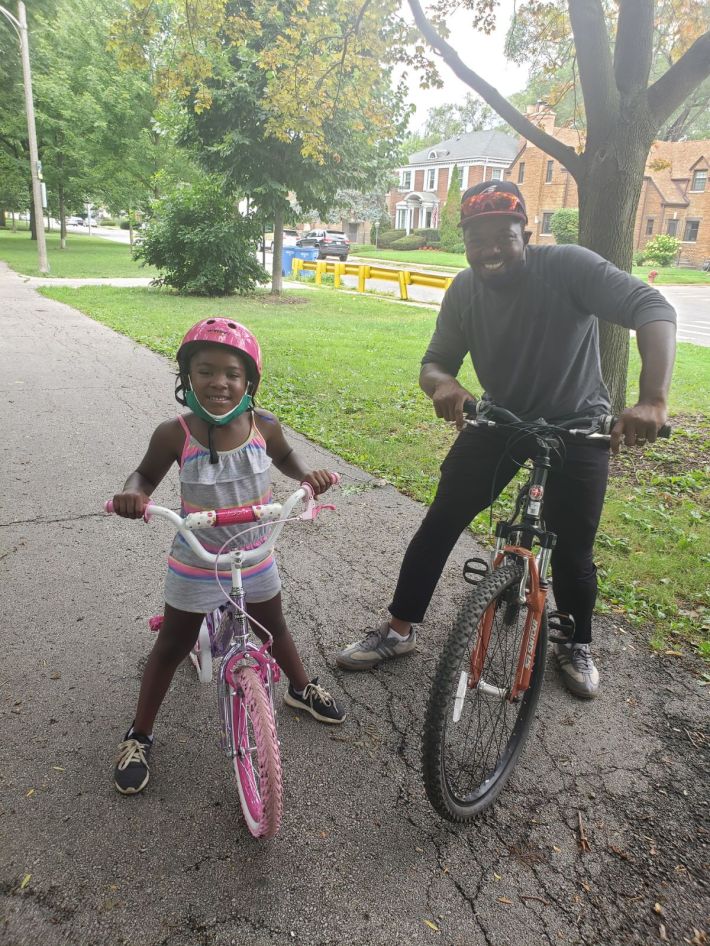 Burrel's journey into "BIke Whisperer" began later that summer.
Burrel's wife, Heidi Moore Burrel, saw Kaleya Ferguson's post on a neighborhood group asking for tips to teach her daughter how to ride. So, she volunteered her husband's help.
In just two lessons with Burrel, 6-year-old Anaya was riding confidently. Kaleya Ferguson posted the video of her daughter's progress in the neighborhood Facebook group where she'd heard about Burrel, and soon Burrel was fielding other requests for lessons.
Burrel remembers Anaya fondly for getting him started on what has been a fulfilling journey, particularly when the pandemic forced students and educators to go remote.
"It was honestly what kept me sane during that time," Burrel said. "Being in education and working with kids and talking to people, that's what I do. And then just being remote and not around anyone wasn't the same. So, just going out and doing those individual lessons gave me a sense of clarity and a sense of feeling normal again, almost."
The lessons left an impression on Anaya, too, who signed up for a basketball camp later that summer purely because Burrel was teaching it, her mother said.
Six-year-old Matthew Johnson recently became one of Burrell's success stories.
Before his first lesson with Burrel in mid-July, Matthew wasn't able to balance on his bicycle without training wheels.
Matthew's mother Shakita Johnson sought out Burrel after trying to teach her son to ride for two months. She'd taken off his training wheels and tried every method she could think of — holding onto his handlebars, holding onto the seat and letting go when he seemed balanced, Johnson said.
"As soon as he realized I wasn't behind him, he would fall," Johnson said.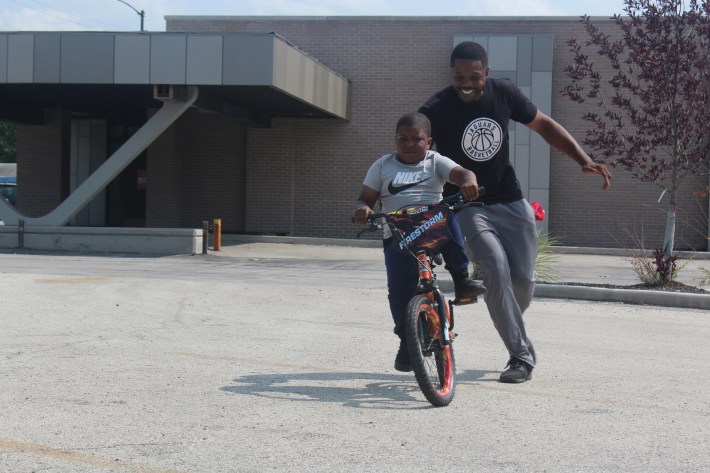 Afraid of falling again, Matthew, who had loved riding his bike with the training wheels on, soon lost interest in riding at all, his mom said.
But after just one trip around the parking lot at 115th and Western with Burrel holding firmly onto his shoulders and running alongside him, Matthew was already feeling confident. During a water break, he told his mother he trusted Burrel, and after 15 minutes with Couch Louie (as his students call him), Matthew was riding on his own. Burrel only had to jog alongside him, occasionally offering gentle encouragement or course corrections.
By the end of the lesson, Matthew was eager to come back again the next week to work on braking and safety practices.
That connection Burrell makes with his students is what motivated Ferguson to sign up her 5-year-old son Kimani for a lesson this summer, three years after her daughter became Burrel's first student.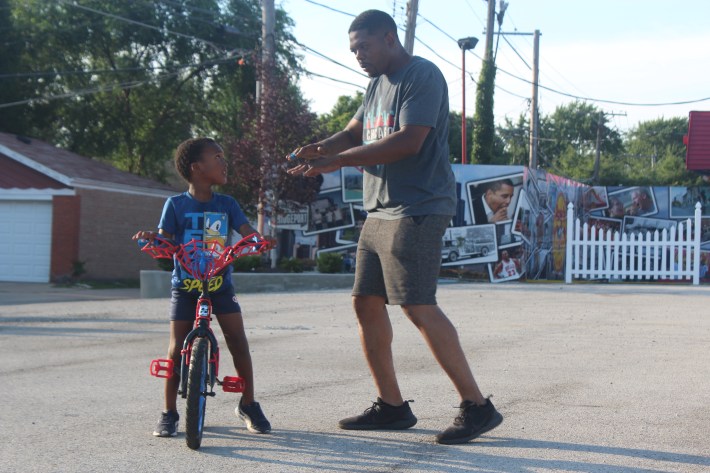 'It Doesn't Feel Like A Job … I'm Having Fun'
On a hot Tuesday, Burrell started his lesson with Kimani the same way he starts every lesson these days:
"I have two rules for me and three rules for you," he told the youngster. "Whose rules do you want first, mine or yours?"
Then he lays out the simple rules:
"Rule number one for me: I can't let you crash anything. Whatever you see out here, you're not gonna crash into it, because I can't let you do it.

"Rule number two for me: I can't let you fall. So, my rules are all about keeping you safe," he said, counting the rules on his fingers.
"Now, you ready for your three rules?

"Rule number one: make sure you hold on to the handlebars.

"Rule number two: keep your feet on the pedals while we're pedaling.

"And rule number three: look forward, so you can see where we're going."
And surely enough, the bike whisperer struck again. Kimani was riding on his own in minutes.
"I really think it's more about the patience, the calmness. Truly a bike whisperer," said Kaleya Ferguson. "Truly, it's phenomenal. I have no idea. Because it's not the mechanics of it… He has something in there that these kids respond to."
At 12 to 15 lessons per week, Burrel could certainly turn his gift for teaching bike riding into a more lucrative operation, but he likes it the way it is now — focused on building personal relationships and giving the gift of riding.
"What I really enjoyed was just seeing the families and how happy they were and how appreciative they were and then opening up a new door for these kids," Burrel said. "That 10-minute walk to the store becomes a five-minute bike ride to the store. I know how much like riding bikes was the outlet for my family. So I just felt like I was giving other families that same outlet.
"That's what I like about it, it doesn't feel like a job … I'm having fun."
Parents can find Burrel on Instagram.
Watch our "On The Block" TV show on The U, CW26 and MeTV.
Listen to "It's All Good: A Block Club Chicago Podcast":