AUSTIN — Maricela Delgado moved from Logan Square to Austin five years ago. The home she and her husband made for themselves, however, was severely damaged in early July's devastating floods.
On top of $15,000 in property damages, the flood compromised Delgado's health as an immunocompromised diabetic and has destroyed her husband's construction tools for his job, old photos of her children and clothes for her daughter to go to college. Insurance won't cover the repairs, Delgado said.
She is among many West and South Side residents who believe city and federal agencies aren't doing enough to protect residents from flooding and other natural disasters. As climate change gets worse, problems for historically under-invested communities will only exacerbate, experts said.
"To see part of our home being destroyed in a matter of hours has been very hard," Delgado said. "It's a city problem and I think more needs to be done about it and they need to be more honest about it too."
As global temperatures continue to rise, the South and West Sides are the most likely to see large amounts of rainfall, but those areas don't have the additional infrastructure that's necessary to prevent flooding when the city's sewage system overflows, according to climate and urban planning experts.
Officials need to bolster infrastructure in those areas quickly while they continue to increase the water system's capacity as a whole, said Rachel Havrelock, director of the University of Illinois Chicago Freshwater Lab. 
"We can't put this responsibility on residents who are already reeling from all the losses flooding has caused," Havrelock said. "We need a comprehensive strategy that places impacted communities at the front of the line for infrastructure improvements."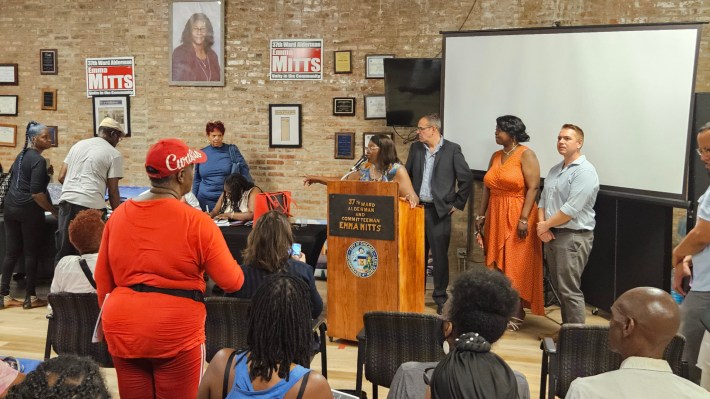 Record rainfall, uneven impact
When intense storms dumped record-breaking amounts of rain across the city July 1-2, the West Side was hit hardest with nearly nine inches of rain within a 24 hour period. 
At least one in four households in Austin reported flooding damage after the city's sewer system overflowed because it couldn't handle the excess stormwater. 
That flooding was the subject of community meeting held last week at Ald. Emma Mitts' 37th Ward office, 4924 W. Chicago Ave. More than 13,000 calls were made to 311 in the area after the flooding, officials said at the meeting.
Multiple residents do not feel a viable short-term solution is coming from state and local agencies to address the flooding. Some spoke about how the flooding is still impacting and damaging their homes, without much in the way of immediate relief.
Mitts, who's home was also flooded, said the lack of rain infrastructure leading to this was not shocking given the lack of proper investment on the West Side.
"In my 25 years of being an alderwoman, I've yet to see the right amount of infrastructure in our community," Mitts said. "They [the government] need to know about the devastation done to our community. We have to help each other."
Throughout the meeting, officials told the crowd that the storms were historic, surpassing rainfall levels unseen in 12 years.
Kari Steele, the president of the Metropolitan Water Reclamation District of Greater Chicago, said the storm was an extreme rain event that would overload any sewer system. The region's stormwater retention system took in roughly 6 billion gallons over the first week of July.
"Draining that amount of water from the reservoir would be like trying to suck out the water from a swimming pool through a straw," Kari Steele, the president of the Metropolitan Water Reclamation District of Greater Chicago, said at the community meeting. "We are invested in helping out and showing that we support you all."
What would help South and West Side residents in particular is green infrastructure that can help protect flood-prone areas and address decades of infrastructure disinvestment, experts said.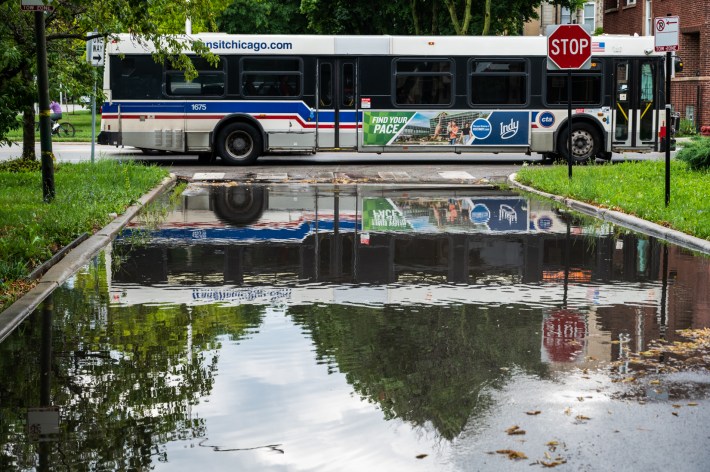 Higher Temperatures, Heavier Rainfall 
Due to climate change, intense rainfall is becoming more frequent because warmer air holds more moisture, said Chris Peterson, the associate dean at Loyola University Chicago's School of Environmental Sustainability.
That fact collides with other social issues, including aging infrastructure, to hit cities hard during storms, said Rich DiMaio, a climate change professor at Loyola University Chicago.
"What is becoming more of a trend is the number of heavy rain events that are occurring during the spring and summer across the country," DiMaio said. "An increase in population, aging infrastructure and an increase in potentially heavier rainfall events makes large urban areas more vulnerable to these types of extreme weather events."
The increasing intensity of storms has "outpaced" Chicago's infrastructure development, said Teresa Córdova, director of the Great Cities Institute at University of Illinois Chicago. 
The Chicagoland area's drainage system is centralized, which means it doesn't accommodate for each area's unique flood prevention needs. The South and West Sides are located within a floodplain, which means they've always experienced greater rainfall than other places in the city, Havrelock said.
Despite being flood-prone areas, the infrastructure on the South and West Sides is particularly ill-equipped to handle intense storms, Havrelock said.
Between 2007 and 2016, flood damage insurance payments totaled more than $400 million — and 87 of those payments went to residents in communities of color, according to the Center for Neighborhood Technology. 
"As Chicago developed, people knew where it flooded the worst and they knew they didn't want to put highly valued properties there," Havrelock said. "It's part of this pattern of environmental racism that's constantly repeated across the country, where low-income, working-class communities of color were built on floodplains."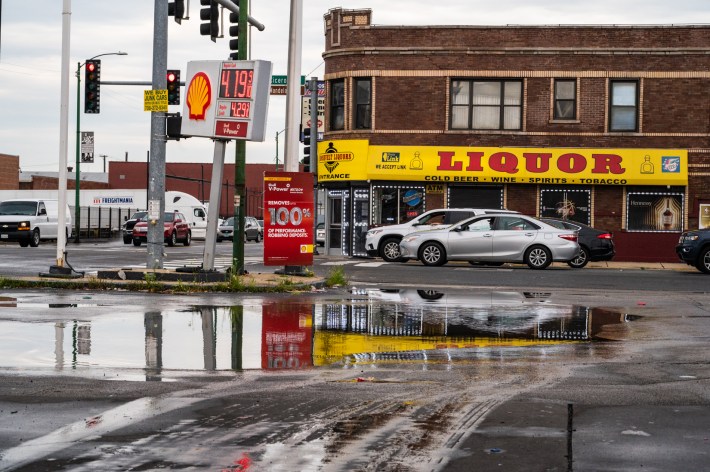 Short And Long-Term Solutions
Decentralizing the city's water system by implementing a wide variety of infrastructure based on each area's flood prevention needs would help the South and West Sides withstand storms, Córdova said.
Improvements can be made by installing extra underground holding tanks in flood-prone neighborhoods and building green infrastructure. Green infrastructure could mean anything from rooftop gardens to permeable streets to biowales, all of which allow rainwater to soak into the ground, said Krishna Reddy, a green infrastructure researcher at University of Illinois Chicago.
Filling outdoor spaces, including balconies and rooftops, with more trees and deep rooted plants is one of the most effective ways to provide water more places to go, she said said. Permeable pavement can be used in parking lots, playgrounds and alleys if it's built atop small reservoirs to store the water that passes through it, Reddy said.
The idea is to keep water out of the main sewer system that flooded during the recent intense storms. Green infrastructure, however, has its limits and it can't entirely solve the region's water capacity issues, Reddy said. 
"Green infrastructure is definitely part of the solution, but it's not the whole solution," Reddy said. 
More long-term solutions include reconstructing the wetlands along Lake Michigan, much of which was filled in and paved over in the creation of Chicago, Havrelock said.
"We have to build in a way that puts community leaders impacted by natural disasters at the forefront," Havrelock said.
In West Humboldt Park, however, many residents were frustrated by the scarcity of short-term options to address flood-damaged homes. Neighbors at Mitts' community meeting said the flooding negatively impacts older residents and people may have to pay out of their own pocket without proper relief from the state.
"We have mold and asbestos in our homes from this flooding," one woman said. "I understand that green infrastructure is important in the long run, but a lot of us here are dealing with this as an imminent emergency. We don't have money sitting in our accounts in our basements. These are 2023 problems."
Watch our "On The Block" TV show on The U, CW26 and MeTV.
Listen to "It's All Good: A Block Club Chicago Podcast":