CHICAGO — As far as Chicago living legends go, you'd be hard-pressed to find anyone more revered than national horror movie host Svengoolie. The former Son of Svengoolie, portrayed by 71-year-old Rich Koz, now has a national audience thanks to Chicago-based network MeTV, as he continues the gig he's held for decades: running hilariously bad horror movies along with equally hilarious intros and commentary on Saturday nights, buoyed by well-established long-running bits like "Svensurround," the throwing of rubber chickens and the familiar lament of "Berrrr-wyn." 
The greatness of Svengoolie, which began several decades ago on WFLD here in Chicago, has not only been cited as a Mystery Science Theater reference, but the legendary character has even worked his way into other media. Specifically, the also pop-culture friendly world of comic books. He previously appeared in the 2019 release Svengoolie Meets the DC Universe, but now is the star of the show (sans superheroes) in Svengoolie: Lost in Time, a new release by FMP (Frank Miller Presents, a new imprint the comic book legend created last year).
"I was doing an appearance at the C2E2 convention, and one of the people in line to meet me happened to be Dan DiDio, who was one of the stars of DC comics," Koz said. "So I was very flattered that he had come over. We ended up doing a DC comic with me interacting with Batman, Superman, Joker, various DC characters. We were real happy with that.
"Dan left DC and is now signed up with Frank Miller Presents, and he started saying we should really do another comic or two. And I was all for it, and it turned out MeTV was all for it too. And so we produced this comic book."
In Lost in Time, Svengoolie is plagued by a "Svenbot," who is sent back in time by Sven's arch-enemy Dr. Kopay to rid the horror host of his future co-stars Kerwyn (the rubber chicken), Tombstone (the mustachioed skull) and Boddy Sorrell (the talking skull face on Sven's coffin). Said Koz, "Originally, I gave Dan like a whole page of different ideas for what the comic book would be. And we used a couple of the different ideas I had that. One was the idea of Svenbot and one was origin stories for some of the characters we have on the show. We put that all together, and we came up with the time travel idea, of the Svenbot going back in history so that I didn't end up with my stellar co-stars."
People can now bring the comic to have Svengoolie sign it at one of his many public appearances — that is, if they can find one. "The comic's been very successful," Koz said. "I've been hearing that a lot of the stores now have sold out their stock. It's very flattering, and I'm just glad that so many people have gotten into it."
You may think that Svengoolie is among the last of the great horror movie hosts, but actually, he's inspired a whole new generation of irreverent scary movie fans. "The fact that we've been so successful has prompted some markets to say 'Hey, we could do the same thing' with their own local hosts," Koz said. "And on the Shudder app, there's our friend Joe Bob Briggs," who Svengoolie will be appearing with at a Flashback Weekend Horror Convention in Rosemont on August 4.
It's been a long road from where Koz first started out, taking over for the original Svengoolie, Jerry G. Bishop, in 1979. "When I first got this job back at WFLD, I just felt really fortunate to have a job in TV," Koz said. "I thought, if I just have this job for a little while, I'd be thrilled to death. And now, that the character has come this far and to national prominence, that's just amazing to me." Koz's first Svengoolie show ran until 1986. Svengoolie then joined future MeTV station WCIU in 1995, eventually going national every Saturday night on the MeTV network in 2011.
It's not an exaggeration to say that Svengoolie has now reached generations of horror movie fans, from kids who grew up with him in Chicago to families who still watch him today. "It's great because we have such a wide range of fans. I get 80 year olds coming to see me, as well as little kids who love the show. There's teenagers and young adults," he said. "One thing I really like, that I hear very often is 'Our whole family gets together to watch the show on Saturday nights.' And it's such a compliment, because I don't know that there are that many shows that entire families will group together and watch together."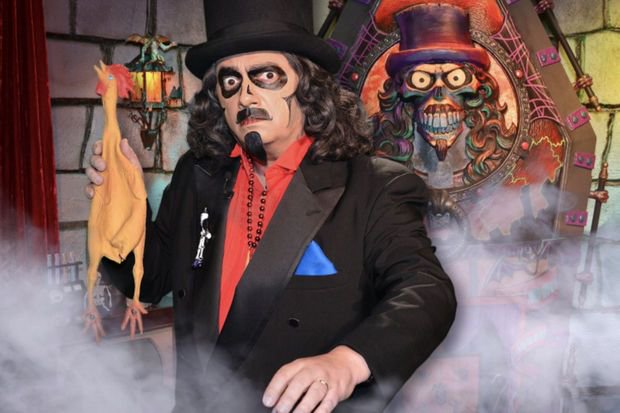 At this point, after so many years, it's surprising to hear there are still some movies out there that Koz would like to have Svengoolie feature on his show but has not yet. For example, there are a bunch of 1950s movies "that I would love to run. But the widow of one of the producers owns the rights and because she wasn't happy with the way Mystery Science Theater treated them, she will not allow anyone else to run them. … And there's some real classics I'd like to get to, like 'The Day The Earth Stood Still.' "
Of the movies that have appeared on the Svengoolie series, one stands out for Koz that shows how the tough search can really be worth it. "There was one we searched for for a long time that we could not get called 'Fiend without a Face,'" Koz said. "And a lot of people don't know it by the title, but they always remember the monsters in it. They were like stop-motion brains with long spinal columns that they used kind of like caterpillars to move along. They could also leap and fly through the air, which I never quite understood. We just got that last year, and I was very happy that we got the chance to show it."
Part of what makes the show such fun are the long-running gag traditions that even new fans are quick to pick up on. For example, whenever Svengoolie makes a bad pun (which is often), he gets rubber chickens thrown at him. "That goes all the way back to the original Svengoolie, Jerry G. Bishop who was on WFLD," Koz explained. "It goes back to vaudeville: When people told a bad joke, people would throw rotten tomatoes. Obviously, you're in a TV studio and you can't have people throwing rotten vegetables, because the cleanup would be unbelievable.
"But then he thought of another vaudeville prop — the rubber chicken — so what about, 'If I tell a bad joke, they throw rubber chickens at me?' So I've just taken the torch from him and continued with it and people really associate that with me. I've heard that there are places that sell them, that sell out of them and they attribute it to us."
The crew always seems to be in on the joke, ready to pull out humorous sound effects or toss the chickens themselves. But sometimes, Koz said, "we'll recruit people from the station to come in and throw the chickens, and that's always fun. We're working, but we're having fun too.
"If you've got a job like that, you've got a great life," he said. "I never that this would happen — and I'm just so grateful that it did."
The Svengoolie show airs 7 p.m. every Saturday night on MeTV. Svengoolie: Lost In Time (FMP) is available at many local comic book retailers. He will also appear at the Flashback Weekend Chicago Horror Con on August 4 and 5 at the Hyatt Regency O'Hare Chicago, 9300 W. Bryn Mawr Ave. in Rosemont.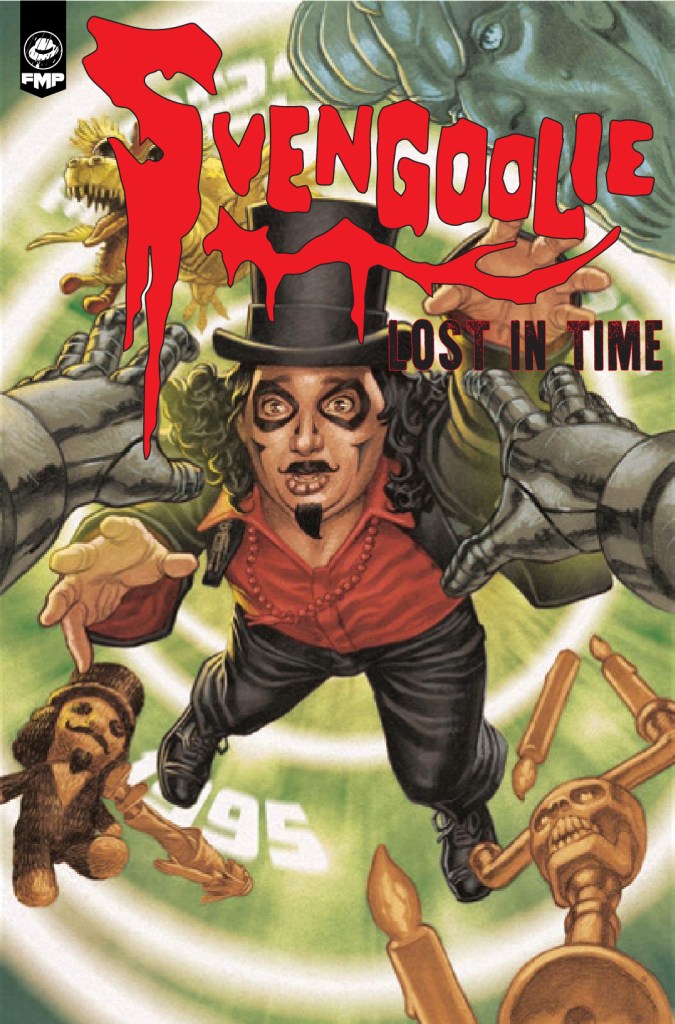 Check out our "On The Block" TV show.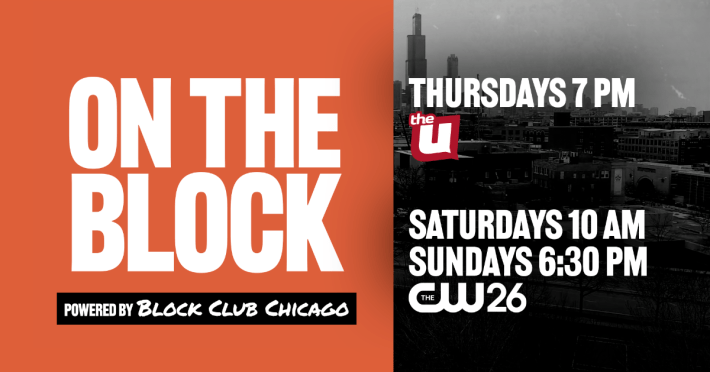 Watch our "On The Block" TV show on The U, CW26 and MeTV.
Listen to "It's All Good: A Block Club Chicago Podcast":