CHICAGO — Swing by The Silver Room's final block party, shop local at the Randolph Street Market, sip spirits at the Lincoln Park Zoo's Summer Wine Fest, take a walking tour of West Lakeview and more.
Here are 25 things to do in Chicago this weekend:
Noon-10 p.m. Saturday-Sunday
Oakwood Beach, 4100 S. Lake Shore Dr.
The Silver Room Block Party is making its way to Oakwood Beach for its final edition this weekend. There will be a variety of artists performing on three stages, where you can catch a Reggae Dance party, iconic hip-hop beatmakers and more. There will also be performances from groups like Second City Improv and the 40+ Double Dutch Club. Single-day tickets are $60 and weekend passes are $95. Children 13 and under get in free.
10 a.m.-10 p.m. Saturday-Sunday
Midway Plaisance, 1200 Midway Plaisance near 59th and Woodlawn
Chicago's biggest multi-cultural festival with music, food and culture from over 30 different countries returns this weekend. General admission passes are $10-35 and VIP passes are $50-75. Buy them online.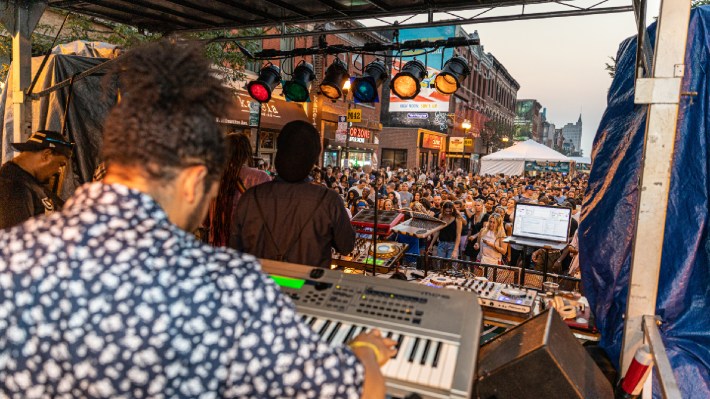 5-10 p.m. Friday, noon-10 p.m. Saturday-Sunday
Milwaukee Avenue from North Avenue to Paulina Street
There will be dozens of vendors serving food and drinks local restaurants, over 100 retail vendors, dance and cultural performances and over 60 bands performing across three stages at Chicago's second-longest street festival. $10 suggested donation. Learn more online.
2 p.m. Sunday
Cindy's Rooftop, 12 S. Michigan Ave.
Soak in summer with Jeni's ice cream while lounging at Cindy's Rooftop. For $50, you can enjoy three specially crafted cocktails paired with Jeni's treats. Get your tickets and learn more here.
5-9 p.m. Saturday
1617 W. Walnut St.
This all-inclusive event includes a vegan buffet, hand-crafted cocktails and mocktails, games and a smoke-friendly space. Meet new people and try new foods. Tickets are $85 online.
1-5 p.m. Saturday
Stateway Gardens Park, 3658 S. State St.
Enjoy drinks, play giant Jenga and other games, paint and learn all about City Bureau at this free, family-friendly Bronzeville block party. Everyone is welcome and you can RSVP online.
11 a.m.-3 p.m. Saturday
Bethel New Life, 1140 N. Lamon Ave.
This pop-up fest is a book lover's paradise with books, food, raffles for free books and free backpacks in time for school. RSVP online.
11 a.m.-3 p.m. Saturday
Harris Park, 6200 S. Drexel Ave.
At this interactive fair, attendees can hear from experts about housing, banking, entrepreneurship and family support services. Learn more about affordable housing options, rental assistance programs, homeownership opportunities, banking solutions, housing counseling services and more. RSVP online.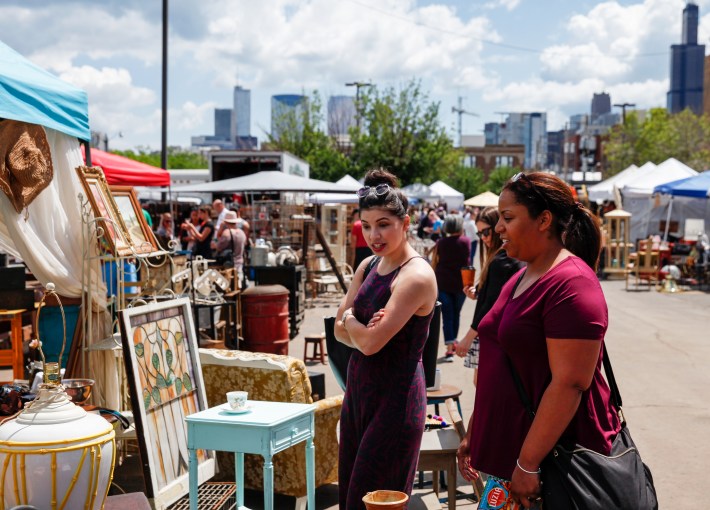 10 a.m.-5 p.m. Saturday-Sunday
1341 W. Randolph St.
The Randolph Street Market is bringing together 200 North American vendors, makers, dealers and designers to Chicago's West Loop. It offers a full lineup of live musical acts, food vendors, refreshing cocktails and more. General admission tickets start at $12 and ticket packages go up to $100. Learn more and get your tickets online.
11 a.m.-5 p.m. Saturday-Sunday
Along Armitage Avenue from Racine to Halsted, and on Halsted Street from south of Armitage to Webster
The annual Armitage-Halsted Sidewalk Sale features more than 20 Lincoln Park small businesses. Neighborhood stores will be offering deals and specials for attendees throughout the weekend. This is a family-friendly event and admission is free. No registration is required.
1-7 p.m. Saturday
DuSable Museum Campus, 5700 S. Cottage Grove Ave.
This 3rd annual fest is all about celebrating young Chicago creatives. Come out to see local artists, vendors and interactive experiences. Admission is free. RSVP online.
1-5 p.m. Saturday
Space Stage Studios – Outdoor Courtyard, 455 N. Wolcott Ave.
Sample everything from modern hop bombs to classic, traditionally unfiltered styles at this outdoor beer fest and competition. You can taste modern, classic and experimental beers, meads and ciders from over 30 local producers and vote for your favorite. General admission tickets are $40 online.
11 a.m.-3 p.m. Sunday
Altitude Chicago Trampoline Park, 404 N. Armour St.
Mini Fest gathers artists and creative entrepreneurs for kid-friendly interactive workshops, from decorating pop tarts with Bang Bang Pie to composing cyanotype prints with BLICK Art Materials. There will also be small business and artists vendors, live music and entertainment, local food trucks and giveaways. RSVP for free online.
1-7 p.m. Saturday
Chez Warwick, 5514 W. Warwick Ave.
BYOB and swing by this free outdoor community event for a backyard karaoke party, vintage clearance sale and a free clothing swap for your unloved, gently used items. This is a 420-friendly event for adults. Bring cash or use Venmo for a suggested donation of $5-10 for entry, $5 per karaoke song and $2 per hotdog/snack or drink. Proceeds will help fund Kababayan's music programming for Filipino American History Month.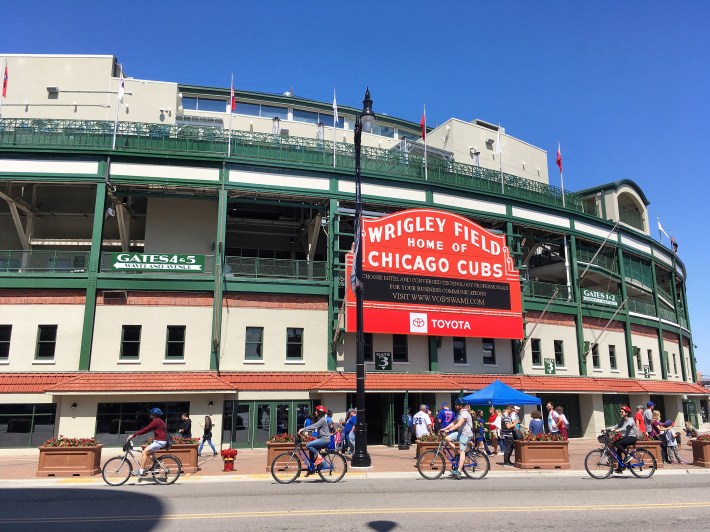 Noon-2 p.m. Sunday
Beginning at the northwest corner of Addison and Halsted
​Chicago for Chicagoans, a nonprofit "pay-what-you-can" tour service created by and for Chicagoans, is offering a walking tour of West Lakeview this weekend. Lakeview resident Walter Kiefer will take walkers through the neighborhood's atypical historic construction on Alta Vista Terrace, Wrigley Field's storied past, railroads and more. The tour ends at Sheffield's Wine & Beer Garden, 3258 N. Sheffield Ave, where you can have a meal with the group. Tickets are free, but a $10-20 donation is appreciated.
2-6 p.m. Sunday
Ludlow Liquors – patio, 2959 N. California Ave.
A Dope Art Show will be showcasing the work of more than 40 local artists. Enjoy birria tacos, Ludlow drinks and an outdoor photo booth.
10 a.m.-noon Saturday
Thattu, 2601 W. Fletcher St.
On this neighborhood bike ride, get behind-the-scenes looks at several small businesses, including Thattu, Anchor Baby Vintage, Hyun's Hapkido and Taekwondo School and Boulevard Bistro. Tickets are $25 online.
12:30-3 p.m. Saturday
Promontory Point, 5500 S. Lake Shore Dr.
Registered art therapist Pierra D. Brown is facilitating an outdoor art experience where you can create art, socialize and be in nature. Art materials will be provided, but you can bring your own along with a picnic blanket and snacks. Tickets are $25 online.
9:30-10:30 a.m. Saturday
Canvas Lot, 6950 S. Green St.
Practice yoga with community members during this outdoor class in Englewood. These classes are led by a rotating roster of local wellness leaders every Saturday morning through Aug. 5. All are welcome and participants should bring their own mat or towel, water and anything else they need to feel supported during class.
7:30-9:30 p.m. Saturday
Three Avenues Bookshop, 3009 N. Southport Ave.
Three Avenues Bookshpo is holding a July open mic night hosted by neighbor and musician Zack Frank. Anyone interested in performing should fill out a form online.
1-4 p.m. Saturday
Sidetrack, 3349 N. Halsted St.
Independent, award-nominated gay podcast Gayish, hosted by Mike Johnson and Kyle Getz, is doing a six-city tour. It's stopping at Sidetrack this weekend for a live taping of the show, where you can hear Johnson and Getz talk about gay stereotypes. Have some drinks and stick around for a meet-and-greet. General admission tickets are $24, which includes a drink ticket. Buy yours online.
7-10 p.m. Saturday
The Insect Asylum, 2870 N. Milwaukee Ave.
Celebrate National Moth Week and connect with nature during a night walk hosted by the Insect Asylum. Through guided expeditions and immersive expeditions, you can delve into the world of moths and beyond. Tickets are $45 online.
11 a.m.-1 p.m. Sunday
Dark Matter Coffee – Osmium Coffee Bar, 1117 W. Belmont Ave.
Meet fellow queer Asians and try out coffee shops at these monthly meetups. All are welcome, but attendees are asked to be mindful as this is a space for LGBTQ+ Chicagoans to hold space, share experience and enjoy each other's company.
2-5 p.m. Sunday
Bartelme (Mary) Park, 115 S. Sangamon St.
The Acton Children's Business Fair offers space for children to turn their creativity into reality. Children can learn how to monetize their hobbies and test business ideas. This event is free and open to the public.
Noon-5 p.m. Sunday
1431 N. 52nd St.
Trade plants, cutting supplies and more gardening-related goods. Make sure any substrates, fertilizers and similar items are in their original package or clearly labeled. Plants should also be labeled and cuttings should include names and basic care instructions.
PLUS: Three Picks From Our Partners At
10 p.m. Friday
Metro, 3730 N. Clark St.
A sapphic space for friends, lovers and crushes.
6:30 p.m. Friday
Lincoln Park Zoo, 2001 N. Clark St.
Stroll, sip and savor at the zoo's annual event.
6 p.m. Saturday
Soldier Field, 1410 Special Olympics Dr.
Catch the star performing on a 360 stage at Soldier Field.
Watch our "On The Block" TV show on The U, CW26 and MeTV.
Listen to "It's All Good: A Block Club Chicago Podcast":