CHICAGO — It seems like the whole world is thinking pink right now, as the opening weekend of the Barbie movie is finally upon us (just Google "Barbie movie" today and see what happens).
We can't wait to see Margot Robbie personify the iconic doll and pull off a multitude of spot-on doll outfits, Issa Rae ruling the roost as President Barbie and whatever Ryan Gosling is doing with his hilarious performance as Ken.
But maybe you feel like wearing hot pink to your viewing just isn't enough, and you want to augment your movie viewing with some additional activities? Fortunately, a multitude of Chicago Barbie events are happening on opening weekend and beyond. Below is a list of just a handful of the local options available. Now, let's go party!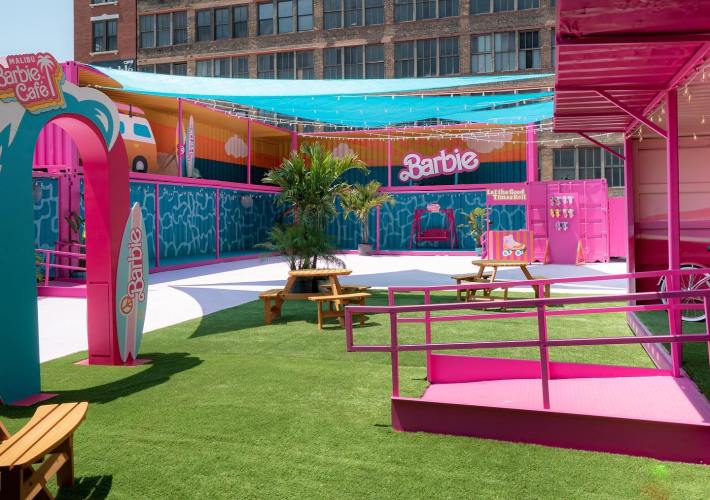 This Barbie pop-up at 324 S. Racine Ave., has been up for a while now, stoking interest in this summer's doll-themed blockbuster. Now, the Barbie powers-that-be have just announced that the pop-up will be extended a month, so that (highly recommended) reservations will be accepted through October 15, stretching out your Barbie summer even more.
Enjoy Barbie-themed treats like Pacific Paradise Rainbow Pancakes, West Coast Wedge Salad and Make Waves Avocado Toast, get a selfie in a Barbie box and lace up some rollerblades, just like Ken! All ages welcome, but kids need to be at least 5 to skate. The kids menu, adult menu and reservations are available at bucketlisters.com.
Barbie Drag Brunches
What could be better than the combo of Barbie drag and mimosa-fueled brunch? Make your Saturday midday meal the most fun one of the week with a Barbie Drag Brunch this weekend at 11 a.m. Saturday at Joy District, 112 W. Hubbard St., in River North, featuring Khloe Daniels, DJ Martin and "a supersized cast of Chicago drag queens." Brunch packages run from $60 to $100, but all include bottomless mimosa. Visit the Joy District website for reservations.
If you miss that one, Simone's, 960 West 18th St., in Pilsen, will be host The Unofficial Barbie Brunch August 6, with drag performer Jasmine Phoenix. Tickets are $15. On August 13 at 11 a.m., Untitled Supper Club, 111 W. Kinzie Ave., will have its own Barbie Drag Brunch hosted by the great Lucy Stoole. Tickets are $20.
50 Shades Of Pink: A Barbie Drag & Fashion Show
From 3-5 p.m. Sunday, Logan Square/Avondale's Vintage Frills, 2846 N. Milwaukee Ave., hosts a Barbie and Ken Fashion Show and Barbie Drag Show. Take a selfie in a Barbie Box and enjoy pink drinks while you peruse the store's Barbie-inspired vintage collection. Attendees who wear their best pink getup could win "Best Outfit" and a vintage version of their favorite doll. $20 VIP tickets are available online.
Barbie Bash Dueling Pianos
Dueling pianos are always a blast, as a pair of piano players take requests, encouraging high-energy group sing-alongs. But Saturday, The Original Mother's, 26 W. Division St., is hosting a Barbie Bash-themed Dueling Pianos set from 8 p.m. to 5 a.m., featuring your favorite songs from the soundtrack and beyond. No tickets necessary, but reservations are recommended.
Barbie Trivia
How does your Barbie knowledge stack up? Find out at the Barbie Trivia contest from 7:30 to 9:30 p.m. on Tuesday at Eli Tea Bar, 5507 N. Clark St., in Andersonville. The tea bar usually hosts trivia on Tuesday, but this week, it turns to all things Barbie-related. If you want a heads-up, Eli will post the trivia categories on Instagram 24 hours before the event, with full rounds dedicated to the new movie, Barbie history, a picture round and more. Maximum team size is six. You can find out more at Eli Tea's Facebook page.
Barbie Beach Party
The group Gals That Brunch is not about to miss out on the Barbie excitement. They're throwing a potluck-style Barbie Beach Party at 1 p.m. July 30 at North Ave. Beach, 1630. N. Lake Shore Dr., in front of Shore Club Chicago. Sounds like a perfect way to indulge your inner Malibu Barbie; reservations are required and cost $5.
Watch our "On The Block" TV show on The U, CW26 and MeTV.
Listen to "It's All Good: A Block Club Chicago Podcast":