BEVERLY — For 48 years, Elisabeth Kiss has lived in the same one-bedroom apartment on 106th Street in Beverly.
The building was new when she arrived by herself from Budapest in 1975, not speaking a single word of English. Over the years, she learned the language, became a dietitian's assistant and made friends in the building and throughout the Southwest Side neighborhood.
Now 83 and retired, Kiss has settled into a quiet life in her community, where she takes walks and talks to the neighbors she knows. Sometimes she stops by the house next door to take tomatoes and green beans from a small box of vegetables her neighbor harvests from her backyard garden specifically for the older people in Kiss's building.
Kiss planned to spend her last years in this building.
Then, on May 24, a note was slipped under her door notifying her that her lease would not be renewed and she had 120 days to vacate her apartment.
Nearly all of the approximately 80 tenants in her building, most of them older people, received similar non-renewal notices, giving them between 60 and 120 days to leave, according to the Metropolitan Tenants Organization and neighbors.
"I was really hurt and very upset. This was very, very unexpected. Nobody told [us] anything," said Kiss. "I am packing and looking for places. I am on my own. I want to find a place that is safe."
Non-renewal notices were sent to approximately 120 tenants in at least seven buildings in the Beverly and Morgan Park neighborhoods, all of them recently acquired by property management company Levav Properties in early May, according to the Metropolitan Tenants Organization. The notices gave tenants between 30 and 120 days to vacate depending on how long they lived in the building.
In response, the tenants — many of them low-income residents or older people on fixed incomes — organized as the group O'Shea Neighbors United (ONU) and began meeting at a local church every Wednesday.
On Wednesday, they held a protest in front of one of the recently purchased buildings, calling on Levav Properties to meet with them and asking for more relocation time, rent forgiveness, relocation assistance or a chance to negotiate a reasonable rent increase.
Several tenants and ONU have called and emailed, and a small contingent of the group eventually visited Levav's offices in-person, but they had no success getting the company to negotiate with them. Attempts to reach Chicago-based Chief Operating Officer Chris Milliner have been unsuccessful.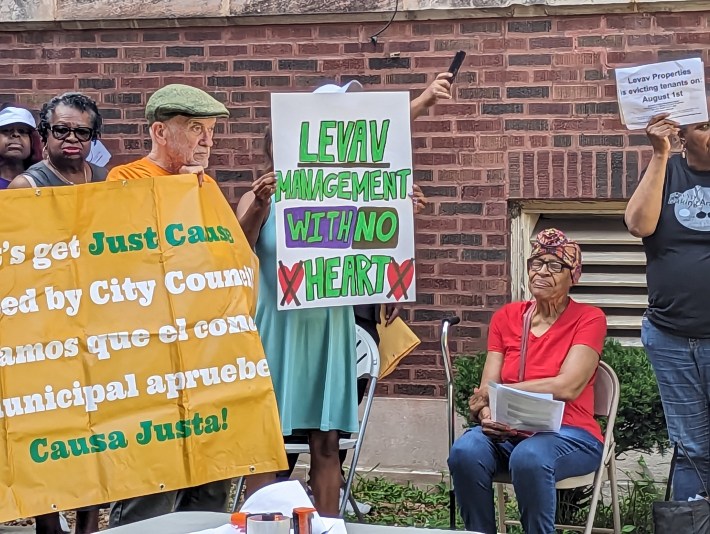 In mid-June, more than a dozen tenants reached out to Ald. Matt O'Shea (19th) by email and phone, and some showed up to his offices at 10400 S. Western Avenue looking for help.
"It was alarming to me that my residents, most of whom are seniors, have received non-renewal notices," O'Shea said. "They've lived in these buildings for 20, 30 years. These aren't apartments; these are their homes."
O'Shea said he began looking into legal aid but so far, Levav Properties has operated legally.
Finding A 'Reasonable Solution'
In Chicago, landlords can terminate a lease or file for eviction of a tenant without providing any reason.
The Chicago Landlord Tenant Ordinance that passed in July 2020 requires landlords to give tenants 60 days notice before raising rent or terminating their lease if they've been in their units for between six months and three years, or 120 days notice if they've been in their units for more than three years.
Before ultimately passing the ordinance extending the Landlord Tenant Ordinance, then-Mayor Lori Lightfoot said she would back measures requiring landlords to have "just cause" before evicting a tenant. About 20 U.S. cities and three states have just cause ordinances, some of which require landlords to pay relocation costs or offer rent assistance if they do not have a just reason for terminating a tenant's lease.
Still, O'Shea said he doesn't think the way Levav has gone about this is right. O'Shea said he has been in touch with Milliner at Levav and is in discussion with the company about a possible compromise that might help the buildings' tenants.
"I'm confident that we can help these folks, that we can find some middle ground and then some of them can stay in their homes, and those who can't we can help find alternative options in the neighborhood," the alderman said.
In a letter to tenants posted on doors in at least one of the buildings Wednesday morning before the protest, Levav Properties said "there has been some confusion" about the notice to quit letters received by tenants and that "previous ownership did not provide all of the correct information to the new owners."
"This letter is to inform you that NO evictions have been started and new ownership is dedicated to working with ALL tenants," Levav said in the letter. "Our goal over the next couple of weeks is to speak with all existing tenants and understand everyone's circumstances and put a reasonable solution in place."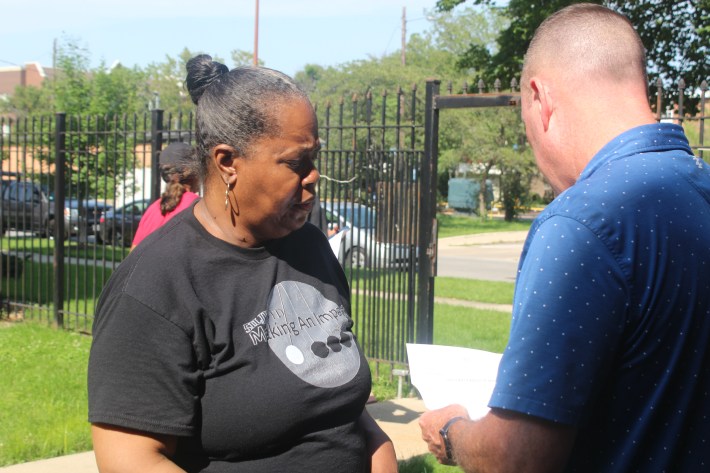 Arieh Venick, a community organizer with the Metropolitan Tenants Organization who is working with tenants at six of the Levav buildings, said the letter "changes nothing." O'Shea Neighbors United invited Levav to collective negotiations about three weeks ago, said Venick.
"What it shows is that Levav is scared. They were the ones who sent out these non-renewal notices," Venick said. "This is an attempt from them to break the solidarity of O'Shea Neighbors United. Their offer was 'we will work with you one on one…'
"Why wait until today to send this? Levav wants to cordon off the tenants into one-on-one negotiations where they'll have less power."
Although O'Shea said this is his first experience with mass evictions in his 12 years as alderman, other wards primarily on the South and West Sides of Chicago have seen staggering numbers of evictions and lease terminations over the past few decades.
The 5th Ward, which includes parts of Hyde Park, South Shore and Woodlawn, ranked first in Chicago for eviction filings between 2010 and 2019, averaging 1,156 eviction filings a year.
Between 2010 and 2019, O'Shea's 19th Ward saw on average 167 eviction filings a year, ranking 33rd in Chicago for eviction filings, according to reports by the Law Center for Better Housing.
These reports only include data from formal eviction cases that were filed in court. Non-renewal notices or lease terminations like those given to tenants by Levav Properties are not included as they are not formal evictions.
Some current city council members, including Ald. Byron Sigcho-Lopez (25th), chair of the Housing and Real Estate committee, are hopeful that new policies to further protect tenants can be passed under Mayor Brandon Johnson's administration.
Specifically, Sigcho-Lopez hopes Chicago will join the 20 U.S. cities that have just cause laws.
"Right now, just in Chicago, we have over 60,000 people who are waiting for shelter that are unhoused, we also have 11,000 new asylum seekers, right. People who, you know, in a sanctuary city, we also need housing," said Sigcho-Lopez, who spoke at the protest Wednesday. "I think we're going to be prioritizing legislation like just cause for eviction … so that we ensure that tenants or people who got eviction notices don't go to the streets."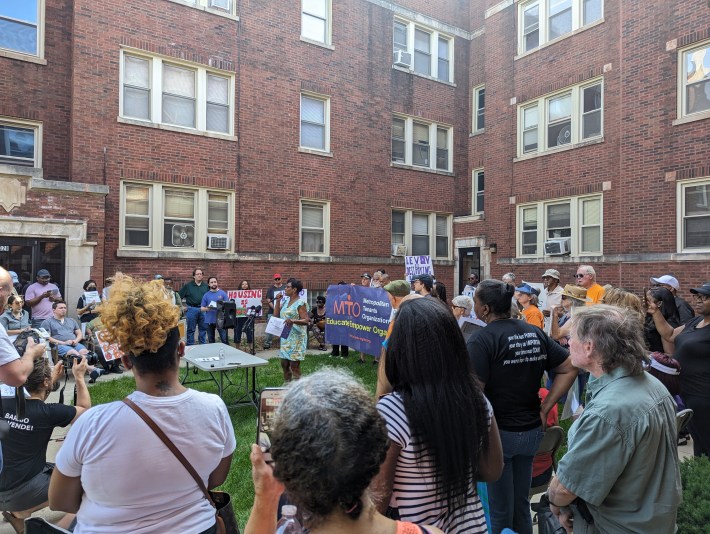 Prime Location, Rising Rents
Venick said he believes the landlord is trying to gentrify the area.
The Beverly and Morgan Park neighborhoods boast six Metra train stations, and the buildings acquired by Levav are in close proximity to the 103rd, 107th and 111th stations, making the area prime for development.
"This is a very, very, very clear and quintessential example of gentrification," said Venick. "They're telling everybody to be out of the buildings, they're renovating the buildings and jacking up the rents."
According to Venick, Levav told some tenants they could apply for new tenancy in their apartments after renovations if they are willing to pay rents that are nearly twice as much as they currently pay. 
Most tenants in these buildings pay between $600-$800 per month, but Levav is currently listing two one-bedroom units at two of its properties for $1,400 per month.
"I mean, it's a huge amenity, to have six train stations in our community," said Mary Jo Viero, executive director of the Beverly Area Planning Association. "We certainly want the buildings surrounding that and representing that piece of our community to be good buildings and to be an opportunity for more people to move to our community and make it stronger.
"That being said, I don't want our other residents to be forced out in any way. It's very frustrating. I am really kind of baffled about the whole thing."
This type of controversy isn't new to the owners at Levav, two of whom formerly worked for Pangea Properties, one of the largest landlords in Chicago before selling its 400 Chicago properties to real-estate firm Emerald Empire in December 2022. Milliner, Levav's COO, and Chief Financial Officer Danielle Murphy both worked for Pangea before co-founding Levav in February this year.
During Milliner's tenure as regional manager at Pangea, tenants in Pangea-owned properties in Chicago sued the company in July 2022, accusing Pangea of neglecting maintenance issues, including rodent infestations and lack of heat and electricity.
From 2009 to 2019, Pangea filed more than 9,000 evictions at its properties, which were primarily on the South Side.
The O'Shea Neighbors United tenants hope their protest will prompt the Beverly and Morgan Park communities to rally behind them as they push for Levav Properties to negotiate.
"When someone comes in to try to destroy the community, which Levav is doing, and they're doing it in a very blatant way, you can either shrug and move on, you accept what's happening and do nothing, or you band together and say we matter," said tenant Gordon Dymowski.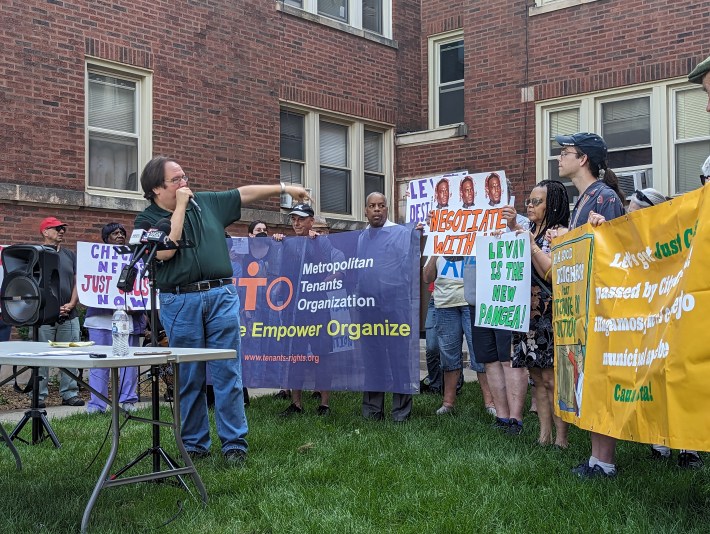 Dymowski has lived in his building on 103rd Street for six years, taking over the lease after his mother died last year.
"Levav is treating everyone in these buildings, regardless of race, ability, age, as expendable, and we're uniting. We're neighbors who are uniting and saying 'What you're doing is wrong,'" Dymowski said.
Although O'Shea said he feels confident that Levav can find a workable solution for the tenants, Elisabeth Kiss is already packing up 48 years' worth of her belongings and looking for apartments.
Since she has no family here, she has recruited her 70-year-old neighbor and her granddaughter from across the hall to help when it comes time to move.
"Everybody forgets that you will be old one day," said Kiss. "I never [thought] this would happen. I like this apartment. I like this area. I was thinking I could die here."
Watch our "On The Block" TV show on The U, CW26 and MeTV.
Listen to "It's All Good: A Block Club Chicago Podcast":