HYDE PARK — The University of Chicago's student-run radio station had its budget slashed this spring by a university committee that oversees funding for student organizations. 
The station managers at WHPK 88.5 FM are now appealing the decision, arguing their broadcasting equipment is in desperate need of upkeep and repair. 
After proposing a budget of about $57,000 — in line with more than a decade of established funding — station managers received a letter from the university's Program Coordinating Council saying the station would only receive $20,600 for the upcoming school year, documents provided to Block Club show.
That included no money for new equipment. It cut spending on live events — previously a quarter of the station's budget — down to $2,100. It defunded the WHPK magazine "Signal" and also canceled the station's Google Workspace, which hosts decades of resources and how-to guides used to bring new DJs up to speed, according to documents and station manager Christian Bird.
An initial appeal to reconsider the budget cuts was denied by the Programming Coordinating Council, a student-run organization that provides financial oversight to student groups on campus, according to emails shared with Block Club.
In a new appeal filed directly with the head of the University of Chicago's Center for Leadership and Involvement, station managers argue that without the additional $37,000, the university risks doing permanent damage to its own radio equipment. WHPK's equipment, like the station itself, is owned by the University of Chicago. 
Hundreds of students, alumni and South Siders who have come to rely on the station have signed the appeal. 
Bird, a rising senior at the University of Chicago, has spearheaded WHPK's efforts to appeal the funding cut. He said the university's administration needed to "treat its radio station's equipment like it does its other facilities on campus."
"I don't want to have to go and do fundraising events to pay a bill which should really be handled by the office of facilities," Bird said.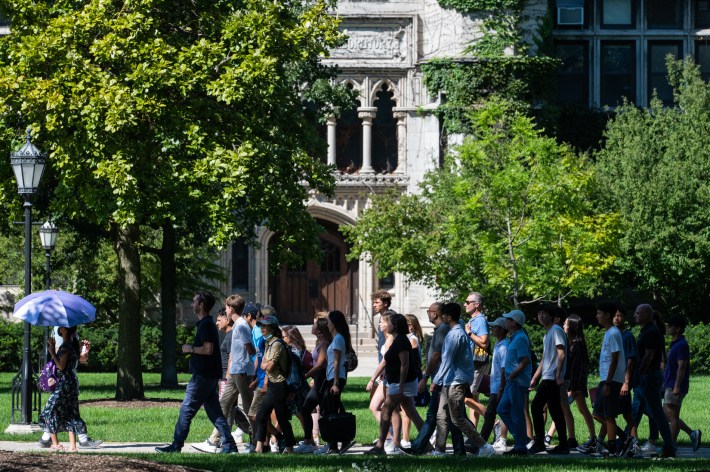 If any essential equipment fails on air, causing radio silence for 30 days, WHPK risks breaking its contract with the Federal Communications Commission and losing its broadcasting rights. It could stay silent for up to a year, however, if WHPK managers applied for a Special Temporary Authority with the FCC.
In a letter, the Programming Coordinating Council said that the WHPK budget had been cut down to only what was "necessary for base operations." The council justified the funding level by saying the station last year failed to report budget rollover from the coronavirus pandemic and had spent excess funds on in-person events instead of equipment repairs. 
"This is a drastic mismanagement of allocations, and we are hoping to not see a similar circumstance in the future," the Program Coordinating Council said in its funding memo.
Those allegations were "totally unfounded," Bird said. He said he worked with the station's other managers to demonstrate that all unused funds during the pandemic, when in-person events were banned, were reported and properly spent.
WHPK's 2022-2023 school year budget — which the Program Coordinating Council said failed to acknowledge rollover — requested a moderate $40,000 in light of "a great deal of rollover," documents show. 
Michael Schuhler, a rising senior at the university, was the chair of the Program Coordinating Committee when funding was allocated this spring. He said that the committee continually struggles to allocate its limited funds between student groups. 
Schuhler said that other student groups had been "more on the ball" in keeping the committee informed of budget rollover from the pandemic era. 
"The problem is essentially that we're looking at a fixed, capped budget that we have to disperse among all of our groups," Schuhler said. "Unfortunately a lot of organizations end up underfunded."
The Program Coordinating Committee is a branch of the university's student government. All of its members are undergraduate students. 
Bird said university administrators, not undergraduate students, should handle funding for major campus programs like WHPK. 
"Undergraduate students should not be able to, in essence, foretell the fate of cultural institutions like WHPK," Bird said. 
WHPK broadcasts across the South Side and boasts a mix of on-air programming which Bird said has "always been split between students and community members."
The station made a name for itself as one of the first in Chicago to broadcast rap, beginning in the mid-80s. The rap show hosted by DJ JP Chill — who arrived as a young statistics major from Milwaukee — began in 1986 and became one of the longest-running rap shows in America, the Tribune reported in a profile. 
In the mid-90s, it hosted an on-air rap battle between Common and a young Kanye West. Common gave WHPK some air time on his 1994 album "Resurrection," calling it "the only station that would f––– with rap." 
A silver record dedicated to DJ JP Chill given by Death Row Records sits framed in the station's office. 
"You walk into a place like this and you can feel the history on the walls," Bird said. "If you walk into the station, you can just tell there's so much life there, so much history, so much passion.
"It's hugely meaningful to me to be a part of something that has existed for decades and hopefully will exist for decades to come," Bird said.
Watch our "On The Block" TV show on The U, CW26 and MeTV.
Listen to "It's All Good: A Block Club Chicago Podcast":