PULLMAN — Chicagoans have an opportunity this summer to shape the environmental justice reform the city recently agreed to pursue, and that process kicked into full gear this week with a South Side community meeting.
City officials are conducting a cumulative impact assessment to identify neighborhoods most impacted by industry and pollution. They'll also collect data on where pollution is coming from and on communities' vulnerability to pollution.
The cumulative impact assessment must be completed by Sept. 1 under the city's recent settlement with federal housing officials and Southeast Side environmental activists, after the feds found the city's systematic placement of polluters in Black and Brown neighborhoods was racist.
The assessment will be used to draft a cumulative impact ordinance and inform city decisions around land use, zoning, transportation, permitting, environmental enforcement and public health, officials said.
Former Mayor Lori Lightfoot first directed health officials to propose a cumulative impact ordinance two years ago. Advocates and local leaders say it can help improve residents' health in communities overburdened by pollution.
The process "is the very best demonstration of government working hand-in-hand with the people of Chicago to assess ways in which we can understand and mitigate environmental harm in our neighborhoods," Mayor Brandon Johnson said in a statement.
Residents discussed their experiences with neighborhood pollution and their environmental justice priorities during a meeting Wednesday at Corliss High School, 821 E. 103rd St. in Pullman.
The meeting was hosted by the city, People for Community Recovery and Neighbors for Environmental Justice. It was initially scheduled for June 28, but was postponed at the last minute due to poor air quality from Canadian wildfire smoke.
"A lot of us in this room tonight already know that certain neighborhoods have a higher burden than others," said Courtney Hanson, deputy director of People for Community Recovery and co-chair of an assessment working group.
"But this assessment will allow us to get the data we need to pinpoint what neighborhoods are experiencing, and be able to use that data to help inform policy decisions and investment decisions at the city level," Hanson said.
The assessment involves working groups around data and policy. The data group will develop an environmental justice index for Chicago that considers a population's sensitivity to pollution, socioeconomic factors, environmental exposures and existing conditions in communities.
The index will build upon the city's 2020 Air Quality and Health Report. The data group also plans to release the assessment's environmental, health and social data through a public online dashboard by early next year, said Kirsti Bocskay, an environmental health scientist with the city.
The policy group is responsible for drafting the cumulative impact ordinance and other policies that address health disparities, concentrated pollution and uneven development across Chicago.
The policy group's early recommendations include designating certain neighborhoods as environmental justice communities. They would face different policy requirements than other neighborhoods in order to prevent their environments from getting worse.
Other recommendations include requiring higher scrutiny of "consequential facilities" — as was the case for the proposed Southside Recycling operation — and the creation of neighborhood funds for improvements in environmental justice areas that could be funded by polluting facilities.
South Siders can learn more about the cumulative impact assessment at a series of city-backed events this summer.
The next one is 11 a.m.-2 p.m. Saturday at 76th Street and Maryland Avenue in Greater Grand Crossing, followed by an event from 9-11 a.m. July 22 during a block party at Golden Gate Park, 13000 S. Eberhart Ave. in Riverdale.
Neighbors can also fill out an online survey about the assessment here. For more information on the cumulative impact assessment, visit the city's website.
The assessment as presented this week is "a great start," Altgeld Gardens resident and health equity organizer Adella Bass said.
But leaders must work to make the assessment and its findings more accessible by using clearer, more common language in documents presented to the public, she said.
"You guys understand [the assessment]. Of course, people that have done this work understand. But to get community involvement, you have to meet people where they are," Bass said. "A lot of this stuff is good stuff, but my neighbor might not understand it."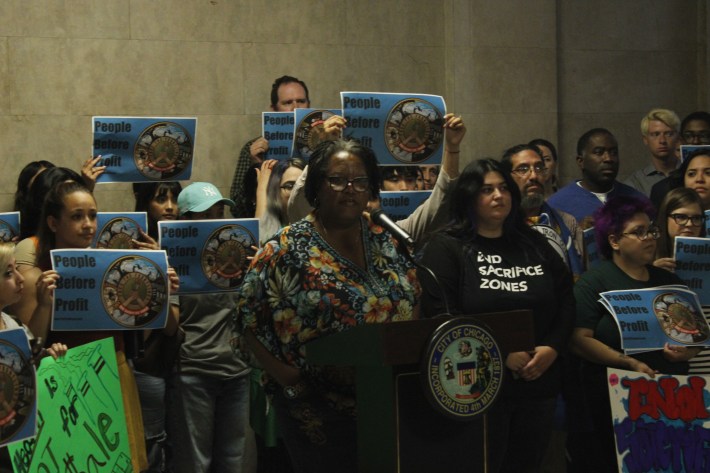 The assessment coincides with an environmental action plan, which must also be completed by Sept. 1 under the city's settlement with the feds.
The action plan will outline how various city departments will reform their policies and practices to protect environmental justice neighborhoods.
Among other things, the draft action plan calls for:
The planning department to strengthen its zoning regulations for industrial facilities.
The water management department to complete more than 60 miles of sewer improvement projects south of 87th Street that would relieve overburdened sewers during storms.
The health department to expand the city's air monitoring network and improve air quality data collection.
The streets and sanitation department to roll out food scrap collection programs to encourage composting in environmental justice communities.
To read the full draft action plan, click here. Residents can give feedback on the draft plan by emailing Envcomments@cityofchicago.org before 11:59 p.m. July 31.
"City policies matter when it comes to mitigating environmental injustice and environmental racism," said Megan Cunningham, the public health department's managing deputy commissioner.
Watch our "On The Block" TV show on The U, CW26 and MeTV.
Listen to "It's All Good: A Block Club Chicago Podcast":