NORTH LAWNDALE — The Chicago Police Department has launched an internal investigation into allegations that one or more officers had sexual contact with migrants sheltering in police stations.
The Sun-Times reports one officer has been accused of impregnating a teenage girl, while other officers are accused of "improper sexual relations" with immigrants who had been sleeping in police stations when they had no place else to go. An investigation is ongoing, and whether the teen is a minor is not yet known.
The Tribune reported the officers being investigated were assigned to the Ogden (10th) District, 3315 W. Ogden Ave., which covers parts the North Lawndale, Little Village and Pilsen neighborhoods.
A police spokesperson confirmed the department's Bureau of Internal Affairs and the Civilian Office of Police Accountability are investigating the allegations. The spokesperson did not address questions about how many officers are involved, which district they were assigned to or whether those officers had been stripped of police powers.
The Civilian Office of Police Accountability, which investigates police misconduct, said in a statement the office learned of the allegations Thursday. The office confirmed the allegations involved police officers who work at the 10th District police station and a migrant temporarily housed at the station.
The police oversight agency "immediately" notified the police department's Bureau of Internal Affairs, which then opened an investigation in the matter, according to the statement.
"While COPA investigators are currently determining whether the facts and details of this allegation are substantiated, we want to assure the public that all allegations of this nature are of the highest priority and COPA will move swiftly to address any misconduct by those involved," said Ephraim Eaddy, first deputy chief administrator.
Anyone with information should call the Civilian Office of Police Accountability at 312-746-3609.
Ald. Andre Vasquez (40th), who oversees the City Council's Committee on Immigrant and Refugee Rights, said the allegations were "reprehensible."
"If the allegations ring true, the officers must be removed from the force swiftly and brought to justice," Vasquez said in a statement. "A police station is no place for anyone to live, and the inherent power dynamics, the potential language issues, the vulnerability of a teenage woman coming from another country with no other option for shelter — all of those factors make these allegations particularly heinous if true."
In a video posted to social media Friday, Chicago Fraternal Order of Police union President John Catanzara called the allegations against 10th District officers "nonsense" and a "sensationalized story."
"There is no validity to the complaint, there is no basis or origin on where it originated from," he said. "Stop the rumors until there's some validity to the complaints. It is just that — a bunch of BS. If it did happen, we'll get to the bottom of it."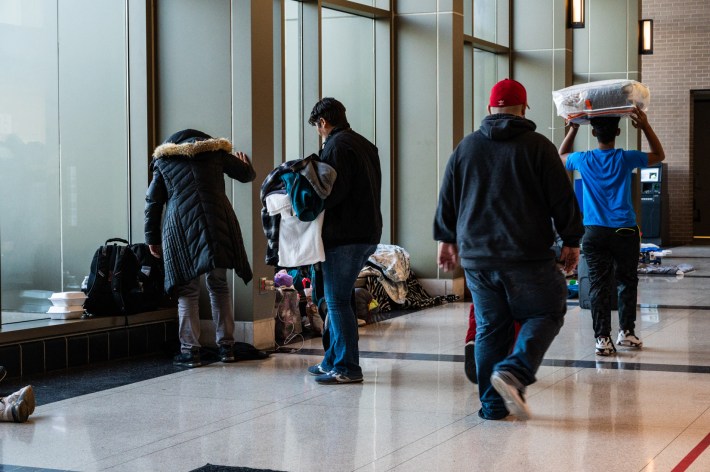 Local Officials Demand Accountability As Migrants Are Moved Out Of Station
For nearly a year, local leaders have struggled to come up with housing, resources and other critical needs for thousands of people and families coming to the city from Central and South America.
Since August, more than 10,500 migrants have come to Chicago.
People have come from several countries, but a majority are fleeing political and economic upheaval in Venezuela. Many of them were sent to Chicago on buses by Texas Gov. Greg Abbott and other border-state Republican governors. Some were given free plane tickets to the city by local groups at the U.S.-Mexico border.
About 4,500 people are staying in city-run temporary shelters. Hundreds more are staying in police stations, sleeping on crowded floors and relying on donations from neighbors while they wait for shelter space to become available.
With city services stretched thin, many neighbors, groups and churches have stepped up to provide migrants food, clothing, toiletries and even set them up in community-run shelters.
Local leaders moved quickly Friday afternoon to relocate migrants still staying at the station. Officials in Mayor Brandon Johnson's office said they were relocating asylum seekers from the district station to temporary shelters, and all families should be moved by Saturday morning.
"The Johnson administration will continue to center the safety of all Chicagoans, including our new neighbors," officials said in a statement. "The administration is also committed to working with CPD to ensure there are protocols in place to keep migrants at police stations safe while they wait for more adequate shelter, and to hold any officers and/or staff involved accountable upon the determination of the investigation." 
The Sun-Times reported around 40 people were loaded onto two buses with their belongings around 3:30 p.m. Friday. By 4 p.m., nearly all of the migrant families had been moved out of the station.
Police tape was set up in an "X" formation on the windows inside the lobby where migrants had previously been sleeping on the floor with their belongings.
Now those areas were cleared out and the only remaining luggage and bed rolls were stacked near the lobby's bathrooms. Volunteers were removing those items and loading them into vehicles Friday. 
Four migrants who returned to the station from running an errand Friday said they had not heard of the allegations about the police officers at the station because they had just arrived in Chicago the other day, they said in Spanish.
Johnson's office said the administration "remains intensely focused on the deeply troubling allegations." 
Rep. Jesús "Chuy" García called the allegations "completely unacceptable."
"Our migrant neighbors came to Chicago seeking safety and stability. Police officers are sworn to protect our communities, not engage in illegal sexual conduct with teenagers and others in their care. This alleged behavior is completely unacceptable," I expect the city's investigation to be timely, thorough, transparent, and lead to accountability for all who are found guilty."
Ald. Mike Rodriguez (22nd), whose Little Village ward is under jurisdiction of the 10th Police District, said he supports the investigation.
"Allegations of this sort should be taken very seriously and they should be fully investigated," the alderman said in a statement. "We are a welcoming city for migrants and we need to make sure our public officials and public spaces are held accountable to honoring this value."
Rep. Delia Ramirez said in a statement she was "deeply concerned" about the allegations and blasted federal officials for not allocating more funding to sanctuary cities like Chicago to care for incoming asylum seekers.
The Federal Emergency Management Agency allocated more than $10.5 million to Chicago for shelter and support services last month. Local leaders have requested much more as more people arrive.
"When migrants arrive in Chicago, they should find a safe haven from the trauma they have already experienced. Migrants are not criminals, and police stations are not at all equipped to provide shelter services. Any abuse of power by officers does not align with what Illinoisans stand for," Ramirez said. "I will continue to fight to secure all available federal funding needed to ensure dignified, long-term housing for new arrivals and everyone who calls Chicago home."
Vasquez also said the situation underscores why more federal intervention is necessary to help asylum seekers.
City officials previously have said they planning to open five new shelters across the city to house nearly 2,500 people.
Officials have also looked to additional rental assistance funding as a strategy to quickly move migrants out of city shelters and into more permanent housing.
"We are seeing the results of not having the infrastructure and funding necessary to support our newest arrivals," Vasquez said in his statement.
'We're Here … To Be Their Voice'
Members of GoodKids MadCity and other community groups and organizers protested outside the district station Friday night.
Baltazar Enriquez, president of the Little Village Community Council, which has helped the arriving migrants for months, said many asylum seekers have already endured enough trauma to get to Chicago. Organizers had hoped families would be safe temporarily sheltering at police stations until permanent shelter could be arranged, he said.
"Migrants don't know that they have rights," Enriquez said. "So, that's why we're here: To support the community but also to be their voice."
Elianne Bahena, a district council member, said she and fellow council members are requesting a meeting with representatives of the department's Bureau of Internal Affairs and the Civilian Office of Police Accountability at their next meeting July 18 at Enlace in Little Village.
Kobi Guillory, co-chair of the Chicago Alliance Against Racist and Political Repression, said Black people have for centuries been attacked by police who are "allegedly sworn to serve and protect us."
It was critical, then, that communities across the city stand together to demand justice, Guillory said.
"What history has taught us is that the only way that we can get any little piece of justice is when we come together as communities," he said. 
Subscribe to Block Club Chicago, an independent, 501(c)(3), journalist-run newsroom. Every dime we make funds reporting from Chicago's neighborhoods.