This story is the fifth in a series of profiles of LGBTQ+ families across Chicago. Read more here.
EDGEWATER — When any member of the Haus of Gaynz has a show, it's a family affair.
If matriarch Miss Toto isn't performing or DJing, she's in "proud mom mode" on the sidelines, cheering on her drag daughters, including Siichele, BoyJ and Angelíca Grace.
Whether it's Strapped, a monthly lesbian party co-hosted by Siichele, or any other shows involving members of the Chicago-based drag family, Zach Hamilton is always in the audience, recording their numbers for social media.
"I'll be surrounded by lesbians at Strapped screeching, 'That's my sister!'" said Hamilton, who is not a drag queen but has been welcomed as one of Toto's chosen children. "We are each other's biggest cheerleaders."
The Haus of Gaynz is one of Chicago's many drag families, a form of chosen family among drag performers who hang out, support and educate each other. They are often led by an experienced drag mother — in this case Toto — who mentors her drag children on the art and business aspects of the field.
In addition to supporting each other at their shows, the Haus of Gaynz members take care of each other as their own family while collaborating on outfits, coming up with new numbers and big projects.
"First and foremost, we're all friends," Toto said. "As queer people, we get to pick our family, so that's important to me. But on top of that, we all look up to each other, inspire each other and help each other."
Expanding The Haus Of Gaynz Into Chicago
Miss Toto started drag in college while studying marine biology. The drag queen, who doubles as a bodybuilder, has hosted "Drag 'N Tag" events in Miami where she brings scientists out to sea to tag sharks.
The Haus of Gaynz — its name a nod to Toto's background as a bodybuilder — began in 2016 when Toto, then living in Miami, adopted her first drag daughter, FKA Twink. But Toto's drag family lineage goes beyond that.
Toto had already been part of the Dion Dynasty, a prominent drag family in Miami led by drag queen Athena Dion, she said.
"I had no biological family in Miami when I moved there for graduate school, but all the Dions embraced me," Toto said. "Athena and I developed this close relationship before she adopted me, and the family has boomed from three people to like 25 of us with various sub-houses."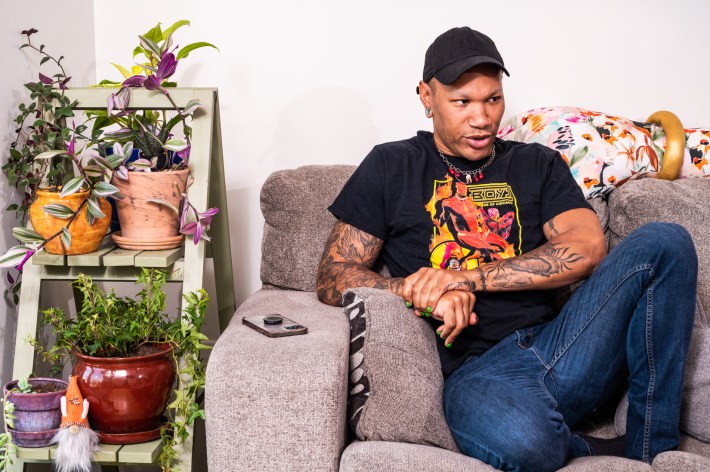 Toto's sub-house continued to grow after she moved to Chicago in 2019 and found a new sense of chosen family as a transplant in a new city, she said.
"When I came here, I was looking for those same familial relationships I had in Miami," Toto said. "I also knew how I was treated by Athena and how she's such a great mom, so I wanted to pass that onto my own drag family."
BoyJ, a transplant from North Carolina, also moved to Chicago in 2019 and found his way into the Haus of Gaynz after meeting Toto while looking to get more involved in the city's queer scene.
The two had already become close friends before Toto adopted BoyJ into the family, he said.
"It's like I actually have a mother in Chicago," BoyJ said. "She takes care of me, we hang out all the time and when I'm going through it, she can tell and gives me great guidance."
Siichele joined the Haus of Gaynz during a pivotal moment in her life, she said.
Siichele was taking a break from drag after her apartment burned down, but Toto encouraged her to get back on stage by asking her to participate in Tonico, a fashion collaboration between Toto and Texas-based designer Nico Perez in 2021.
"Getting back into drag is something that really saved me mentally, and Toto was a huge part of it," Siichele said. "My apartment had just burned down, I was broke and family-less, but she pushed me to do Tonico, and I felt like a superstar again."
Grace had long admired Toto and joined the drag family after starting work in Chicago nightlife in 2021 and working with Toto at various shows.
"I looked up to Toto for a very long time, and I remember being at Berlin with a mutual friend and asking her to introduce me," Grace said. "It's really lovely to go from that to now where she's mother."
Hamilton met Toto while living with his parents in rural Iowa in the early months of the pandemic, he said. Hamilton was putting together a virtual edition of his magazine, "Glimmer," which he started in fashion school, and reached out to Toto for an interview and photoshoot.
After the collaboration, Hamilton assisted with some of Toto's pandemic-era digital drag shows by running the technical aspects of the livestream using his gaming knowledge, he said.
Hamilton moved to Chicago as things reopened and started hanging out with Toto almost every day, eventually becoming an official Haus of Gaynz member, he said.
"It's been very nice because while my blood family is fine, I don't really connect with them," Hamilton said. "So coming here, I have people I could rely on for anything."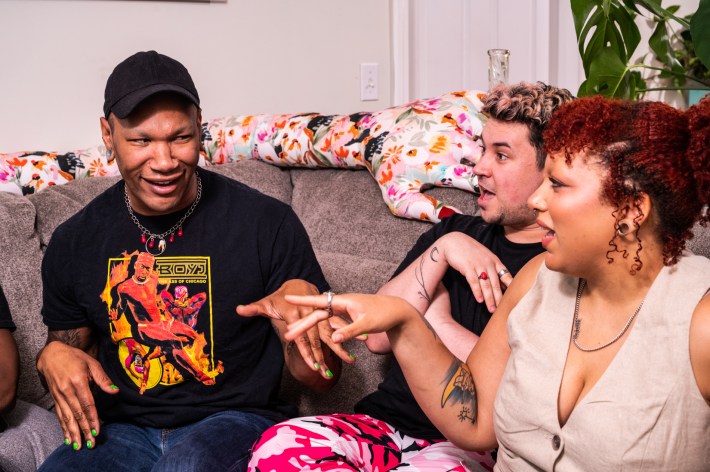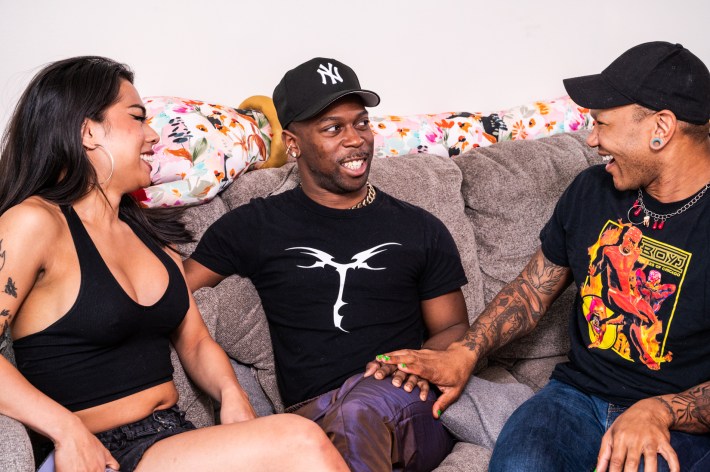 Toto said having drag children inspires her.
"When doing my makeup, I'll ask how Siichele would do it because she's always taking risks with her makeup and she's so incredible at it," Toto said. "Or in giving advice to BoyJ, it motivates me to take my own advice. And Angelíca is such an incredible performer, while Zach is great to bounce ideas off of. I'm learning from them just as much as they learn from me."
And Toto is continuing to expand her family.
In addition to the Haus of Gaynz and Dion Dynasty, Toto has found another drag mother in the iconic drag queen Detox. Toto's partner has also been welcomed into her drag family tree.
"We've built this huge network of family that extends from Miami to Chicago and beyond," Toto said. "I think we show the many ways drag families can exist, and it's cool because we take care of each other in every city."
Watch our "On The Block" TV show on The U, CW26 and MeTV.
Listen to "It's All Good: A Block Club Chicago Podcast":