CHICAGO — Take a public art walking tour through the city, shop handmade goods and vintage clothing at LUCKYMART, create your own mosaic art at Color Cocktail Factory, celebrate the final weekend of Pride and so much more.
Here's a roundup of 16 non-Independence Day things you can do in Chicago this weekend:
Noon-5 p.m. Saturday
DuSable Black History Museum and Education Center, 740 E. 56th Place
Pride South Side started in 2017 as a small picnic for Black queer people and other LGBTQ+ people of color to celebrate Pride. Now, it's a full-scale festival with musical performances, dances, parties, tents from local organizations and more. General admission tickets are free. Get yours here. There will also be other Pride South Side events throughout the weekend. You can find them here.
Noon-6 p.m. Saturday-Sunday
On Tour Brewing Company, 1725 W. Hubbard St.
This popular pop-up shop and block party returns for the weekend. Shop handmade goods, vintage clothing and art from over 60 vendors, groove to live music, play games and more. LUCKYMART is dog-friendly and open to all ages. RSVP for free online.
1-3 p.m. Saturday
Willye B. White Park, 1610 W. Howard St.
Grab your family and friends for a community softball game with Ald. Maria Hadden (49th). Attendance is free and registration is not required.
7 p.m. Saturday-1 a.m. Sunday
Studio Salam, 1029 W. 35th St.
Immerse yourself in traditional Pakistani chai-making and modern, culturally curated mocktails at Chalo!, a pop-up experience for young people who identify as Desi, Muslim, Black, Indigenous or people of color. Muslims are invited to celebrate the second and third days of Eid with Chalo! at this community event where cultures collide.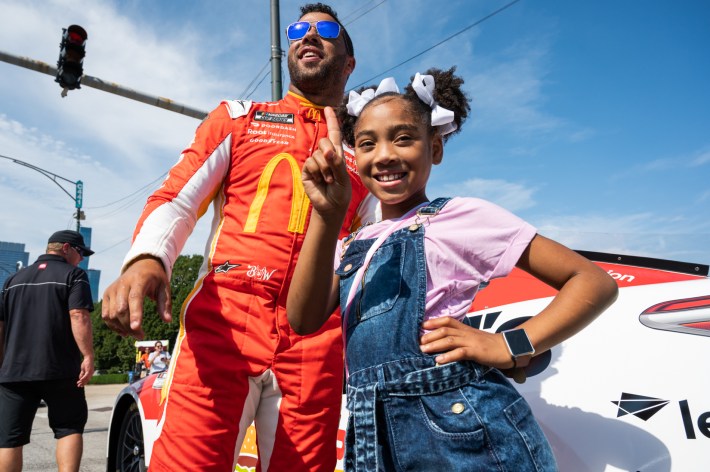 Gates open 9 a.m. Saturday and Sunday
Grant Park, 337 E. Randolph St.
NASCAR is taking over Grant Park this weekend with its first-ever Chicago festival, filled with two days of racing and entertainment. Catch live performances from artists like The Chainsmokers and Miranda Lambert, get autographs from drivers and more. Find the weekend schedule and learn more about the fest online. General admission tickets range from $269-353. Other ticket packages are available for up to $3,015. Buy them here.
9-10 a.m. Sunday
Saint James Community Farm, 2936 S. Wabash Ave.
This urban community farm hosts classes on Friday and Sunday mornings. This yoga session is open to all levels of experience, whether you're a beginner or simply want an alternative to indoor studio practice. There is a suggested $5-7 donation, but no one will be turned away for lack of funds. Get your ticket here.
4-8 p.m. Sunday
Sportsman's Club, 948 N. Western Ave.
Sportsman's yearly backyard BBQ series, which invites West Town chefs and restaurants to cook in the tavern's backyard, returns for Fourth of July weekend with Split Rail chefs Zoe Schor and Julia Weeman. The menu will be announced closer to the event. No RSVP is required to entry and admission is free. Sportsman's is a 21+ venue.
2:30-4:30 p.m. Saturday
Color Cocktail Factory, 917 W. 18th St.
Make and take home your own handmade mosaic art with a workshop open to all skill levels, whether you're trying out mosaic-making for the first time or honing your craft as an experienced artist. Attendees will learn cutting and shaping techniques and how to properly apply adhesive and grout.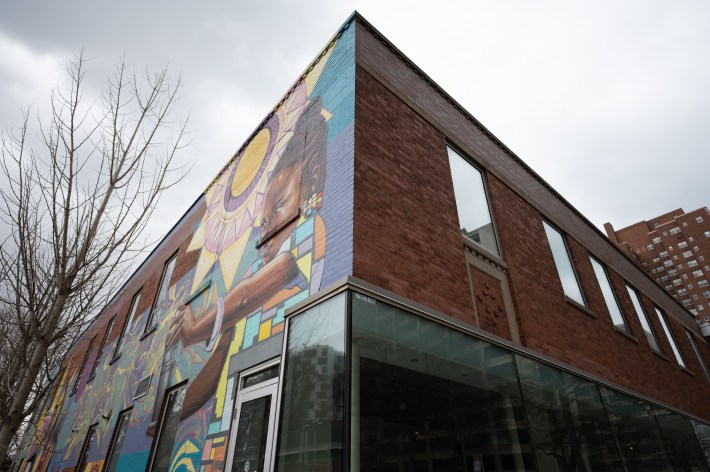 10:30 a.m.-noon Saturday
Hyde Park Art Center, 5020 S. Cornell Ave.
Prepare for 2023 Bon Fest with these Bon Odori dance classes throughout the month of July. The first class kicks off Saturday at the Hyde Park Art Center and is hosted in collaboration with the Japanese Cultural Center. Bon Odori is a dance style that honors ancestors, expresses joy and celebrates community. The dances are simple and fun, so you don't have to be a professional to try it out. Attendees are encouraged to wear comfortable clothing. Register online for more information.
2-7 p.m. Sunday
Pier 31 Restaurant, 3101 S. DuSable Lake Shore Dr.
Grab your bikes, skates, scooters and skateboards and ride along Chicago's Lakefront Trail for this annual Independence Day weekend event. Skaters will start at 31st Street Beach and make their way to the Shedd Aquarium campus for a grand finale, where Chicago skaters will showcase their best moves. All ages and skill levels are welcome. Attendees under 18 should be accompanied by a parent or guardian. RSVP online.
9 a.m.-3:30 p.m. Friday
Mayfair Presbyterian Church, 4358 W. Ainslie St.
Join a collaborative art project and fundraiser for local LGBTQ+ groups this weekend. As an ode to the AIDS quilt of the '90s, attendees can help patch, quilt, embroider, bead and contribute drawings to two trans and intersectional flags. The event will be auctioned off in a raffle sale through the month of July. All proceeds will be evenly split between TransLife care and Brave Space Alliance.
6-10 p.m. Saturday
The GARD3N, 688 N. Milwaukee Ave.
Blind artist Reggie McFly is showcasing his ultra express artwork at The GARD3N this weekend. Browse and purchase McFly's art, catch a live performance by Parnell and sounds by The Architect and enjoy dinner and a drink. Themed cocktails will be available for purchase. Tickets are $20 online.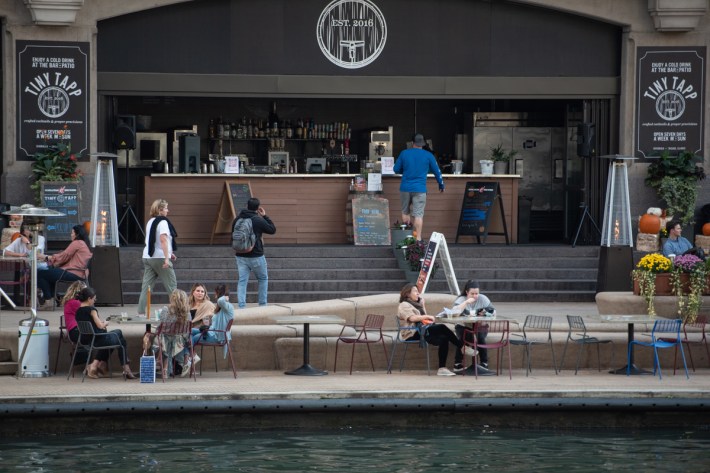 3-6 p.m. Saturday
Lake Street Bridge House, 356 W. Lake St.
Enjoy brews and clues as you visit some of the Riverwalk's best bars on this self-guided tour. You can work together with friends to solve bar trivia, discover hidden landmarks and more. The crawl covers 1.5 miles and takes 2-3 hours to complete. The tour starts at the Riverwalk's Wolf Point entrance and ends at the Island Party Tiki Hut, 355 E. Riverwalk. Tickets are $12 per person. Get yours online.
11 a.m.-2 p.m. Sunday
Humboldt Park Boathouse, 1301 N. Humboldt Dr.
Stretch out at this family-friendly, peaceful outdoor yoga flow in Humboldt Park. The class is open to all levels of experience, with a special focus on breathing and alignments. Tickets are $20 online. Proceeds will fund nonprofit Woke Chicago's youth programs on the West and South Sides. The class is free for Humboldt Park residents; yoga mats will also be provided. You can sign up as a resident online.
11 a.m.-1 p.m. Sunday
The Art Institute of Chicago, 111 S. Michigan Ave.
Grab your walking shoes and learn about Chicago's rich art history while strolling through downtown on this guided walking tour with Effing Chicago. Tour highlights include Crown Fountain, the Bean, a Muddy Waters mural and more. The two-hour walk is open to all ages — but be prepared for swearing, sarcasm and naughty jokes. Register for $25 online.
12:50-2 p.m. Sunday
On Tour Brewing Company, 1725 W. Hubbard St.
Get up close and personal with On Tour Brewing Company's tanks, kegs and barrel room during this Sunday afternoon tour. Tickets are $15 online. Each ticket includes three unique pours and a souvenir glass. You must be 21 or older to attend.
PLUS: Five Picks from Our Partners At
6:30 p.m. Friday
House of Blues, 329 N. Dearborn St.
Catch some progressive rock with the likes of Between The Buried And Me, Thank You Scientist and Rivers of Nihil at House of Blues
7 p.m. Friday
Lincoln Yards, exact location will be announced 24 hours before
Unique live show experience in a nontraditional venue to start your night early. Register here to learn more.
7:30 p.m. Saturday
Credit Union 1 Amphitheatre, 19100 Ridgeland Ave.
The country icon is coming to the Credit Union 1 Amphitheatre for a stunning show on Saturday.
7:30 p.m. Saturday
United Center, 1901 W. Madison St.
The award-winning singer-songwriter is hitting up the United Center Saturday for a show with Yasiin Bey.
8 p.m. Sunday
The Salt Shed, 1357 N. Elston Ave.
Les Claypools brings his funky "The Summer of Green Tour" to The Salt Shed for a night of music with The Budos Band.
Watch our "On The Block" TV show on The U, CW26 and MeTV.
Listen to "It's All Good: A Block Club Chicago Podcast":