HYDE PARK — Myles Brady-Davis had a "That's So Raven" moment when he laid eyes on Precious Brady-Davis in 2013.
He had recently started living publicly as a transgender person and wanted to connect with other trans people advancing community when someone suggested he meet Precious Brady-Davis.
So Myles Brady-Davis trekked from the South Side to Center on Halsted, where Precious Brady-Davis worked at the time, to introduce himself, he said.
"As soon as I saw her, I had the spark in me," Myles Brady-Davis said. "I saw our future together and immediately knew this was the person I wanted to continue the legacy of my family with."
But the timing wasn't right for Precious Brady-Davis, whose work with LGBTQ+ youth at the Center took up most of her life, she said.
"When you work with marginalized populations, it takes up not just your physical space, but your mental space, so it's always with you," Precious Brady-Davis said. "It was hard for me to have something else outside of work at the time."
The two continued running into each other at queer and trans community events over the next year until they met up again at the annual Philadelphia Trans Health Conference in 2014.
"We were at a bar having martinis one night when he came in and dropped a few bars like, 'You're the most beautiful woman I've ever seen in my life,'" Precious Brady-Davis said. "It was very suave, and after that, we left [as] a couple."
Since then, the couple has traveled the world, married and welcomed two daughters.
They also have become prominent voices in local politics. Myles Brady-Davis is communications director of Equality Illinois and Precious Brady-Davis is an associate regional communications director for the Sierra Club. She also recently became the first Black, openly trans woman on the ballot in Cook County when she ran for Metropolitan Water Reclamation District Commissioner in 2022.
While the couple keeps their children's lives private, they are celebrated as public figures who represent the possibilities for Black, trans people to rise up, find love and start families of their own.
"When people see themselves in the arc of history, they say, 'I can do that, too,'" Precious Brady-Davis said. "Myles and I's love story is proof that in the end, good things do happen for good people, and that trans people of color deserve love, family and dignity."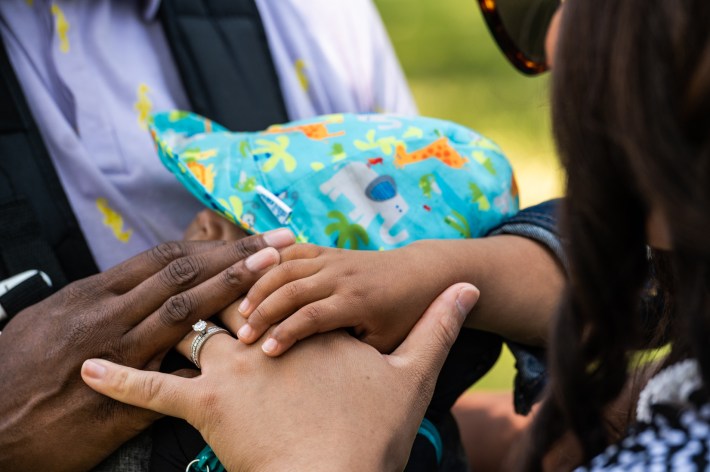 From Dating To A 'Royal' Wedding
The couple quickly got used to traveling to see each other and with each other when they started dating.
Living on opposite ends of the city, Precious Brady-Davis would go to Myles Brady-Davis' home in Hyde Park, where the two would bond over Black art and re-runs of "The Jeffersons" and other Black TV shows from the '80s, she said.
"I'd take this beautiful trip down Lake Shore Drive to see my lover on the South Side, and it was so beautiful," Precious Brady-Davis said. "It felt like I was finding a home, and Myles was giving me the space to just be and give myself permission to date."
At the time, Precious Brady-Davis was working at Columbia College Chicago and Myles Brady-Davis was at Howard Brown Health, they said. Her job allowed the couple to travel to almost every major city, where they'd have date nights.
The two married in 2016 at Rockefeller Memorial Chapel at the University of Chicago, Precious Brady-Davis said.
It was a "grand and royal wedding" where Precious Brady-Davis wore two dresses she picked out as the first trans bride featured on TLC's "Say Yes to the Dress," she said.
The couple's reception at the South Shore Cultural Center took on a state dinner theme. They were joined by 250 relatives and LGBTQ+ community members, Precious Brady-Davis said.
"It was really beautiful just to see Myles and I's worlds come together," Precious Brady-Davis said. "We had Myles' family from Arkansas, my family from Nebraska and all our queer friends mingling. It was a beautiful melting pot of all the people who love us."
After the wedding, the couple started receiving letters from young Black trans people who said they were inspired by the Brady-Davis' story, Myles Brady-Davis said.
"When people saw me and Precious together, it opened their eyes to the possibilities," Myles Brady-Davis said.
'Breaking Generational Curses' In Parenthood
Initially, the couple had very different perspectives on parenthood.
Myles Brady-Davis had always wanted to be a parent, he said. He remembers being 5 years old and wanting to grow up to be like his father. But parenthood wasn't in Precious Brady-Davis' plans until she met her husband, she said.
Myles Brady-Davis got pregnant with the couple's first child in 2019. They publicly shared their journey on TLC for an episode of "My Pregnant Husband."
The couple started by finding a "wonderful, supportive and affirming doctor" who guided them through the in vitro fertilization process, Precious Brady-Davis said. Their first child was born in December 2019.
Myles Brady-Davis said it was important to share the story of his pregnancy to inspire the next generation of Black, trans youth who might want to have kids, he said.
"I felt like an alien my entire life until I was an adult in my late 20s and finally able to meet other Black, trans people," Myles Brady-Davis said. "I wanted to make sure that representation was out there so other trans people of color had somebody they could look to for reference when it comes to reproductive health."
For Precious Brady-Davis, becoming a mom helped heal some of her painful experiences in childhood, she said.
"I grew up in the foster care system, so I was really disillusioned with the concept of parents in general," Precious Brady-Davis said. "But through Myles, I now feel like I can write a new story. We're changing that trajectory and breaking generational curses."
When Myles Brady-Davis got pregnant with the couple's second daughter, born earlier this year, the couple decided to keep their pregnancy more private, they said.
"I just wanted to experience it myself this time without the limelight," Myles Brady-Davis said. "I wanted to experience every moment of being pregnant minus the camera crew."
The couple doesn't want their children to be viewed as public figures, Precious Brady-Davis said.
"We don't want the limelight rubbing off on them and we want them to have a normal childhood," Precious Brady-Davis said. "We also want to protect them, so we don't share their faces on social media or objectify our children."
The couple continues traveling the world as a growing family. They recently took their oldest to Disney and Hawaii, and love taking their kids hiking, on walks to the park and shopping, they said. They spend weekends with family, sharing meals and playing with the kids' cousins.
Their older daughter has Precious Brady-Davis' "sass and attitude" and absolutely loves being a big sister, she said.
"It's fun to see bits of yourselves in your kids as you get older," Precious Brady-Davis said. "And to see such power in a little person makes you can't wait to see what they do in their lives."
Myles Brady-Davis said being a parent gives him hope.
"We live in such a cruel world, and I feel like when you have children, you're bringing light into that world," he said. "It brings me joy to know that even when we're gone, the values of justice, peace and love that my forefathers instilled in me will continue through our kids."
This story is the fourth in a series of profiles of LGBTQ+ families across Chicago. Read more here.
Watch our "On The Block" TV show on The U, CW26 and MeTV.
Listen to "It's All Good: A Block Club Chicago Podcast":