UPTOWN — Construction has started on a new building in Uptown that will provide supportive housing for women who've experienced homelessness. 
Sarah's Circle broke ground Tuesday on its latest housing project in Uptown, bringing 28 apartments to a former parking lot at 4737 N. Sheridan Road.
It will be the third building run by the nonprofit Sarah's Circle, an organization that provides housing and other supportive services for women who've experienced homelessness. 
The five-story building will include 28 studio apartments, plus first-floor office and conference space, bike parking spaces, a demonstration kitchen and room for resident programs.
Construction is expected to be completed next fall, Sarah's Circle Executive Director Kathy Ragnar said.
Ragnar and other Sarah's Circle leaders were joined at the groundbreaking by community officials including Rep. Jan Schakowsky, Ald. Angela Clay (46th), state Sen. Mike Simmons, state Rep. Hoan Huynh and Chicago Commissioner of Housing Marisa Novara. Former Ald. James Cappleman was also in attendance. 
Multiple groups and public entities combined to help get Sarah's Circle's latest affordable housing project off the ground, Ragnar said.
"I can't emphasize enough that it takes all of us to do this work, because it's not easy," she said. "There are countless hurdles to go from a vision to a safe, lovely home for a woman who is homeless. But, with a shared vision and commitment and our relationships with all of you, we'll continue to get these buildings and permanently end homelessness for women."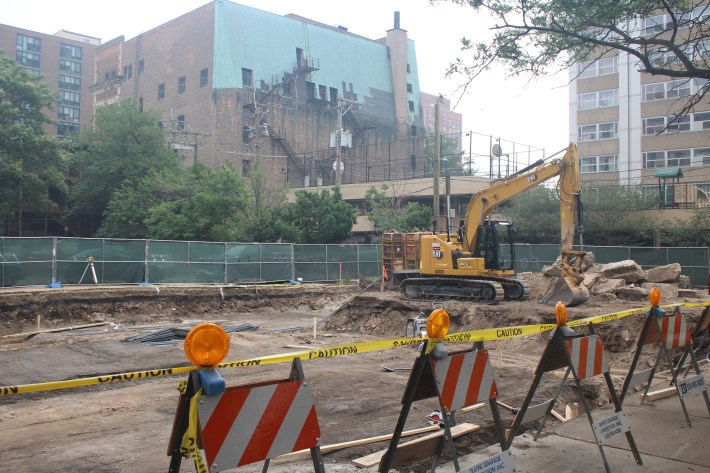 Sarah's Circle already serves more than 600 women a year across its programs and currently operates 73 units of permanent supportive housing units in the city, according to a news release from the organization. 
In 2021, Sarah's Circle opened its second Uptown facility at 1005 W. Leland Ave. The building includes a 50-bed interim housing shelter plus 38 apartments earmarked for women who would otherwise face homelessness.
The nonprofit also has a services center at 4838 N. Sheridan Road that contains 10 affordable apartments. It controls another 25 supportive housing apartments at sites throughout the site.
Funding for the $16 million project came from a variety of sources, including a $3 million payment from the developer of a controversial apartment building coming to Weiss Hospital's former parking lot. The city provided more than $8 million in grants and $1.5 million in donation tax credits for the project, Novara said.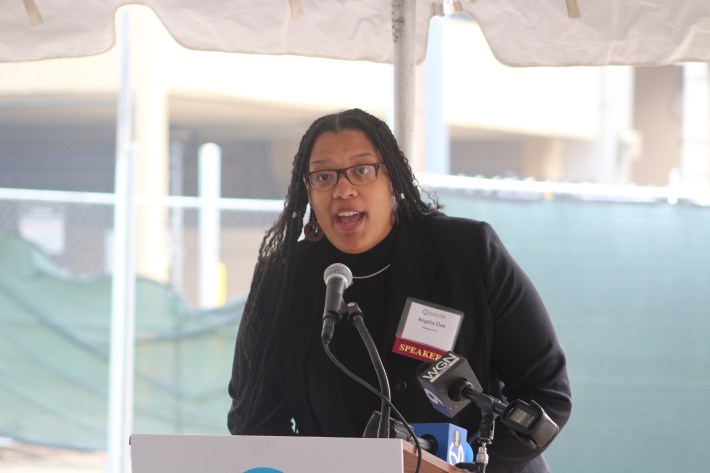 Brooklyn Silas, a 24-year-old resident in Sarah's Circle housing, performed a spoken word poem at Tuesday's event.
Silas grew up in foster care and experienced homelessness at various points throughout her life. After finding secure housing, Silas was able to get her high school diploma and has been accepted into multiple bachelor's degree programs. 
"This is a place where I have significantly grown," Silas said of Sarah's Circle. "I have a community here. I'm not alone. A stable home is mine for the taking, that's why I'm happy that the literal ground of homelessness is breaking. … For 28 women, the battle of having a home has been won, and then some." 
Clay, Uptown's newly elected alderperson, spoke about her experience growing up in affordable housing in Uptown and said such resources help people reach their full potential.
"I grew up in affordable housing and lived in it for 27 out of the 32 years of my life," Clay said. "I'm here to show people that when you have stable, affordable housing in great communities, you can become the next leader of your entire ward." 
Watch our "On The Block" TV show on The U, CW26 and MeTV.
Listen to "It's All Good: A Block Club Chicago Podcast":