SOUTH SHORE —  At a community summit Saturday, the coalition of groups behind the Community Benefits Agreement for South Shore debuted a revised housing ordinance they hope City Council will implement to stem housing insecurity and displacement in the neighborhood. 
Recently elected Ald. Desmon Yancy (5th) pledged his support for the revised proposed ordinance at the summit. Yancy has said he will introduce the ordinance at City Council in his first 100 days in office.
"We have so much work to do, and I'm going to do it with you as the wind in my sails," Yancy said Saturday. 
A previous draft of the ordinance won nearly 90 percent approval in a non-binding question on the 5th Ward ballot in February. 
The ordinance includes policies designed to protect renters, homeowners and condo owners in South Shore as concerns over displacement rise with the development and construction of the Obama Presidential Library in nearby Jackson Park.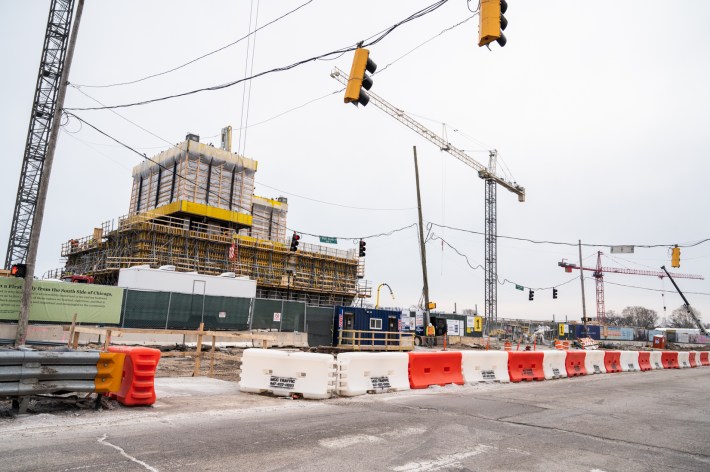 It demands all city-owned vacant lots in the neighborhood be set aside to develop new affordable housing; home improvement grants be extended by $20 million; rental and downpayment assistance grants be extended by nearly $30 million; and calls on the city to introduce a "right to return" policy giving "current and former longtime residents of South Shore" priority in grants and housing access. 
The ordinance hopes to address rising neighborhood rents, which have been spurred by the development of the Obama Presidential Library.
The demands of the new ordinance closely mirror demands made in previous drafts. A section pledging to "hold the Chicago Housing Authority accountable" by increasing the amount of public housing and lowering barriers to public housing voucher programs appeared to have been cut. 
The coalition's digital platform had not been updated with the revised demands of the ordinance debuted as of Saturday. A previous draft is visible here. 
The summit, held at the South Shore United Methodist Church, 7350 S. Jeffrey Blvd., gathered South Shore residents to review the new ordinance and hear from neighbors who have struggled to find and afford local housing. 
South Shore resident Chinella Miller opened the summit. The South Shore renter recounted her frequent moves across the neighborhood, necessitated by absent landlords, rodent infestations and skyrocketing rents. 
Miller said everyone in South Shore deserves a "safe, clean neighborhood where you can comfortably lay your head." She stressed the latest draft of the CBA ordinance was the result of years of community meetings. 
"We have engaged hundreds of our neighbors to make sure our policies are truly representative of residents," Miller said. 
Ald. Yancy, himself a South Shore renter, called the neighborhood "vibrant, beautiful, and historic." He said housing was "a human right" and longtime Black residents deserve a chance to stay in their neighborhood. 
Yancy was joined Saturday by Ald. Jeanette Taylor (20th), whose ward will directly border the Obama Presidential Library. Among the new ordinance's demands is that development on the vacant, city-owned lot at 63rd and Blackstone, Taylor's ward, be devoted to 75 percent affordable housing. 
Addressing the summit, Taylor stressed the rising rents in South Shore today would arrive in other neighborhoods tomorrow. 
"We need to ask for a CBA citywide," Taylor said. "They've decided they want our city, but they don't want us."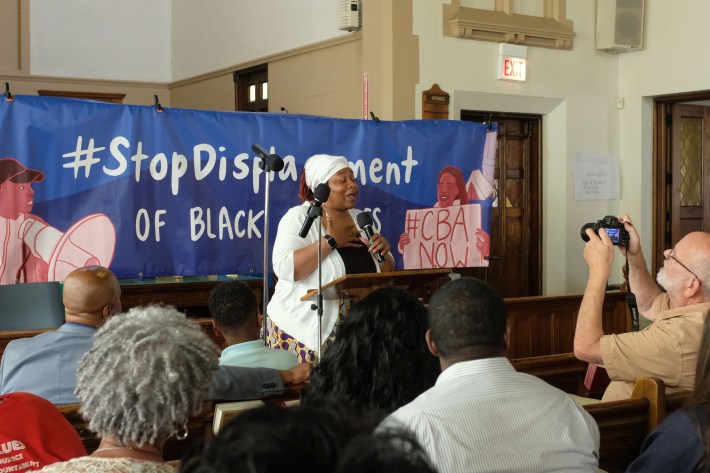 Although Taylor affirmed her own commitment to the CBA's revised ordinance, she noted she and Yancy made up only two votes of City Council's 50. She encouraged South Shore residents to express their support for the ordinance to alderpeople across the city.
But she expressed hope in the coalition's work. 
"Don't ever say it can't happen," she said. 
Linda Jennings, a homeowner in South Shore, spoke to the fear of falling behind on mortgage payments. She said condominium buildings like hers, if they fall into receivership, have been brought up by developers and subdivided into high-value rental units. 
"Besides renters, we're the next low-hanging fruit in terms of displacement," Jennings said. 
She said that her building, of mostly fixed-income seniors like herself, is at particular risk. Among many of Saturday's young speakers and organizers, Jennings encouraged the South Shore residents not to forget about their senior population. 
"There's 10,800 old folk like me walking down 67th Street, walking in the park — and we wnat to stay in the hood!" Jennings said, to cheers. 
Watch our "On The Block" TV show on The U, CW26 and MeTV.
Listen to "It's All Good: A Block Club Chicago Podcast":