WEST HUMBOLDT PARK — For over a year, neighbors alerted police and local officials to the erratic behavior of a man on the roof of a building on West Chicago Avenue.
Police responded at least twice in that time to reports of the man firing a weapon from the building at 4140 W. Chicago Ave. and aiming lasers at a police helicopter, but nothing came of either visit, police reports obtained by Block Club Chicago show. Records also show 36 Shot Spotter detections of gunfire on that block between March 2021 and March 2023, according to police.
It all came to a head in a daylong standoff with police and SWAT June 2 that ended with the man — 67-year-old John Litsiardakis — dead from a self-inflicted gunshot wound, according to police and the Cook County Medical Examiner's office. During the standoff, he brandished a gun, a flamethrower and was flying a Nazi flag.
RELATED: Man With Weapons, Swastika Flag, Found Dead After Friday Standoff With Police In West Humboldt Park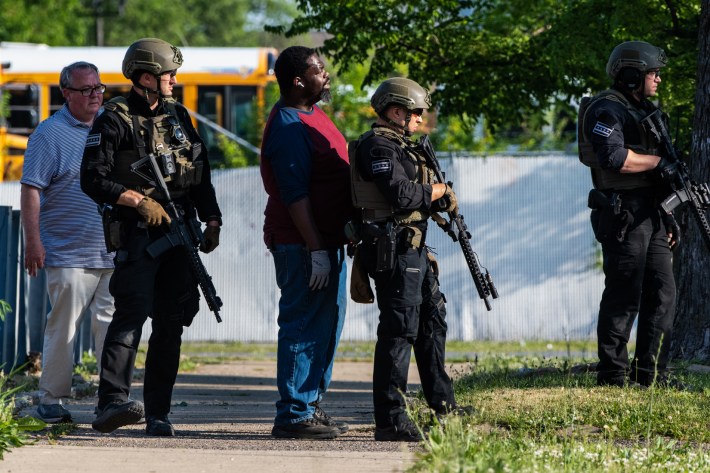 Police said they recovered weapons, including several guns and a crossbow, in the building.
Neighbors now are questioning why city officials were slow to act — or whether they acted appropriately — in the face of what they saw as threats to their safety and that of the neighborhood.
"It's just a very sad situation and we really do feel it could've been avoided if the community had been heard a lot sooner," said Farrah Walker of the West Humboldt Park Community Coalition. "What's the process the community is supposed to follow to be heard? It's very upsetting. This man did not have to die."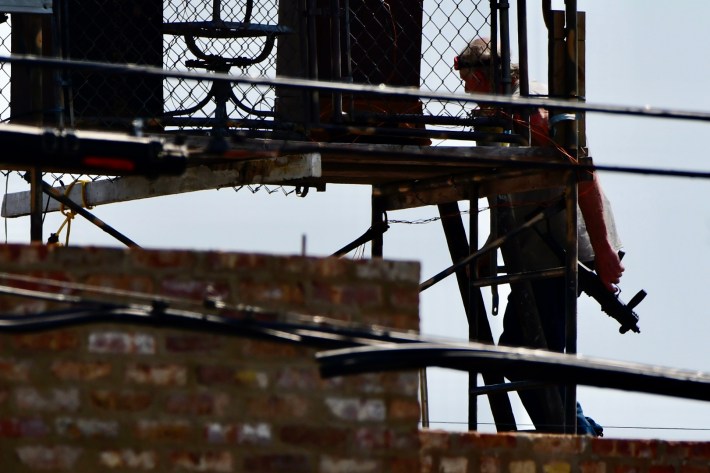 Loud Music, Swastika Flag
Neighbors said they repeatedly voiced their concerns about Litsiardakis' increasingly erratic and threatening behavior. They said he frequently blasted music, yelled obscenities and at one point hung an illuminated swastika flag from makeshift scaffolding he had built on the roof, visible from Orr Academy High School across the street.
Litsiardakis was the subject of more than 40 calls for service, according to the Chicago Sun-Times.
Walker said her organization filed complaints for months that went unanswered by local officials, including with Ald. Emma Mitts' (37th) office at 4924 W. Chicago Ave. Mitts' office is about a mile west of the building where the standoff occurred.
"With the current climate of gun violence, mass shootings and undiagnosed mental health issues, it is imperative this issue is addressed before any innocent lives are lost," West Humboldt Park Community Coalition members wrote in a May 15 letter addressed to Mitts, Mayor Brandon Johnson, Gov. JB Pritzker, former Chicago Police Supt. Eric Carter and the U.S. Secret Service. It was sent just two weeks before the police standoff made headlines.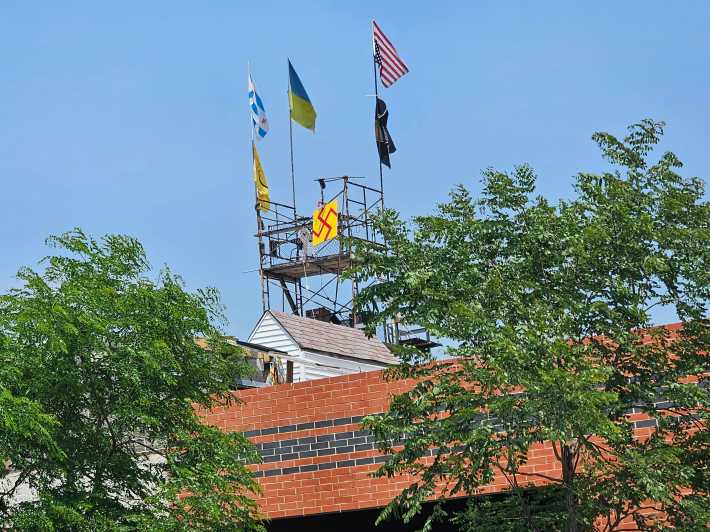 Walker questioned whether police and other officials would have acted sooner to address the escalating situation if it happened in a different neighborhood.
"I think the reason is because it was happening in West Humboldt Park. If this had been any of our other neighbors, things probably would've been different," Walker said. "This is a predominantly Black and Brown community on the West Side of Chicago. We know that a lot of other things don't get done in our community and this is something else that didn't get done."
Police did not respond to requests for comment.
Mitts denied her office was unresponsive, saying in a statement she had been "proactive" and worked closely with neighbors and other groups "for awhile" — in particular to demand the removal of the Nazi signage on the scaffolding.
Mitts said she contacted and worked with the city's Department of Buildings and police to have the signage removed.
"The signs were put up and ordered taken down several times over the last several months thanks to the coordinated vigilance of all the involved city agencies and Ald. Mitts Public Service Office," according to Mitts' statement.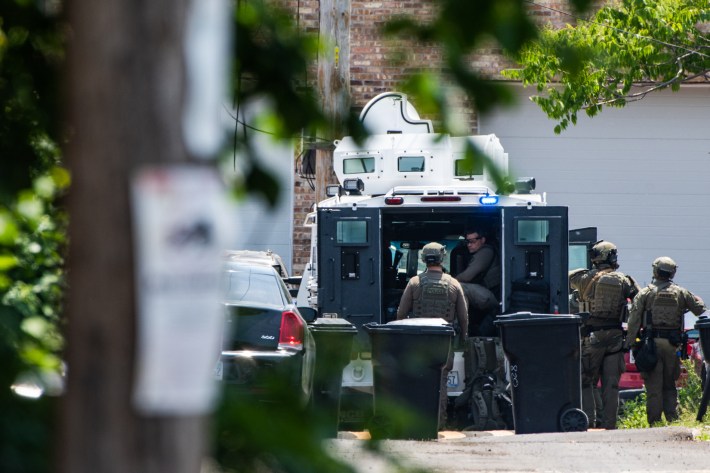 An Escalating Situation
On May 25, 2022 — over a year before the police standoff — police responded to a Shot Spotter alert at the Chicago Avenue building, according to police reports obtained by Block Club Chicago through a Freedom of Information Act request.
A man on the roof pointed a laser at a police helicopter multiple times when police arrived, according to the incident report. A police sergeant requested Fire Department and SWAT backup after the man ran into a shed on the roof, "barricading himself inside," according to the report.
The man told officers he was "too tired and will turn himself in to CPD once offender was rested," according to the report.
The scene was cleared without an arrest.
On March 21, police again responded to a Shot Spotter alert at the same address. Witnesses told police they had seen a man firing a weapon on the roof of the building, according to the incident report.
An officer at the scene made contact with the man on the roof, who told him, "I'm with you guys, not against you," according to the report.
Police observed a "tower" atop the building decorated with U.S., Chicago and Ukraine flags and "searched the area" but "were also unable to find any evidence of a crime," according to the report.
On May 15, the Department of Buildings notified police of an unpermitted "scaffold tower" on the roof of the building at 4140 W. Chicago Ave. with "loud speakers playing music and transmitting hateful speech and the display of hateful symbols on the tower," a buildings department spokesperson said.
More than a week later, on May 26, building inspectors went to the building with a police escort but were unable to gain entry. Inspectors reported "dangerous and hazardous conditions" during an exterior inspection, prompting them to issue a vacate order to the building's owner, the buildings department spokesperson said.
"Attempts to notify the occupant were unsuccessful," the spokesperson said.
City officials did reach him by phone June 1 and told him of the order to vacate. "The occupant indicated he would not comply," the spokesperson said.
Around 9:30 a.m. June 2, police again responded to reports of a man with a gun on the roof of the building.
The man was Litsiardakis, and the long standoff would end with him dead of a self-inflicted gunshot wound.
'I Don't Think I Ever Saw It Coming'
Litsiardakis was raised in Humboldt Park, served in the Army during the Vietnam War and had recently lost touch with his family, who told the Chicago Sun-Times he appeared to be battling paranoia.
He legally changed his last name from Lichard to Litsiardakis in 2021, according to Cook County records.
On his social media accounts under his new name, Litsiardakis posted negative messages about the Democratic Party, made threats about Chicago police and posted a video of the Nazi flag on the building's scaffolding in the months leading up to the SWAT incident.
Some neighbors said Litsiardakis' violent rhetoric — and the standoff with police — was in stark contrast to the cordial neighbor they would see walking the neighborhood.
"I remember always seeing him walking his white dog around the block. He never bothered or threatened anybody," said neighbor Chris Warrior, who said he lives a block away from the building. "I don't think I ever saw it coming."
Litsiardakis was arrested four times in the 1980s for gun and drug possession and was convicted on a drug charge, according to Cook County records. His record appeared clean in the decades since.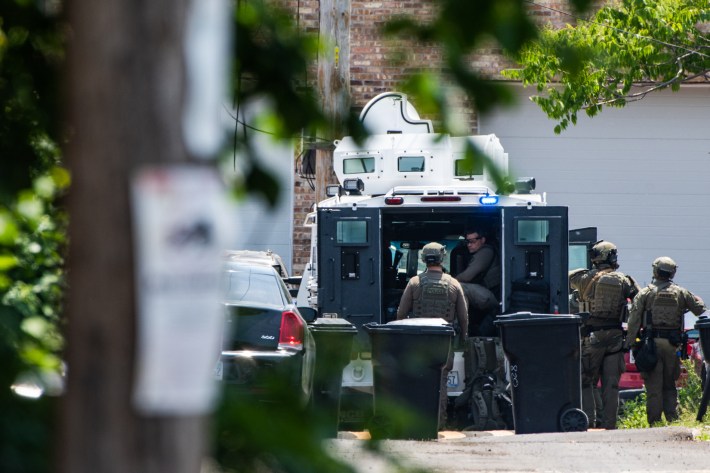 Litsiardakis bought the Chicago Avenue building in 1986, according to the Cook County Clerk's office. It was later sold after Litsiardakis failed to pay taxes and water bills on the property in 2007.
Litsiardakis was set to retain ownership of the building in a quitclaim deed three weeks before the SWAT incident, according to the Sun-Times.
Alees Edwards, a member of the Chicago Police District Council for the area, said she lives near the building where the standoff occurred. She only heard about Litsiardakis' standoff with police when she picked up her son from school that day.
"There needs to be a better response from the Chicago Police," Edwards said.
Watch our "On The Block" TV show on The U, CW26 and MeTV.
Listen to "It's All Good: A Block Club Chicago Podcast":