This story is the third in a series of features profiling LGBTQ+ families across Chicago. Read more here.
LOGAN SQUARE — Countless queer relationships have started at Slo 'Mo, the long-running LGBTQ+ dance party organized by Kristen Kaza. So, it was only natural that she'd meet her partner there.
Kaza, who started the parties in 2011 for queer women and friends to connect, was hosting an event in June 2016 when Alexis Jennings walked into the Whistler, she said.
"I clocked her immediately because I was like, 'Who's that cutie? I've never met her before,'" Kaza said. "She had a completely different energy, and I'll never forget that she was wearing a flannel in June." (Jennings clarified it was a "light flannel").
Kaza approached Jennings and used one of her party promoter lines to strike up a conversation, she said. Kaza then invited Jennings to an afterparty, even though neither of them like to stay out late, she said.
"It was just an excuse to talk to her more," Kaza said.
Kaza and Jennings dated for a few years before moving in together in 2019.
Jennings, an introvert, said she admired Kaza's strong sense of community and die-hard commitment to her chosen family in Chicago. Kaza said she was drawn to Jennings' grounding energy, which "brought a lot of peace to my life in a time when there was a lot of calamity."
They eloped in 2021 and started fertility planning, navigating multiple setbacks and near-fatal health complications for Kaza and the couple's twin girls, born last year. As they raise their family, the Slo 'Mo community also is expanding to include more family-friendly events.
"And it all started with one of those magical nights," Jennings said. "To think I had just gotten off work and wasn't going to go to Slo 'Mo, but my friends made me and it turned out to be this beautiful beginning."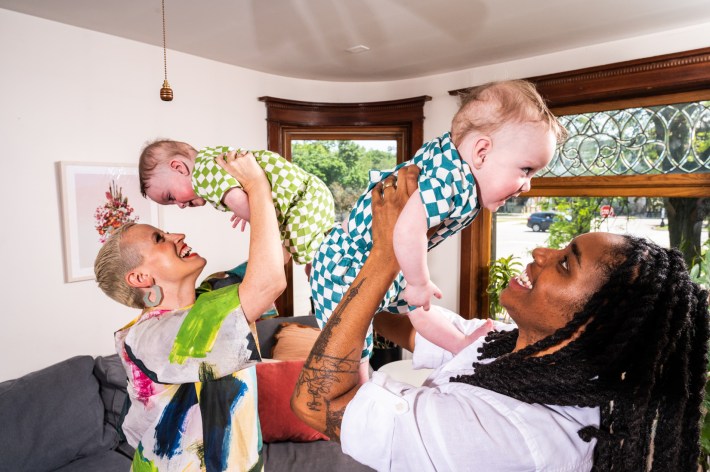 'It's Such A Miracle The Girls And I Are Alive'
The pandemic hit at the same time the couple was ready to start a family.
Kaza and Jennings long had been planning on having children, and the two went to couples therapy before starting their fertility journey to get on the same page about how they envisioned their family structure, parenting styles and other plans, they said.
The couple also wanted to get married before having children to make sure they had legal protections as a family. But a full-fledged wedding wasn't possible during the pandemic.
"So we eloped and didn't even tell a lot of people for several months," Kaza said.
Kaza and Jennings had a small, at-home ceremony in January 2021 where they signed their marriage certificate, Jennings said. The couple honeymooned in Oaxaca, Mexico, before coming home and starting their fertility journey.
Both parents knew they wanted a known sperm donor who would be involved in their lives, so they asked their good friend Justin Mitchell to fill that role, Kaza said. Mitchell agreed, and joined them in therapy to discuss his feelings and expectations around the process, too.
"It can be really challenging when you're queer and designing your fertility process and family," Kaza said. "But we all agreed the most ideal situation was to have a known donor who could be involved in our lives and the children's lives."
Both Kaza and Jennings underwent IVF treatments, but after a miscarriage, it was Kaza who became pregnant in late 2021. But even just getting a pregnancy test was a struggle.
Kaza and Jennings canceled plans to visit family for Christmas that year after Jennings got sick with COVID, Kaza said. As Kaza was on the way home from grocery shopping to salvage the holiday with an at-home meal, she was involved in a hit-and-run crash that totaled her car.
Kaza was unhurt. She was pregnant at the time, but hadn't confirmed it because she couldn't go to the fertility clinic after being exposed to Jennings' COVID.
Kaza had pregnancy and COVID tests delivered to the house, and she tested positive for both simultaneously, she said. The couple also was reeling because Jennings' close family friend had recently died and Kaza had just closed her art studio, Reunion Chicago.
"It was a very tender time, so we just holed up for a few weeks to make sure we were all good," Kaza said. "By the time I got to take that test, my numbers were off the charts, which we didn't know until the following week was because it was identical twin girls."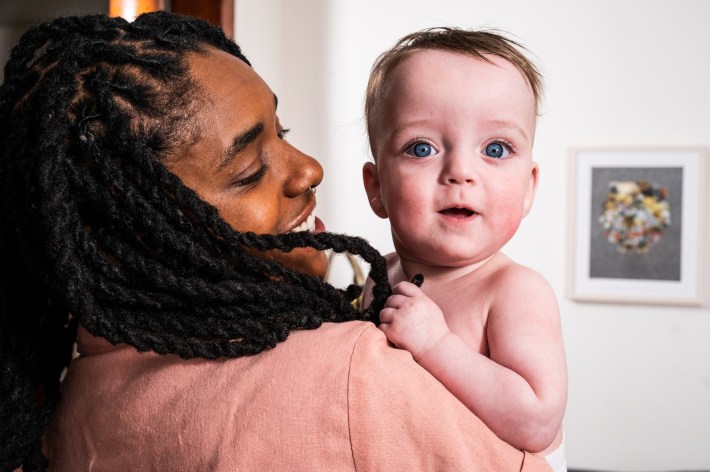 Kaza was terrified of having twins because it involved a more intense and high-risk pregnancy, she said.
"That first moment of finding out was a huge pill to swallow," Jennings said. "But over time, we got settled into the idea of twins."
The hormones her body was releasing made Kaza ill, but she brought Slo 'Mo out of its hiatus early into her pregnancy. She threw three Slo 'Mo parties and was about to organize a fourth — a Pride Ball in June 2022 that was meant to be her sendoff before taking maternity leave — when she got so sick she needed to be hospitalized, she said.
Jennings stepped in to help manage the party's logistics while Kaza went to Prentice Women's Hospital with pneumonia, she said. Eventually, her oxygen maxed out and she couldn't breathe, so the doctors delivered twins Jade and Nova at 28 weeks on June 11, 2022.
"The pregnancy was really healthy, but I wasn't," Kaza said.
Kaza happened to be staying at a hospital where severe COVID patients were treated, so doctors brought in a life-support machine called an ECMO, which is a heart and lung bypass that oxygenates blood and sends it back to give the heart and lungs a break. 
Kaza had peripartum cardiomyopathy, an uncommon form of heart failure related to pregnancy, and was hospitalized for a couple weeks while she recovered, she said.
"I was extremely fortunate to already be at the hospital where they had this machine," Kaza said. "It was a very miraculous survival."
Jade and Nova spent three months in the NICU, Kaza said. Jade was cleared to leave the NICU first, right around the twins' original due date, while Nova followed a week later, Kaza said.
"Them coming home was amazing," Kaza said. "I remember Lex and I just pushing Jade in the stroller and it felt like a huge deal. Even the little things feel like a big deal to us because it's such a miracle the girls and I are alive."
Kaza said having the support of their families, Mitchell's family as well as their extended chosen family and community helped get the couple through the most challenging parts of her pregnancy.
"There's a lot of people that love these children, and I really do believe that is why we're alive," Kaza said. "We're doing so well because we've been immensely cared for by so many people."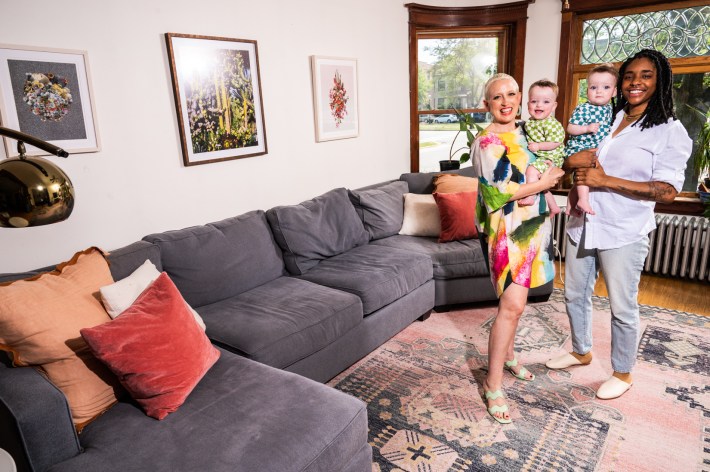 'Our Family Looks Different'
Mitchell, who lives between New York City and Miami, got to meet the twins while they were still in the NICU.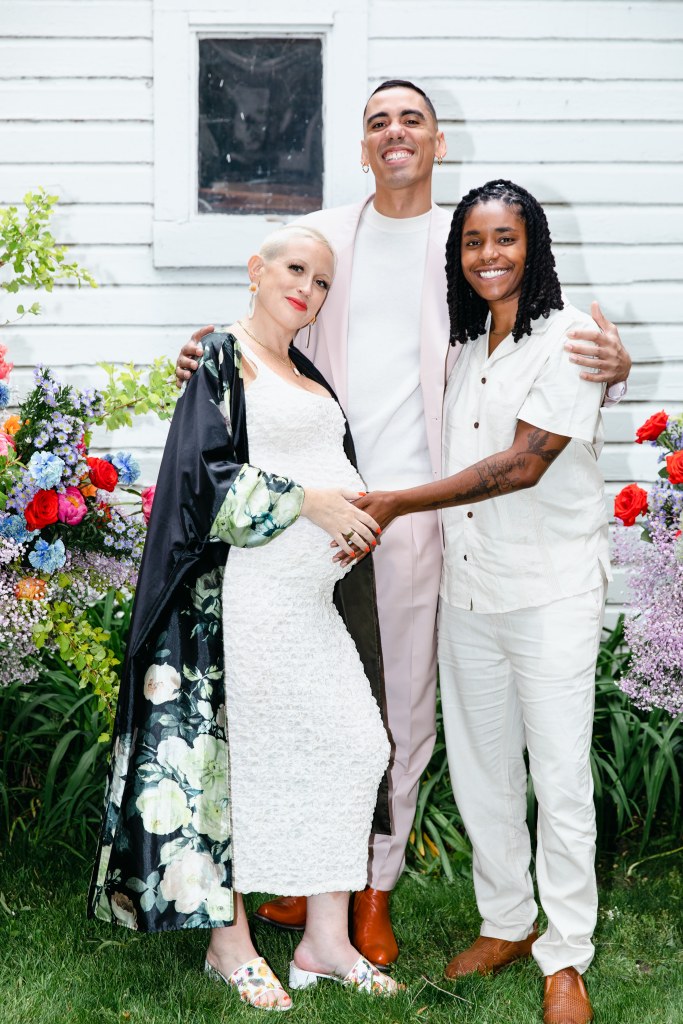 He was visiting Chicago during Father's Day weekend, and the family persuaded hospital staff to let him in to meet the twins, despite its strict two-parent policy, Kaza said.
"We really had to put some work into it, but we made it possible for him to visit the girls in the hospital only a week after they were born," Kaza said. "Those wins are really important within the hospital and medical system for queer people. We had to put our feet down and tell them our family looks different and has three parents, so they gave Justin access."
Mitchell remains active in the girls' lives, checking in regularly with them through Facetime, Kaza said. Kaza and Jennings also share photos of them almost daily and host him for visits.
"Even with distance, he's constantly connected to us," Jennings said.
Part of planning a queer family can include establishing legal protections to safeguard everyone's rights as parents, Jennings said. That included donor contracts and establishing expectations. Jennings also plans to adopt the twins to ensure she is recognized as their mother in other parts of the country and world.
"With rights being taken away from queer families all over the world, that's a protection I have to take," Jennings said. "So there are challenges to being a queer parent, but they're necessary to go through."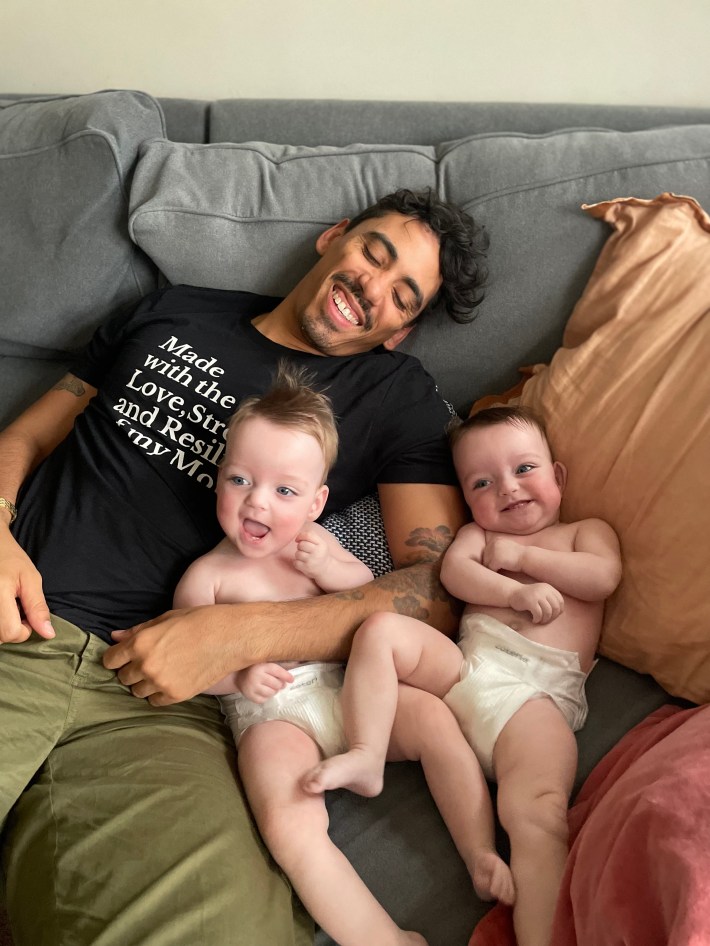 Kaza has fully recovered and the twins are healthy 1-year-olds, she said. The family has settled into home life with Kaza and Jennings still making time for Slo 'Mo events, concerts and date nights with the help of their support system.
As a family, they spend a lot of time outdoors so the twins can explore everything and learn about the world by playing in it, Jennings said. They go on walks and visit nearby parks, cafes and restaurants.
Indoor activities include frequent dance parties using the record collection Jennings inherited from her father after he died, Kaza said. The twins are being exposed to classics like Sade, Chaka Khan, the Gap Band and Bill Evans.
"Those records hold a lot of memories for us," Jennings said. "It's the music we listened to with our parents growing up, and it's also something tangible we can pass on to them."
The mini dance breaks also serve as practice for Slo 'Mo's upcoming family-focused parties. Part of these efforts include the Queer Fam Pride Jam, a one-day Pride festival created in partnership with Kido, a children's boutique in the South Loop.
The Pride Jam's original date was canceled due to a nearby emergency, but organizers are working to establish a new date, Kaza said.
"It's so important for queer families to have spaces where we can be together," Kaza said. "The main impetus for us starting a family was we didn't see any families like us, which is why it's so important for queer families to come together and show those possibilities. We've made a beautiful, loving queer family and I hope we're putting out into the world that this is a possibility for anyone else to find."
Watch our "On The Block" TV show on The U, CW26 and MeTV.
Listen to "It's All Good: A Block Club Chicago Podcast":