CHICAGO — Celebrate house music in the city where it began, keep Pride Month festivities going with a bar crawl in Wrigleyville, sip spirits at a wine festival or feel the summer breeze during a nude bike ride through the city. Summertime Chi is in full swing, and there's no shortage of things to do.
We have six extra picks from our partners at Do312.
Here's a roundup of 18 things to do in Chicago this weekend:
5-9 p.m. Friday, 11 a.m.-9 p.m. Saturday
Friday at the Chicago Cultural Center, 78 E. Washington St.
Saturday at the Humboldt Park Boathouse Lawn mainstage, 1400 N. Sacramento Ave.
Celebrate house music in the city where it started with the Chicago House Music Festival and Conference. Tune into Friday panel discussions about the culture and business of house music and groove to a lineup of Chicago DJs on Saturday. Admission is free.
11 a.m.-9 p.m. Saturday
Humboldt Park Boathouse Lawn, 1301 N. Humboldt Dr.
Taking place alongside the Chicago House Music Festival, this food fest features more than 20 neighborhood food vendors, including African Food Palace, Delicias Tacos, Gaby's Funnel Cakes, Ms. Tittle's Cupcakes and Tandoor Char House. Explore a diverse array of local cuisine as you dance the day away to house music tunes. Admission is free, and vendors accept cash or credit card.
3-6 p.m. Saturday
Various locations in Wrigleyville
Celebrate Pride with this bar crawl across Wrigleyville, with stops at Moe's Cantina, HVAC and Bamboo Club — formerly known as Deuce's. Tickets are $10-20 and include admission to all participating bars, a free brunch buffet, gift cards to use on the crawl, giveaways and more. Get yours online. Some of the crawl's proceeds will benefit The Trevor Project and other local LGBTQ+ charities.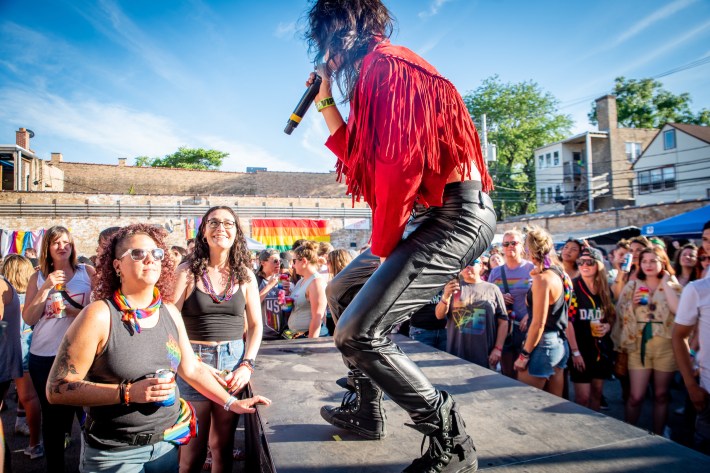 Noon-11 p.m. Saturday
5238 N. Clark St.
Now a Pride staple, Back Lot Bash began in 2004 as a response to the lack of women's events and the limited presence of female artists in the city's LGBTQ+ community. This four-day outdoor festival in Andersonville draws thousands of attendees and features local and emerging musicians and performers. A portion of the proceeds goes to charitable organizations focused on women's and LGBTQ+ issues, such as A Sister's Hope, Girls in the Game and UCAN. Tickets are $20 online.
9 p.m. Saturday-3 a.m. Sunday
The Loft, 2251 N. Lincoln Ave.
Keep the house music celebrations going all night long with DJ Sneak, Terry Hunter, Gene Hunt and more. Tickets are $10-20 per person online. Group discounts are available; admission is free for DePaul students.
9 a.m.-4 p.m. Saturday
The Light of Truth Ida B. Wells National Monument, 3729 S. Langley Ave.
This 2nd annual festival celebrates the life and work of civil rights activist, journalist and suffragist Ida B. Wells. Festivities include a walking tour of Bronzeville, meditation with media personality and poet Sylvia Ewing, family activities, spoken word and drumming performances and more. There will also be a 60-minute film screening and discussion about the creation of the Ida B. Wells National Monument, moderated by Block Club's Jamie Golden Nesbitt. Find the full schedule and RSVP online.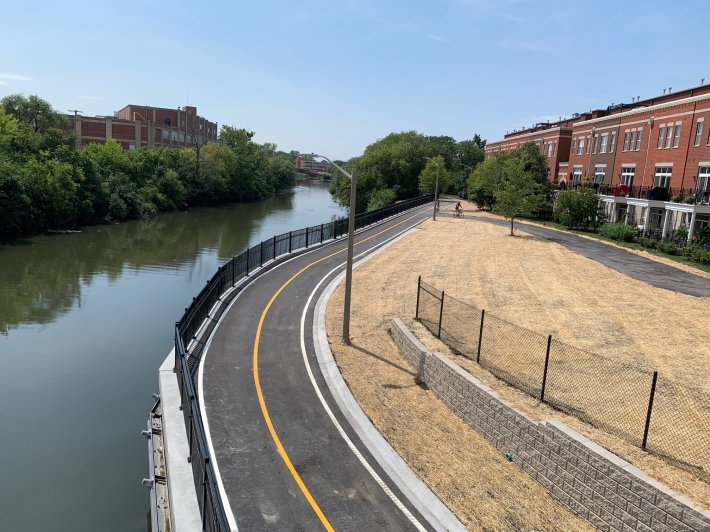 10 a.m.-noon Saturday
Clark Park, 3400 N. Rockwell St.
Take a scenic run or walk through Clark, California and Horner Parks for this 2nd annual 5K course. The race is open to all levels of runners, from serious competitors to casual participants. There will be snacks and water available, plus raffles. You can also celebrate after the race with a party at Burning Bush Brewery, 4101 N. Rockwell Ave. Register for $20-35 online. Kids 5 and under can participate for free.
Check-in starts 6 p.m., ride is 8 p.m.-midnight
Location to be announced
The World Naked Bike Ride Chicago returns for its 20th edition this weekend to encourage both body positivity and independence from cars and fossil fuels. Riders should arrive clothed and with shoes, but they will go (nearly) nude to cruise through the city. The stripped cyclists have previously covered between 12-22 miles, with a few brief stops. More details and route information will be revealed as the event approaches. Learn more on the event's website and stay updated on Twitter, Instagram or Facebook.
7:30 p.m. Friday
The Den Theatre – Heath Mainstage, 1331 N. Milwaukee Ave.
Stand-Up With Pride is a Pride-themed comedy showcase featuring some of Chicago's best LGBTQ+ comedians, including Gwen La Roka, Jayleigh, Princess Gwen Rose and more. It's hosted by Krystal Ball. Sip on themed cocktails and enjoy a night of hilarity and inclusivity. Tickets are $26. Buy them online or by calling 773-697-3830. Proceeds will benefit LGBTQ+ organizations in the Chicago area.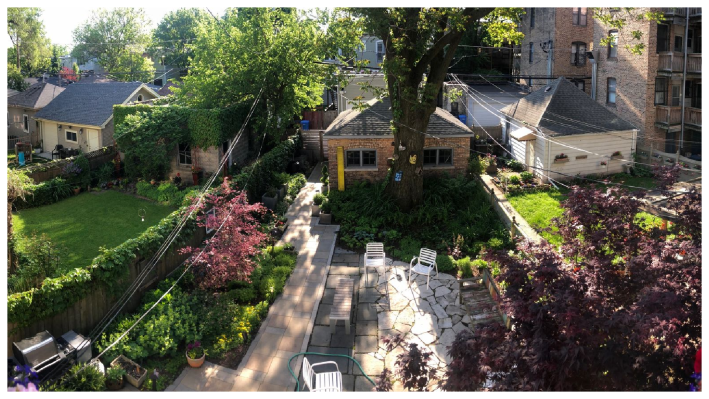 Noon-5 p.m. Sunday
Northcenter Town Square, 4100 N. Damen Ave. and Alexander Graham Bell School, 3730 N. Oakley Ave.
Tour North Center and see an array of gardens and outdoor spaces at 45 homes, plus enjoy live music from local performers and refreshments from neighborhood lemonade stands. Participants can register for a self-guided tour and pick up maps from noon-5 p.m. at Northcenter Town Square or Alexander Graham Bell School. There will also be a trolley to pick up and drop off visitors at designated locations. There is a $5 suggested donation upon admission. A portion of proceeds will be donated to the Common Pantry. Learn more about this 17th annual walk or sign up to volunteer online.
6-9 p.m. Friday
The Martin, 2500 W. Chicago Ave.
The Martin, the art gallery upstairs from lesbian cocktail bar Dorothy's, is celebrating its five-year anniversary (and its survival through two storefronts and a pandemic) with a party and art exhibit this weekend. Reminisce on how far The Martin has come while browsing the work of 15 artists who have been previously featured in the gallery. Admission is free and there will be drinks available for purchase (credit card only).
4-10 p.m. Saturday
Ogden Park, 6500 S. Racine Ave.
Ride through Englewood and explore the neighborhood for Roll N Peace, a bike tour series led by local nonprofit Think Outside Da Block. Cyclists will pass through crime hot spots to deter violence through community presence. The event launched in 2018 and is also meant to encourage neighbors to be active and improve their emotional, psychological and social well-being.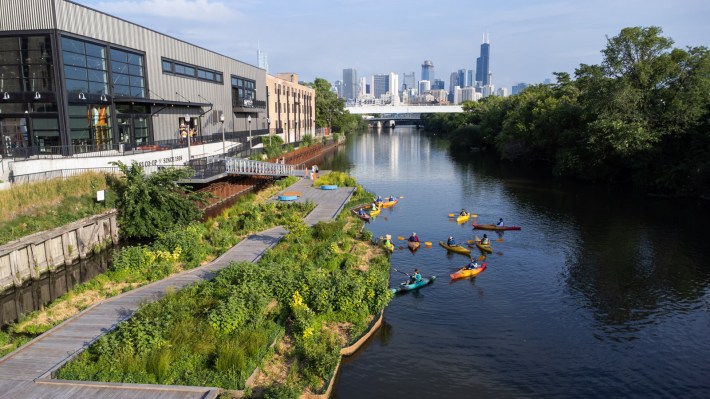 3-8 p.m. Sunday
Next to REI Lincoln Park, 905 W. Eastman St.
Wild Mile is celebrating one year since its mile-long floating garden and boardwalk opened along the Chicago River near Lincoln Park. Enjoy free food and drinks, music, raffles and more. The event is free and open to the public. Find more information about the Wild Mile online.
10-11 a.m. Saturday
1301 N. Humboldt Dr.
Dance, kickbox and do cardio to house tunes during this beginner workout class. RSVP for free online.
11 a.m.-7 p.m. Saturday
Third Place Chicago, 4651 N. Milwaukee Ave.
There will be local artists, live music, food and drinks, art workshops and children's activities at this Jefferson Park art fair hosted by Third Place Chicago and nonprofit Keeler Gardens. Admission is free.
11 a.m. Saturday-Sunday
City News Cafe, 4018 N. Cicero Ave.
Community resident Giovina Romandine is leading 2.5-hour walking tours through East and West Portage Park this weekend. Walkers will get to explore the neighborhood's vintage theaters, lush parks, local businesses and 20th-century bungalows while learning about the community's history and immigrant roots. The tour starts at City News Cafe and will end with lunch and drinks at Legno By Suparossa, 4250 N. Central Ave. You can sign up for Saturday's East Portage Park tour here, and for Sunday's West Portage Park tour here. The tours are free, but a $10-20 donation is appreciated. All proceeds will go toward ​Chicago for Chicagoans, a nonprofit pay-what-you-can tour service created by and for Chicagoans.
6-11 p.m. Saturday
Open house at 3908 N. Lincoln Ave., block party at Martyrs', 3855 N. Lincoln Ave.
Common Pantry, a nonprofit food pantry combating food insecurity on the North Side is celebrating its new home with a block party and fundraiser across the street at Martyr's. Check out the new space during an open house from 6-7 p.m., then dance the night away to performances by local musicians starting at 7 p.m. Tickets are $20 online and $25 at the door.
11 a.m.-2 p.m. Saturday
Brighton Park Community Campus, 4830 S. Western Ave.
In celebration of Brighton Park's new and improved community center, Chicago Park District is hosting a grand opening event. There will be cultural performances, sports clinics, nature-based activities, arts and crafts, food trucks, a playground, tours of the new facility and more. The center includes a 58,100-square-foot, two-story facility and a park with artificial turf athletic fields, lighting and a scoreboard.
PLUS: Six Picks from Our Partners At
4 p.m. Friday-Sunday
Riis Park, 6100 W. Fullerton Ave.
Re:SET was conceived as an artist- and fan-friendly alternative to the standard summer concert experience. Taking place over four weekends in the month of June, each weekend will see three cities in the same region hosting, with Re:SET headliners playing each city on consecutive days. The concept provides artists a respite from the cookie-cutter summer itinerary of sheds and amphitheaters, while fans get a leisurely day that features full sets from every artist, on one stage with no conflicts.
4 p.m. Friday
Behind the Cheetah Gym, 5248 N. Clark St.
Chicago's annual celebration of Chicago's finest drag is back! This exclusive showcase will feature some of Chicago's very best trans and non-binary entertainers in a cast of 35+ kings, queens and everything-in-betweens.
Noon Friday-Saturday
Grant Park, 331 E. Randolph St.
Pride In The Park is an annual outdoor music festival held in Chicago's Grant Park featuring LGBTQ+ performers, artists, vendors, and more.
4 p.m. Friday-Sunday
Cobra Lounge, 235 N. Ashland Ave.
The 10th Annual Urban Motorcycle & Hot Rod Street Rally features 20 bands, a beer hall, food trucks and more.
8 p.m. Saturday-Sunday
The Chicago Theatre, 175 N. State St.
Iconic "Saturday Night Live" comedian Colin Jost will perform at the Chicago Theatre for a hilarious show.
8 p.m. Sunday
Thalia Hall, 1807 S. Allport St.
Mike Gordon is the bassist and co-founder of the seminal improvisational American rock band Phish. This is his first outing with his solo band in three years. His sixth solo LP, "Flying Games," was out in May on Megaplum/ATO Records.
Watch our "On The Block" TV show on The U, CW26 and MeTV.
Listen to "It's All Good: A Block Club Chicago Podcast":
Watch our "On The Block" TV show on The U, CW26 and MeTV.
Listen to "It's All Good: A Block Club Chicago Podcast":