CHICAGO — Neighbors from different parts of town poured into the Chicago Park District meeting Wednesday, many of them with the same goal: to stop major music festivals and events from taking over their local parks this summer.
Park District board members and officials signed off Wednesday on letting two major music fests go forward.
In a last-minute move, The Re:SET concert series was cleared to kick off in just eight days at Riis Park, 6100 W. Fullerton Ave. Those shows will run June 23-25.
In a separate vote, board members voted unanimously to approve this year's edition of Riot Fest, scheduled for Sept. 15-17 at Douglass Park, 1401 S. Sacramento Drive.
RELATED: Riot Fest, Re:SET Festival Approved Despite Neighbors' Complaints
Those decisions came despite months of organizing and protests from some neighbors who did not want private events on public park land and blasted parks officials for not involving residents in the decision-making.
Some Pilsen neighbors and local Ald. Byron Sigcho-Lopez (25th) have also spoken out against two upcoming fests slated to take over Harrison Park, 1824 S. Wood St.
While some neighbors support music fests in public parks — Riot Fest in particular has divided West Siders — many shared similar frustrations at park officials continuing to allow concert promoters host private events at popular public parks in predominantly Black and Brown communities. 
"It's a widespread problem," said David Canario, a 30th Ward neighbor. "Communities of color and communities that are less invested in get used for these kinds of events and the benefits go to other communities."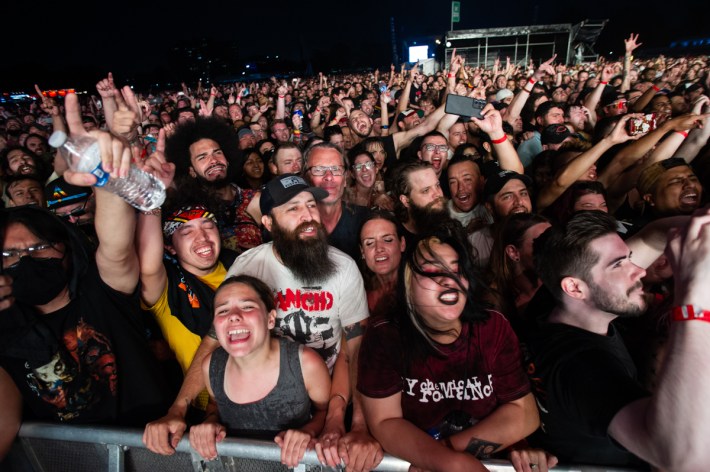 In Pilsen, Miche Fest is set for June 24-25 and My House Fest is scheduled for Aug. 12-13 at Harrison Park.
Pilsen neighbor Chris Sanchez said he is concerned the events will damage the grounds and leave trash everywhere. Neighbors have complained the Harrison Park advisory group did not solicit enough feedback from residents.
Miche Fest is expected to draw 7,500 attendees per day and My House Fest expects to welcome 3,000 attendees per day, promoters previously said.
"You can have it at Soldier Field because the Bears are going to move out. That way you can have the festival and you can make your money to take care of the parks," Sanchez told the board Wednesday. "Please remove these festivals from Harrison Park."
Ald. Byron Sigcho-Lopez (25th), whose ward covers Harrison Park, also told Block Club he's concerned about the unilateral approval of event permits to music festivals when nearby neighbors are against it.
"When there's use of public facilities like the Park District, there has to be a procedure and a process to review these proposals," he said. "We need to make sure we don't privatize public spaces."
Permits for Miche Fest and My House Fest have already been issued, and there is no avenue for advocating for them to be revoked, Sigcho-Lopez said. Instead, his goal is to reshape how the Park District makes permit decisions in the future.
Belmont Cragin Ald. Ruth Cruz (30th) said she shares a similar goal. Re:SET was approved by park officials after a months-long process neighbors and ticket holders said was confusing and frustrating, Cruz said. 
She drafted legislation to ensure smaller events at Chicago parks like Re:SET have to undergo a more transparent process before getting approved and is in the process of revising it before introducing it to City Council, she said.
"This is something that will not happen again moving forward as long as I'm alderman," Cruz said.
Privately organized events in public parks have faced increasing pushback from neighbors in recent years, leading to the Park District to change its permit approval process so officials have to consider input from neighbors.
Permits for festivals were previously granted via an opaque internal process with no requirement of community support nor any organized process for collecting feedback from the residents affected by the large events.
The new approval process requires festival operators to get Park District board approval for special events hosting 10,000 people or more a day in any of Chicago's public parks.
There is no record the Park District board voted on Re:SET, according to the board's meeting agendas and summaries. Promoters previously told neighbors there could be up to 9,500 attendees per day if the festival sells out.
Cruz previously said the attendance requirements to trigger board approval should probably be lower.
After the meeting, Park District CEO Rosa Escareño told Block Club she understood why neighbors were frustrated about the confusing permit application process for festivals like Re:SET and promised to have more engagement sooner when reviewing permits.
As neighbors and officials pushed for a final decision on Re:SET, Park District officials repeatedly said the event's permit was "conditionally" approved pending sign off from other city agencies. But officials would not answer questions on what that entailed and when that would happen.
Escareño said the current process caused confusion because a "conditional" event permit still requires the promoter to meet requirements with the district and other city officials, and the timeline for that isn't always clear to neighbors, she said.
"We're trying to get it right. There's more improvements coming. And certainly over the last year, I've been trying to figure out how to make it even better. But we're not always going to make everyone happy," she said. "My goal is to try to stick to the promise of working harder to make this process more inclusive."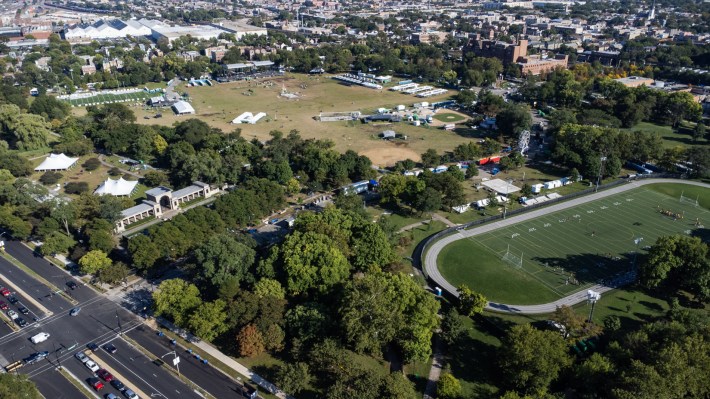 Riot Fest promoters said the festival generated $14 million in revenue for the park district since 2015. Escareño reiterated Wednesday that funding from private events is an important part of the district's budget. 
"We rely on that revenue…that money actually goes to support programming. And we are doing our best to maximize the revenues that comes in so that we can continue to support children and families," Escareño said.
Despite this, Lawndale neighbor Princess Shaw said the park district's current funding model doesn't prioritize the communities where these multi-million dollar events take place and that the park district needs to be even more transparent in its permitting process. 
"There is a discrepancy in how those monies are allocated, especially if you want to come to our parks and do the things that they're doing," Shaw said.
Watch our "On The Block" TV show on The U, CW26 and MeTV.
Listen to "It's All Good: A Block Club Chicago Podcast":