BUCKINGHAM FOUNTAIN — Construction crews revving up for the city's first NASCAR street race have begun erecting scaffolding and redirecting walkways around Downtown landmarks.
Scaffolding is up across the street from Buckingham Fountain — the main "Fan Plaza" for the race. It will be used to build the event's VIP suites and the President's Paddock Club, which will be "elevated above the tree line" with panoramic views of the course, according to renderings of the layout and NASCAR's website.
Construction began last weekend, with structures being built along sidewalk and curbs to "ensure access to the park is maintained for visitors," a NASCAR spokesperson said in a statement.
Some park visitors Friday said the construction was a mild inconvenience overshadowed by excitement for the race and its impending spotlight on Chicago.
"And maybe they can fix the bumps on Lake Shore Drive while they're at it," a pedestrian near the construction scene said.
The NASCAR Chicago Street Race Weekend will be July 1-2. Parking restrictions began last week along Columbus Drive between Jackson and Balbo drives, and part of Ida B. Wells Drive will close this weekend for crews to work.
The most significant restrictions and road closures are coming June 28, city officials have said. Roads will gradually reopen in the two weeks following the event. A full list of road closures can be found here.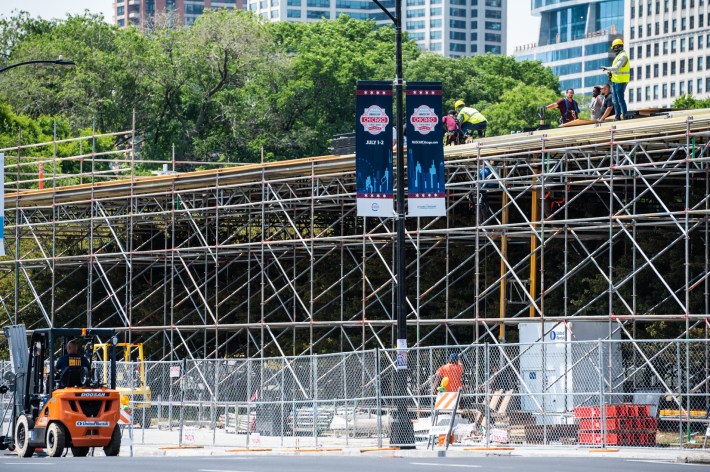 NASCAR's plans have drawn the ire of local aldermen and neighbors, who have voiced concerns about the noise and disruptions to traffic, staple Downtown attractions and some signature summer events.
But other major events are continuing in Grant Park. The Chicago Blues Festival in neighboring Millennium Park appeared unaffected by the construction Friday.
A spokesperson for Ald. Brendan Reilly (42nd), who has previously called to end the city's deal three-deal with NASCAR, said Reilly was traveling Friday and unavailable to comment on the start of NASCAR's construction.
The Mayor's Office did not immediately return requests for comment.
Diana Gurrola, a gardener with Urban Growers Collective in Grant Park, said workers so far have been "respectful" about preserving the park's greenery and not harming the trees.
"But I'm a little concerned for when people for the race start to come, that they might not respect the space. I hope they put some protection around our work," Gurrola said. "I wanted to buy tickets myself, but they were too expensive."
More photos of construction work ahead of Chicago's first NASCAR race: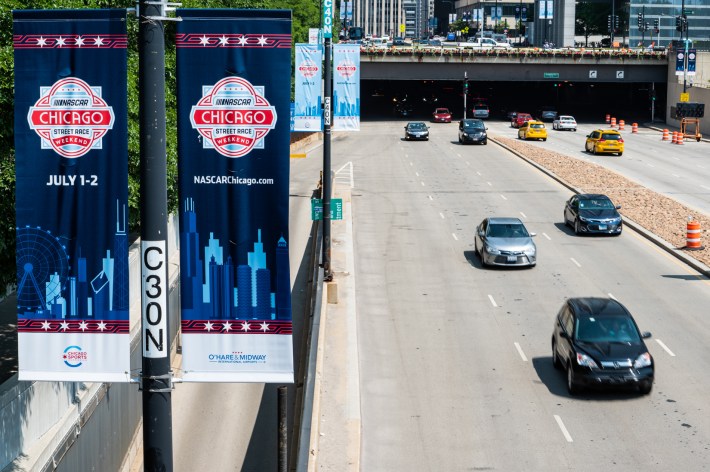 Watch our "On The Block" TV show on The U, CW26 and MeTV.
Listen to "It's All Good: A Block Club Chicago Podcast":