BELMONT CRAGIN — A music festival planned for Riis Park is just two weeks away, and ticket holders and neighbors still don't know if the concerts will actually happen.
The Chicago Park District said Wednesday it has not made a final decision on whether to grant a permit to AEG Presents to host the Chicago leg of The Re:SET concert series June 23-25 at Riis Park, 6100 W. Fullerton Ave.
AEG has been promoting the event — which features LCD Soundsystem, Steve Lacy and boygenuis — for months and started selling tickets in February. Some nights are already sold out, and promoters previously said they've sold over 20,000 tickets to the three-day event.
Juliet Azimi, the Park District's chief administrative officer, said last month AEG's permit was "conditionally approved," but the promoter still needed final sign-off from a variety of city agencies and officials. 
Park officials told Block Club this week the permit process was still underway but did not respond to questions about when they will make the final call.
"The Park District can approve the permit once all requirements are fulfilled, including additional approvals from other agencies, depending on features of the event," spokeswoman Michele Lemons said. "While organizers may actively promote and prepare for an event, all conditions of the permit must be met for the event to take place."
Park District officials would not say what requirements AEG still must meet or which other city agencies still need to sign off.
Ald. Ruth Cruz (30th), who took office last month, pulled her office's support for the festival following community backlash.
The lack of clarity has left fans like Dominic Basta and his husband Dan Marques scrambling to come up with backup plans.
Basta bought tickets when they went on sale in February as a surprise for his husband and his best friend who lives in Brazil because they're big fans of LCD Soundsystem, he said. The couple has spent thousands of dollars to bring the friend from Brazil to celebrate her and Marques' birthdays and give the friend a break after a rough stretch, they said.
"These tickets were a huge, amazing gesture that my husband did for us," Marques said. "We wanted to her to come with us to this show, give her a little bit of normality." 
The couple has been following the uncertainty around the festival and efforts by neighbors to block it from happening. They've sent messages to AEG, the Park District and even LCD Soundsystem trying to get a straight answer, they said. 
The group is considering going to Re:SET in Columbus, Ohio if the Chicago shows are canceled.
"The Re:SET promoters keep stating that the event is happening, but there's no official word from anyone else," Basta said. "Maybe we can get tickets and go to [the] Columbus show, right? … But it's not ideal because of the logistics and expenses like the hotels. I just don't think this is good business. It feels to me like false advertising."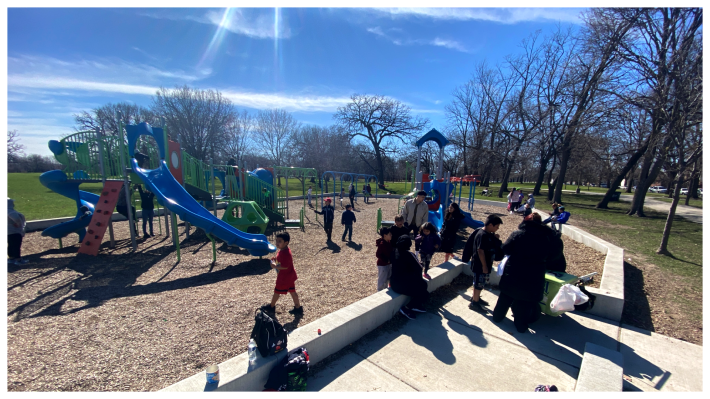 Cruz announced her opposition to the event in late May. Her predecessor, longtime Ald. Ariel Reboyras, gave promoters a letter of support for the event in January.
Cruz told Block Club Wednesday she's been trying to get park officials to meet with neighbors and announce their decision on the permit as soon as possible. 
"I'm also trying to get these answers," Cruz said. "But it is very frustrating. Just let us know. Say yes or no so that no one is wasting their time and people can plan their lives."
With setup and teardown, festival organizers would be in the park June 19-29, according to a permit application. The rest of the park's space and amenities would be free for neighbors to use during the festival, and the hilltop would remain accessible up until 10 a.m. June 22, promoters previously said. 
Despite the uncertainty, concert promoters told Block Club last month the festival will go on as planned.
"We look forward to bringing three days of great music to the neighborhood," Re:SET Concert Series spokeswoman Jen Appel previously said.
For months, Belmont Cragin neighbors have circulated a petition that now has more than 750 signatures from neighbors who have opposed the festival.
Fabian Cisneros of the Northwest Side Community Development Corporation is among the lead organizers pushing to block the festival because of the lack of transparency from promoters and the Park District. He wants Park District CEO Rosa Escareño to meet with neighbors as soon as possible so she can understand the urgency around the festival's decision, he said. 
"We've tried emailing her [Escareño]. We've tried all these avenues and still haven't gotten anything. We're still frustrated. Can you please reach out to one of us, please?," he said.
Watch our "On The Block" TV show on The U, CW26 and MeTV.
Listen to "It's All Good: A Block Club Chicago Podcast":