BRONZEVILLE — Teresa Smith isn't giving up.
A year after a judge acquitted the man accused of murdering her mother, Daisy Hayes, and dumping her body in an Indiana landfill, Smith now fights to honor the memory of her mother and other missing and murdered Black women still waiting for justice.
Smith was one of over 100 participants in the sixth annual "We Walk For Her" march Wednesday night, a youth-led event organized by Kenwood-Oakland Community Organization's Girls Who Lead. The march called for action and answers for the families of Black women who have been murdered or gone missing.
According to The Murder Accountability Project, over 50 Black women between the ages of 18 and 58 have been murdered on the South and West sides since 2001. Some bodies have been found in dumpsters, others in vacant lots.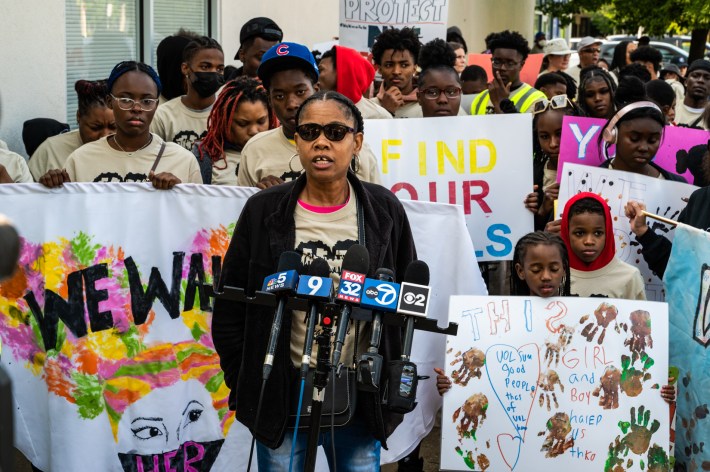 What is happening in Chicago is part of a larger, more disturbing trend across the country. Black girls and women are only 15 percent of the U.S. female population, but of the over 268,000 girls and women reported missing in 2020, more than 90,000 — nearly 34 percent — were Black, according to FBI statistics.
Cases involving them also tend to stay open four times longer than average, according to advocacy groups. The women and girls are often characterized as "troubled" runaways, making law enforcement less likely to pursue.
The marchers made their way down King Drive carrying signs like "Say Her Name" and "Find Our Girls." Participants include mothers and daughters, fathers and brothers and some as young as 5 years old, all fighting to keep the missing women's memories alive.
That includes people like Smith, who said she channels her grief into helping others.
"I'm here because it's what my mother would've done. She was the type of woman who'd give you the shirt off her back," she said. 
Dawn Hale Mayberry heard about the march from her daughter, a student at Dyett High School in Bronzeville. The two were joined by Mayberry's other teen daughter, the three locking arms as they marched down the boulevard. For Mayberry, seeing her children take action gives her hope that things can change. She's also hopeful that, with a new mayor in City Hall, more will be done.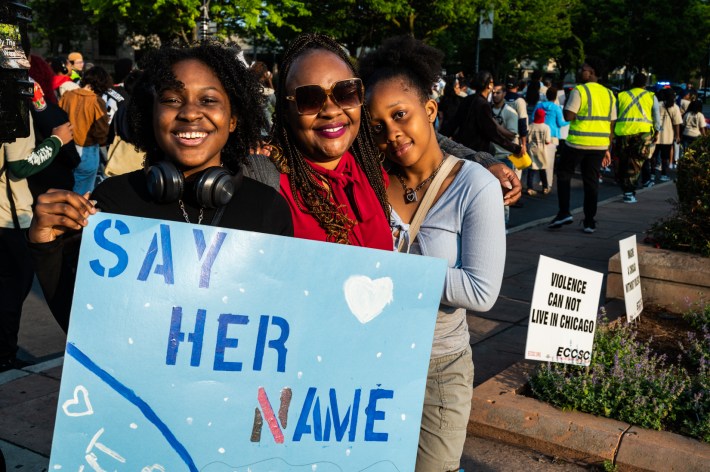 The mom told Block Club that she's had "the talk" with her children.
"Parents talk to their boys about what to do if they encounter police. We talk to our girls about how to avoid white vans, how to deal with men, how to get away from men," Hale Mayberry said. "This is my biggest fear."
The news coverage of the missing and murdered touched her heart, she said. She plans on returning with her daughters next year.
Some progress on the issue has been made in the six years since the march began.
In 2019, Chicago police and the FBI created a joint task force to tackle the cold cases through DNA matches. The Cook County Sheriff's Office launched an investigative division in 2021 to reopen missing persons cases, focusing first on women. State Rep. Kam Buckner and former congressman Bobby Rush pushed for a federal task force, the latter writing letters to Attorney General Merrick Garland and FBI Director Christopher Wray demanding action.
Locally, former Mayor Lori Lightfoot unveiled a $25 million plan in September 2021 to combat sex trafficking and intimate partner violence, facing criticism from experts who believed the initiative fell short of addressing what the city would do to find the dozens of missing Black women.
There's been some action in other states as well. Minnesota launched a task force to find their missing and murdered Black women and girls in 2021, becoming the first state to tackle the issue head-on.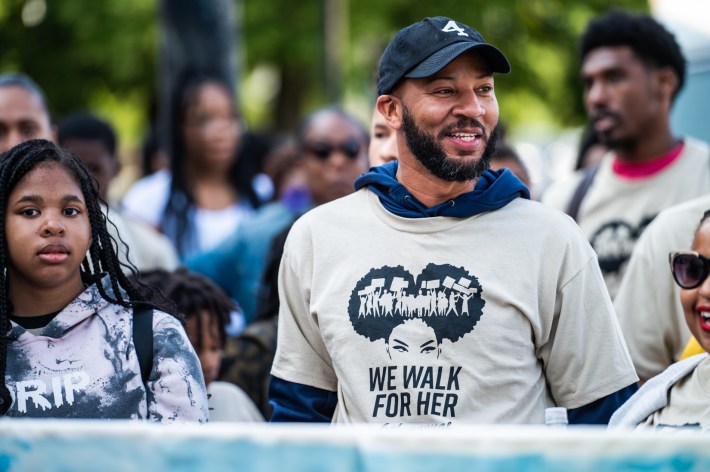 But the marchers say more needs to be done.
Earlene Braggs recalled the cold response she received from police when she reported her friend, Nikita Jackson, missing 15 years ago. The case eventually went cold, leaving Braggs and Jackson's loved ones searching for answers. Some time later, Braggs found out from a friend, a detective, that the case had been closed.
"[The police] weren't responding because she was a prostitute and she was on drugs, so she was irrelevant to them. 'Maybe she went on a trip,' they told me," said Braggs.
The mom hopes to see some changes in how law enforcement deals with families searching for loved ones, particularly those from marginalized communities. She's also optimistic that Mayor Brandon Johnson will do what he can to change things, noting that he attended last year's march.
"I have high hopes. Right now he's trying to figure out which way to go but I do believe he's here to make a difference," Braggs said.
Smith isn't as certain, preferring to place her faith in the people instead.
"They come out here, do what they need to do to get elected and that's it. So we have to keep making noise and stick together as a community to put the heat under their feet. Other than that, we'll never get anything done."
Watch our "On The Block" TV show on The U, CW26 and MeTV.
Listen to "It's All Good: A Block Club Chicago Podcast":