LOGAN SQUARE — About six months after abruptly closing, neighborhood favorite Boiler Room is reopening this week as the second outpost of Bucktown spot The StopAlong.
The StopAlong at Boiler Room's grand opening is 11 a.m.-10 p.m. Thursday with small pizzas and garlic knots for $6 (limit one per person) and free ice cream cones from a local ice cream truck.
To start, the pizza and burger restaurant at 2210 N. California Ave. will be open 11 a.m.-10 p.m. Thursday-Sunday. Owners Taylor Hammond and Robert Magiet said they plan to expand the hours as they bring on more staff.
Hammond and Magiet fashioned the restaurant after the original StopAlong at 1812 N. Milwaukee Ave., bringing in colorful decor, arcade games and a menu of StopAlong staples.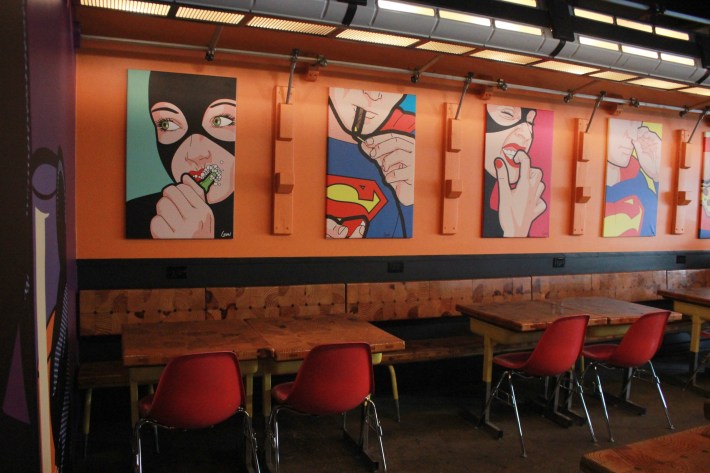 Boiler Room's signature slices are no more. The Logan Square spot now serves StopAlong pizza, which is similar in style but made with a different recipe. The owners replaced Boiler Room's old bar stools and ripped out the tight booths, though the early 1900s boiler for which Boiler Room was named is still integrated into the bar.
"We've got a brand that resonates with people — food, service and a vibe that resonates with people — and so we're confident that if people give us a chance, [this restaurant] will resonate with people, too, even the old Boiler Room faithfuls that weren't expecting this," Hammond said.
Known for its New York-style slices, PB&J special and casual vibes, Boiler Room quietly closed in November after 12 years on Logan Square's California Avenue.
Russ Grant, who ran Boiler Room's day-to-day operations, said they were forced to close the restaurant because the business was suffering financially and employees had stopped showing up to work.
But many in the neighborhood, including restaurant employees, were caught off guard by the sudden closure.
Workers said they were laid off without any warning as the owners were covertly gearing up to sell the business.
Magiet and Hammond bought the business and took over the former owners' lease, in hopes of reviving the Logan Square staple and expanding The StopAlong. The two got the keys after about two months of negotiations, they said.
"There wasn't anything about Boiler Room we weren't attracted to," Magiet said in January. "The thought of having a larger space, being able to put on more community events, private parties, easing the stress of delivery orders. Everything about it made sense to us."
Hammond said they're excited to welcome neighbors back to Boiler Room after several months. Right now, the only indication the restaurant has changed are new stickers on the door, but they plan to install a StopAlong sign soon to cement the transition, he said.
"The concept of it has changed a little bit … It ended up being a little more of a pure, straight-up StopAlong than we expected at first, but as we went through the process, that increasingly made more and more sense," Hammond said. "This is what we know and this is what we're about."
Watch our "On The Block" TV show on The U, CW26 and MeTV.
Listen to "It's All Good: A Block Club Chicago Podcast":