AUBURN GRESHAM — Yellow Banana will open a "reimagined" Save A Lot grocery store on the South Side this summer, three years after the stores previous owners shut it down.
The new Save A Lot at 7908 S. Halsted St. will be a "quality neighborhood grocery store neighbors can be proud of," owners said Tuesday at a community meeting with a few dozen neighbors at the Healthy Lifestyle Hub, 839 W. 79th St.
Previous owners closed the Halsted Street store "quickly and abruptly" in February 2020, days before the onset of the global pandemic, said Ald. David Moore (17th), whose ward includes the store.
Yellow Banana, the majority-minority-owned company that now owns and operates Save A Lot stores, received $13.5 million in TIF funding and another $13 million in New Market Tax Credits and private funding to buy and revitalize six stores on the South and West sides, including the Auburn Gresham store. 
Construction began on the store last week, said Joe Canfield, Yellow Banana co-founder. 
The store will "undergo a complete transformation" that will include a new roof, parking lot, refrigeration equipment, floors and lighting, Canfield said. 
If all goes as planned, the "reimagined Save A Lot" will reopen its doors to customers by mid-July, Canfield said. 
The 17th Ward has "fought to get businesses back into this community" ever since the old Save A Lot closed, Moore said. 
In recent years, a CVS, a Bank of America branch and a BJ's Market and Bakery have also closed in the ward. In June 2022, a local Aldi unexpectedly closed, shocking neighbors. Most recently, a Walmart Supercenter in nearby Chatham also closed.
It's been "hard and challenging to beg people to come to our communities," Moore said. If Yellow Banana hadn't stepped in, "we would still be facing a shuttered Save A Lot," Moore said.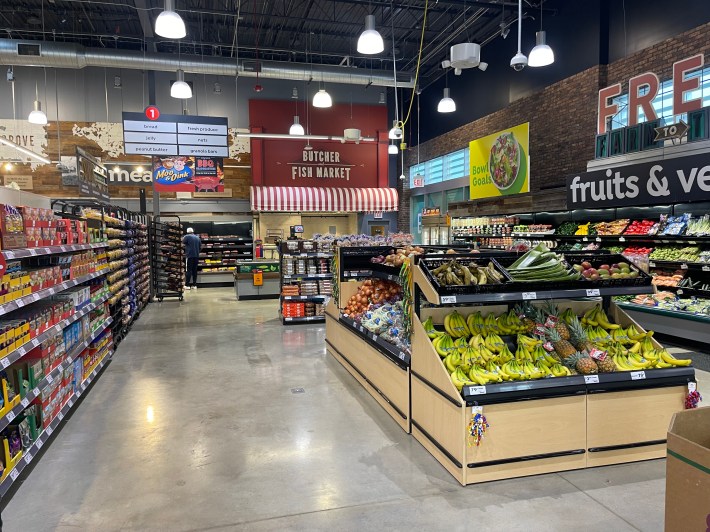 The new Save A Lot would be a three-minute walk from the Healthy Lifestyle Hub, which opened last year inside a 100-year-old building offering medical care, healthy food, banking and educational resources. 
Carlos Nelson, executive director of the Greater Auburn Gresham Development Corporation, which piloted the hub, met Yellow Banana co-founder Michael Nance in 2020 "before I knew anything about Yellow Banana or the potential Save A Lot," he said. 
Nance was committed to Auburn Gresham's Quality of Life Plan, created by neighbors and local leaders to bring investments to areas like the 79th Street corridor, Nelson said. 
"Some of the strategies and tasks that we have laid out in the quality of life plan include services that far exceed what that old, nasty Save A Lot started providing in our community," Nelson said. 
The 79th Street store wasn't one of the locations Yellow Banana initially acquired when they began buying Save A Lot stores across the nation, Nance said.
But Nelson's vision for the community and his work on the Healthy Lifestyle Hub made Yellow Banana want "to be a part of this community and the investment that's going on here," Nance said. 
A year later, when Yellow Banana began applying for funding to buy Save A Lot stores across the city, Nelson stepped in to help, Nance said.
"We're focused on a high-level, reimagined Save A Lot," Nelson said. "Not the old type of Save A Lot that we were used to, but something we can reimagine together."
Yellow Banana will employ people from the community for its stores, Canfield said. The company is hosting a job fair 10 a.m.-2 p.m. Thursday at St. Sabina Church, 1210 W. 78th Pl.
The company is partnering with local vendors to stock its shelves and supply its produce, Canfield said. They've already met with Richard Kirkpatrick, who runs the local garden at St. Sabina, and they'll soon work with the Black Farmers Association, Canfield said. 
The store will also hire a full-time community outreach associate whose job is to "do nothing but engage with all the various community organizations," Canfield said.
"We want to be a neighborhood grocer, and that means being involved in the community," he said. 
For neighbors, some of their top concerns were security and how the store will protect its customers and prevent theft. Yellow Banana closed its Washington Park store indefinitely after at least two break-ins last month.
The Auburn Gresham store will have exterior lighting and cameras, Canfield said. After an incident at another store, Yellow Banana will also replace armed security guards with on-staff unarmed security "who walk around the store," Canfield said.
Some neighbors also expressed concerns about the grocer's quality and cleanliness.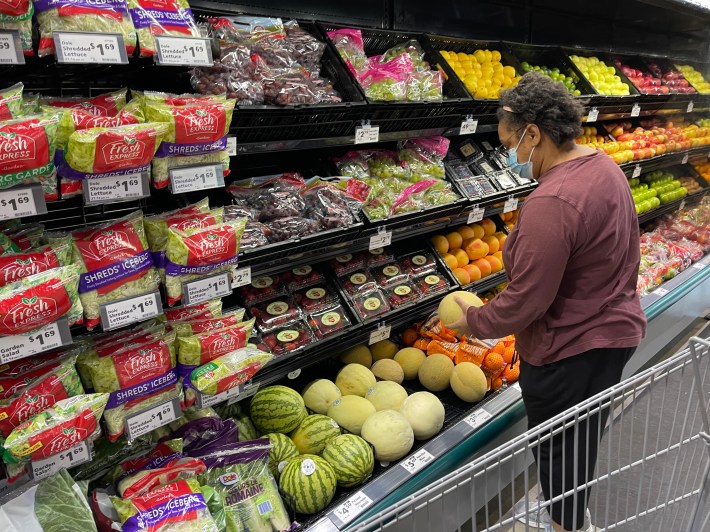 Yellow Banana also operates a Save A Lot, 832 W. 63rd St. in Englewood, which opened quietly in May after months of pushback from neighbors who demanded another grocer replace the vacant Whole Foods Market.
But despite initial turmoil in the community, "several hundred customers" visited the Englewood store the day it opened, Nance said.
"We opened up that store against the wishes of some we think are a minority of that community, and people in that community voted with their feet," Nance said. "We are going to start publicizing, putting up the right signage and getting that store finished, but, ultimately, the feedback we've gotten from people is, 'Wow, I had no idea this is what a Save A Lot could look like.' We want to bring that model and look to these other stores."
Most neighbors at the meeting said they were excited about the news of the revamped store and praised Yellow Banana owners for making the investment in the neighborhood. 
Juanita Love, an Auburn Gresham resident for decades, was "in the midst when Save A Lot was closing up," she said.
She stood "right in front" asking why the store was leaving when neighbors, especially seniors, needed a nearby, affordable store. Now that she doesn't own a car, having a Save A Lot "right around the corner" will make life easier, she said.
"I thank God for you coming back here with Save Lot," Love said. "We need it."
Jasmine McCalpin, a 79th and Carpenter resident, praised the "beautiful location" at 63rd and Halsted.
"I love it," she said. "I love the food, I love the set up. I love everything about it."
The Auburn Gresham store won't have the same layout as the Englewood store, but it will stock the same products and provide prepared meals to heat at home, Canfield said. 
Yellow Banana will seek and incorporate feedback from the community, Nance said. Company leaders have been "thinking very creatively" about initiatives they can implement in their communities, like a shuttle that transports seniors to their local store, Nance said.
"It's important to us for you to know that we want to deliver a quality product, and we care about what you think," Nance said. "We want to hear your feedback, and we want to do our best to translate that feedback into actions that you guys can see in measurable ways in this grocery store."
Watch our "On The Block" TV show on The U, CW26 and MeTV.
Listen to "It's All Good: A Block Club Chicago Podcast":