GOOSE ISLAND — High school sweethearts who quit their corporate jobs to launch a Detroit-style pizza food truck have opened a new ghost kitchen in Goose Island.
Five Squared Pizza, now located at 1332 N. Halsted St., sells pies by the slice where customers can mix and match from a rotating menu of styles, ranging from classic pepperoni to tie-dye with various sauces.
The pizzas, which come in five-by-five-inch slices, are delivered cold with warming instructions so customers can heat them in their oven for about 10 minutes before serving. Everything is made from scratch, said Steve Kaplan, who co-owns the business with his wife, Jenn Kaplan.
"That's what really makes us unique," Steve Kaplan said. "We were on the Detroit trend pretty early for Chicago. It's like the donut experience where you can fill your pizza box with four slices of whatever styles you want, and then we allow you to heat them at home so they're good for three-to-four days."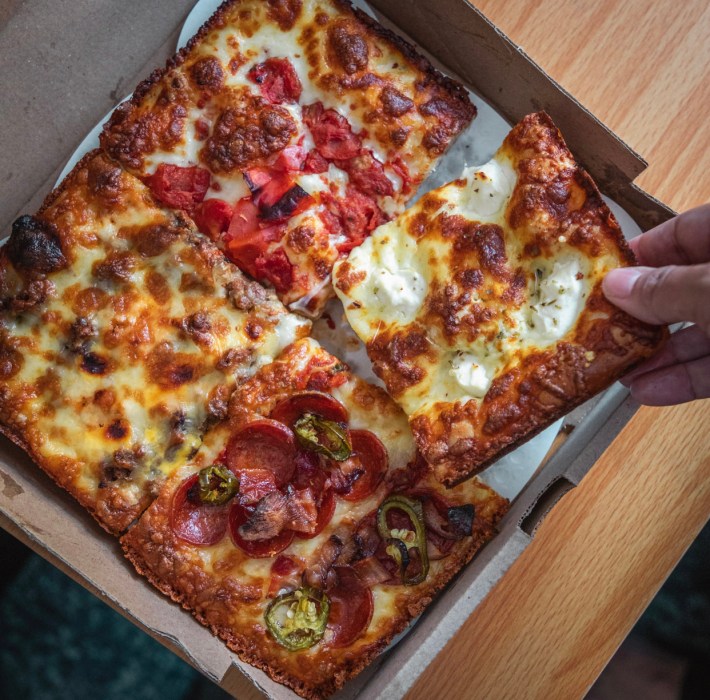 The new ghost kitchen, which occupies the basement under Big Fat Cookie, opened in late May, Steve Kaplan said. The move takes the pizzeria from a West Side ghost kitchen to a location closer to its clientele, the owners said.
Five Squared's pies have been a hit at breweries like North Center's Begyle Brewery, where the owners do pop-ups using a portable oven. Deliveries from their former location in East Garfield Park were already booming on the North Side, Steve Kaplan said.
"Door Dash showed us this heat map of where our orders were coming from, so we saw it was super deep in this area, like Lincoln Park, Lakeview and River North," Jenn Kaplan said. "We used to wish we could move our kitchen to this area, so when this new space came up, we jumped on it."
Steve Kaplan had already been dreaming of starting his own food truck when he got the idea for Five Squared Pizza in 2019.
He was working in tech sales at the time but had six weeks off to do nothing but binge "Game of Thrones" and cook meals throughout his recovery from a small surgery, Steve Kaplan said. After cooking Detroit-style pizza and wings for some friends one Friday night, the idea dawned on him.
"I immediately knew this pizza was the food truck," Steve Kaplan said. "So I spent days refining the recipe by trying new things and having different friends come over to taste it. I had this notebook where I sketched the food truck. Then we found a truck, and everything suddenly was real."
Steve Kaplan then had coffee with his boss at Salesforce and broke the news he'd be quitting to pursue his dream, he said.
"He and everyone was very supportive," Steve Kaplan said.
Jenn Kaplan, who was working as a project manager at the time, also quit her job to help her husband with the business, she said.
The two got their start selling warm pizzas out of their food truck at breweries across the suburbs, Steve Kaplan said. A ghost kitchen at the Hatchery in East Garfield Park served as their production headquarters.
Then the pandemic hit, and the business had to pivot, Steve Kaplan said. They started doing carryout and deliveries and everything took off, the couple said.
"We were only open on Fridays, so we made it a special weekly thing for people to look forward to during COVID, which was really important at the time," Steve Kaplan said. "We'd have a line of people outside our door waiting for pickups, and we started getting more recognition."
The couple sold their food truck to focus entirely on their delivery business, which they hope to expand in Goose Island, Jenn Kaplan said.
"If we do really well in this area, a brick-and-mortar would be amazing," Jenn Kaplan said. "But it's cool we get to test out different areas until then."
Five Squared Pizza is open 4:30-8:30pm Thursdays through Saturdays. It's also doing a pop-up 5-8 p.m. Friday at Begyle, 1800 W. Cuyler Ave., and other pop ups at city breweries this summer.
Watch our "On The Block" TV show on The U, CW26 and MeTV.
Listen to "It's All Good: A Block Club Chicago Podcast":