CHICAGO — Isabella Avila didn't think she'd be able to go to Taylor Swift's concert — let alone meet her idol and take home her signature fedora.
But the 11-year-old Swiftie from the Chicago suburbs was the lucky person chosen to join Swift near the Soldier Field stage Friday during her performance of "22." Avila belted the lyrics as Swift approached her and told her she loved her, too.
Swift then crowned the stunned young fan in her fedora.
"She smelled like cherries and her hands were soft," Avila said. "Everyone was cheering, and I just blanked and looked at the stage. I'm usually a shy person. The whole crowd was looking and I just saw me, my mom and Taylor."
Swift has long had a knack for making her fans feel loved — to the tune of selling out three-straight shows at Soldier Field this past weekend. Fans spilled over into parking lots, while many inside forked over thousands of dollars for the marathon show featuring Swift's greatest hits across her albums.
Each night of the The Eras Tour, Swift has given a young fan a fedora first made famous in the music video for "22." At one of the Chicago shows, Swift tried to pull one "adorable" child on stage, before thinking better of it for safety reasons.
When it came time for Swift to hand out her first fedora Friday, Avila found herself in the right place at the right time — thanks to the dedication of her mom and some help from Swift's parents.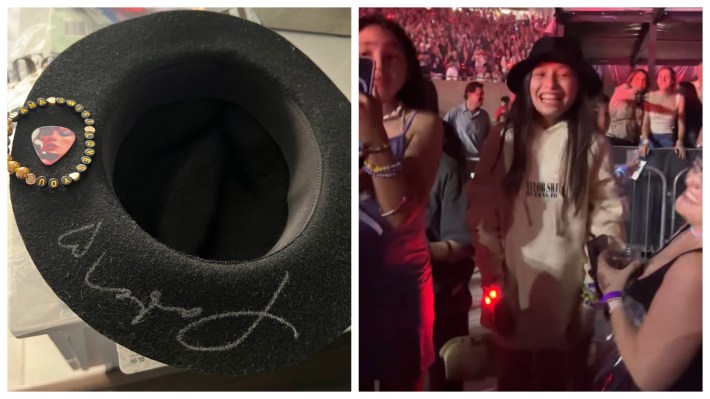 Avila's mom, Tina Avila, originally planned to just take her daughter outside of the concert to listen in and swap friendship bracelets with other fans. Tickets were hard to find, the fees were high and attempts to win radio station giveaways came up empty, Tina Avila said.
"But Friday came and I was sitting at my work computer feeling lucky, just hitting refresh on the ticket pages over and over all day," Tina Avila said. "Two floor seats came through. I was shaking."
The Avila family put the pricey tickets on credit cards and plan to pay it off as they can, the generous mom said. She then surprised her daughter, a straight-A student, with the tickets.
"We work full-time, didn't come from money, it's not going to break the bank but we didn't want to affect our daughter emotionally. Her friends at school were talking about going to the show," Tina Avila said. "For me as her mom to see my daughter so happy, it was an emotional night for both of us.
"The universe wanted us to have that moment."
From their prime seats, Isabella Avila first spotted Swift's mom, Andrea Swift, in the nearby VIP section, who she "recognized from TikTok."
"I ran up to her to give her a bracelet," Avila said. "And she gave me one back that said 'Mama Swift Loves You.'"
Taylor Swift's dad, Scott Kingsley Swift, gifted Avila a guitar pick.
An hour later, someone from the tour's staff tapped the Avila family and ushered them to the front of the stage.
"Taylor and her family were so sweet. She does it all for her fans," Avila said. "It's hard to believe what happened."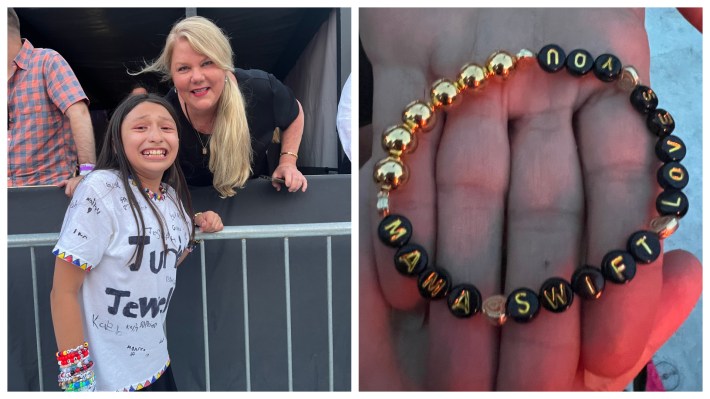 Avila has been a Swiftie — as Swift superfans are known — since the album "1989" came out "when I was 4," she said. Her favorite Swift song is "Cardigan."
It's all a blur, but Avila said she's been quite busy recalling what she can to eager classmates — and teachers, too. The fedora, which Swift signed, will stay securely at home.
Swift also went home with one of Isabella Avila's friendship bracelets. It read "T Swizzle."
"Everyone is stopping me to say that I'm lucky," Avila said. "And all I have to say is that dreams are possible."
Watch our "On The Block" TV show on The U, CW26 and MeTV.
Listen to "It's All Good: A Block Club Chicago Podcast":