DOWNTOWN — Southeast Side residents and environmental activists celebrated last year when former Mayor Lori Lightfoot's administration blocked a controversial metal scrapper from opening in their neighborhood after years of community organizing to "deny the permit."
But after a judge overruled the city's decision last week, giving new life to Southside Recycling's bid to open in East Side, Southeast Siders rallied outside City Hall on Tuesday gearing up to block the permit again.
Public health Commissioner Dr. Allison Arwady denied an operating permit to Southside Recycling in February 2022, preventing the facility from opening at 11600 S. Burley Ave. Southside Recycling was set to take on troubled scrapper General Iron's assets and employees after the facility shut down in Lincoln Park.
Parent company Reserve Management Group spent $80 million to build the East Side facility, company officials said. They appealed the permit denial in the city's administrative hearings court in March 2022.
Southside Recycling met the rules and requirements to receive a permit, and the city must vacate Arwady's decision to deny the permit, administrative law judge Mitchell Ex ruled Thursday.
In the days since, activists have blasted Ex's ruling as an unacceptable rejection of government officials' findings — and of the community's will.
"The [federal government], the city and, most importantly, the community is against this, and yet there was no approach to really emphasize that in this poor ruling," Southeast Side resident Óscar Sanchez told Block Club on Friday. "It's just a lot of frustration and a lot of work still to do."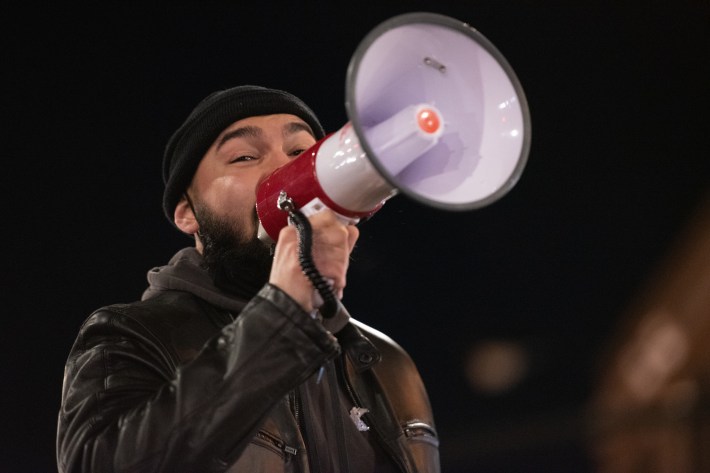 Ex's ruling is a "crushing" decision for Southeast Siders, said Sanchez, who participated in a month-long hunger strike to deny the permit in 2021.
The decision came down one week after Sanchez's grandmother died of respiratory illness, which he attributes to the Southeast Side's disproportionate pollution burden, Sanchez said.
Sanchez said the city needs to incorporate health impact assessments, like the one Arwady cited in her permit denial, in all future permitting and zoning decisions in the wake of Ex's ruling.
"We need this to be at the forefront … having community input be part of the actual decision-making," Sanchez said. "We need to have a health impact assessment be part of this decision-making for our health."
Ex overturned the permit denial in part because the health impact assessment's "critical" role in the review process wasn't backed by city law, the judge said. Arwady did not have authority to use the assessment results as a basis for her decision, he said.
The judge's ruling is like "a slap," Cheryl Johnson, executive director of People for Community Recovery, said at Tuesday's rally.
With the ruling, the judicial system has told Southeast Siders they "don't have the right to breathe clean air … and to have a healthy community," Johnson said. Her organization was one of several which filed a civil rights complaint that led federal officials to determine the city discriminated against Black and Brown residents by moving polluters into their neighborhoods.
"Environmental racism needs to stop in the city of Chicago," Johnson said.
Ald. Byron Sigcho-Lopez (25th), who participated in the Southside Recycling hunger strike for more than a week, and Rep. Marcus Evans spoke in support of the activists at Tuesday's rally.
"It is unacceptable and unconscionable that an administrative judge has taken it upon himself … [to rule] in direct contradiction to what the actual city departments and the due process have found," Sigcho-Lopez said.
Ald. Peter Chico, elected in April to represent the 10th Ward where Southside Recycling would be located, did not respond to Block Club's request for comment and did not attend the rally.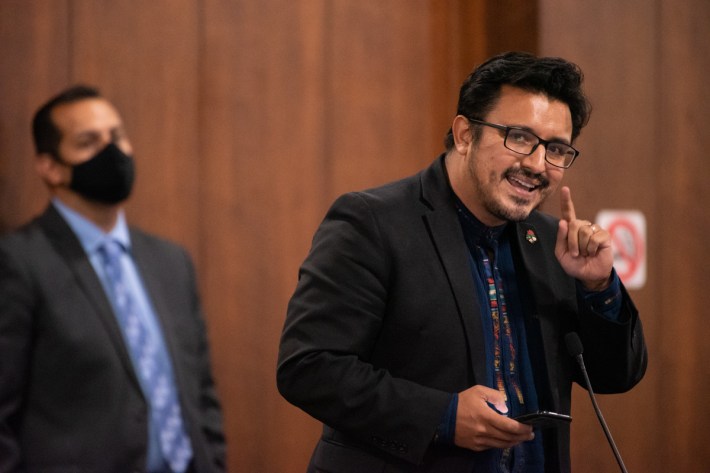 Mayor Brandon Johnson immediately pledged to appeal Ex's ruling last week.
The mayor "stands firmly behind [the health department's] permit denial and the comprehensive review that led to it," and praised "the grassroots organizers and activists who have long fought for environmental justice in our city" for their work, he said last week.
The city has 35 days from Thursday's ruling to appeal and will do so in Cook County Circuit Court, Law Department spokesperson Kristen Cabanban said.
Cabanban declined to answer Block Club's questions about whether the city will review or take action on Southside Recycling's permit application before a ruling is issued on the appeal.
She also declined to answer whether Ex's ruling will have any impact on former Mayor Lori Lightfoot's executive order and settlement with the federal government to reform city policies toward environmental justice.
"The City has no comment as this matter remains in active litigation," Cabanban said.
Environmental activists have faith in the Johnson administration to take their side given the mayor's track record as a union organizer, said Olga Bautista, executive director of the Southeast Environmental Task Force.
"They made a commitment that they were going to appeal, so we have no reason to believe" they would go back on their word, Bautista said. "If Brandon wasn't the mayor right now and he was [an] organizer, he was always standing with us, so there's no doubt."
Southside Recycling sued the city nearly two years ago for more than $100 million in damages, alleging the city breached its 2019 agreement to help the company move to the Southeast Side.
That suit is now on hold due to Ex's ruling, and "damages continue to accrue every day" the facility remains closed, said Randall Samborn, spokesperson for Reserve Management Group.
Samborn declined to comment on Johnson's pledge to appeal.
Southeast Siders are sick of playing "whack-a-mole" and fighting environmental injustices on a case-by-case basis, they said Tuesday.
If allowed to open, Southside Recycling would be the third industrial facility to move to the South Side from the Lincoln Yards megadevelopment site in mostly white Lincoln Park, after Finkl Steel and the city's Fleet and Facility Management headquarters.
But residents have no other choice but to renew their fight against the metal scrapper's plans, they said.
As the "deny the permit" campaign continues, organizers will also keep pressing for bigger-picture solutions like a strong city cumulative impact ordinance and state legislation to strengthen industrial permitting regulations, they said.
"We're gonna fight," Sanchez said. "We're gonna fight like we always do."
Watch our "On The Block" TV show on The U, CW26 and MeTV.
Listen to "It's All Good: A Block Club Chicago Podcast":