CHICAGO — A Chicago-based queer indie rock band is playing shows throughout Pride Month to celebrate the drop of their debut album exploring LGBTQ+ joy, community and identity.
"Be Gay Have Fun!" from Pinksqueeze was released in May. The group has gigs throughout the Midwest all month, including a June 23 show at the Logan Square Arts Fest.
You can keep up with Pinksqueeze, sign up for their email list, buy tickets to shows and more here.
Four-member band Pinksqueeze features queer rockers Anna, April, Ava and Logan, who asked to go by their first names. All moved to Chicago over the last few years and came together through "fate meetings."
Ava and April met first, connecting through an online forum called Chicago Queer Exchange, they said. The duo started creating music together, playing at comedy and variety shows around the city, and eventually joined forces with Anna and Logan.
"We just kind of started hanging out, jamming, songwriting, recording some demos, and we really kept it just the two of us for a while," said April, 30. "We always wanted a full band, but it was really important to us that the band was all queer people who were not men, which is kind of rare to come by in the music scene."
The group has been working on original music, both solo and collaboratively, for years. They've played at venues across the city, from friends' living rooms to The Cubby Bear, Elbo Room, Sleeping Village and Cobra Lounge.
Creating their 13-track album is their biggest-ever project, they said.
"It was always our intention to record and perform as much as possible," April said. "It just kind of takes time to build those things up."
The band also released four music videos leading up to the album's release: "Straight Girl Crush," "Couch to 5K," "Holy Critter" and "I'm Thinking of Ending Things." You can watch them online.
The album's title comes from a phrase the group said during their pre-show ritual, which includes setting intentions and an onstage pinky squeeze handshake.
"We were throwing out different titles for the album of what we wanted our first, debut full-length album to be," said Ava, 27. "That was just kind of one of the ones that we threw around and it just kind of stuck as, 'Okay, this encapsulates and kind of says what we want to say.'"
They sing of an uncertain and unrequited love in "Straight Girl Crush," explore mental health in "Midday Midnight" and reminisce on growing up queer in "When We Were Kids."
Throughout the project, Pinksqueeze also humorously critique gender norms and the sexism they face in the industry. In the fun and messy "WTF is Bubblegrunge," the group mocks the genre blending grunge and bubblegum pop, which they say essentially spins off female rockers into a separate category.
"Oh, so you think there's not space for women or non-binary people in rock and roll? Oh, you don't know your music history very well, you chump," the lyrics read.
Pulling from punk, emo, indie, grunge and folk, the album is "a beautiful mix of genres" and authentically represents each member's musical personality, members said.
"People that know and listen to our music say, 'Oh my gosh, I can hear you all four in here,'" Ava said.
There are nods to various artists and groups that inspired Pinksqueeze: Death Cab for Cutie, Hot Mulligan, Tegan and Sara, Beach Bunny, Soccer Mommy, Remember Sports, Disaster Kid, Chicago-based band Damager and more.
"After we wrote ['Queer for Clout'], I was like, 'Oh, does this sound too much like a Damager song?" Ava said.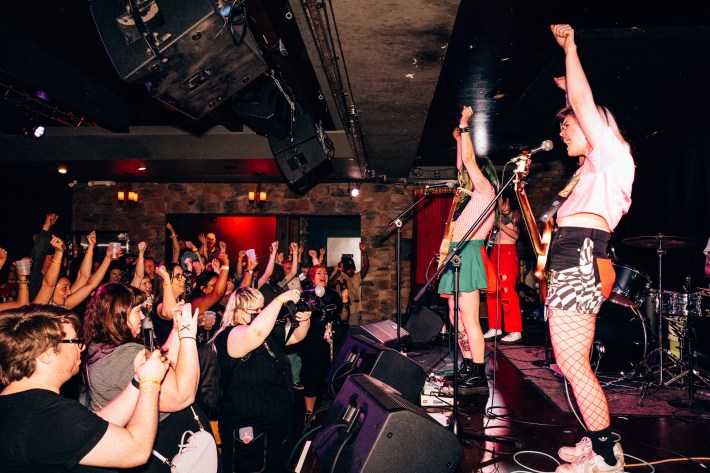 Pinksqueeze members said they hope people listening to the album feel the band expressing queer joy purely and unapologetically, which is lacking in media.
"There's very few movies and shows or anything that are not really depressing, sad representations of queer lives, which makes sense grounded in a lot of the historical circumstances that queer people have had to endure," said Anna, 26.
"And still even today," Ava added. "Our trans community is going through such a scary time right now."
While the group doesn't want to ignore the struggles LGBTQ+ people face, they said it's important to showcase how beautiful and joyful being queer can be.
Fans recognized that exuberance in Pinksqueeze's performances, which inspired the group to lean into the album's concept, they said.
"That is something that became really clear to us performing," April said. "Some of the most impactful feedback that we were getting from audience members was just that. That we were unapologetically queer and joyful about it and made a fun and safe environment that isn't always the easiest to come by."
Support from Chicago's DIY music community also helped make this album possible, the group said.
"We just really got embraced and swept up in this very supportive music community, and I think a lot of the bands in our community really push each other to keep moving forward," April said.
You can stream Pinksqueeze's discography on Spotify.
Watch our "On The Block" TV show on The U, CW26 and MeTV.
Listen to "It's All Good: A Block Club Chicago Podcast":