CHICAGO — One of Chicago's leading affordable housing providers has been forced to give up control of all of its local properties after it struggled to financially stay afloat during the pandemic.
On May 11, the city of Chicago filed a motion in Cook County Circuit Court to appoint a receiver for Heartland Housing's 14 affordable housing properties across the city, and a judge granted the motion four days later. That effectively took day-to-day control of those buildings from Heartland Housing and turned it over to The Habitat Company, a prominent Chicago real estate firm that manages a wide range of properties, from public housing to high-rent luxury buildings.
A receiver is a court-appointed officer that acts as a neutral party to manage assets or properties when they are not being properly maintained or fall into legal or financial trouble. In its motion asking the court to appoint a receiver of the Heartland buildings, the city cited unpaid utility and trash bills, building code violations and the expected loss of its property insurance.
The lapse in insurance coverage could potentially impact low-income tenants by putting government subsidies at risk, the city stated in court filings. Those subsidies help keep rents affordable for the tenants of more than 800 units in those buildings.
"Heartland Housing is no longer able to manage its Chicago properties … as of May 31, 2023," the city's motion said.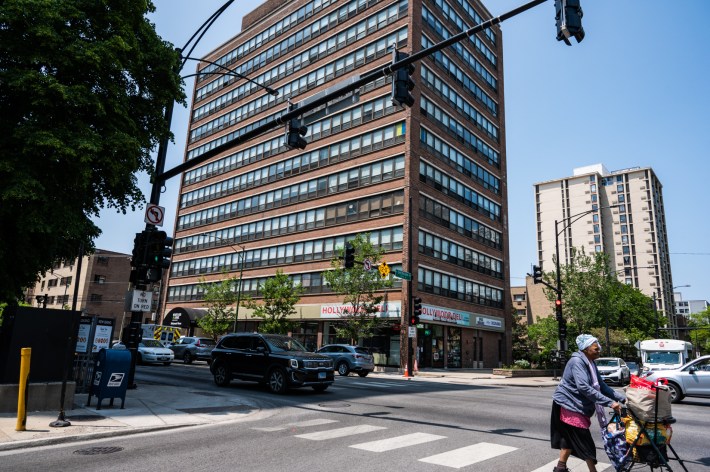 Under the receivership, all 14 properties can continue rent collection and maintain utilities and insurance coverage, according to the city's Department of Housing. In a written statement, a department spokesperson said the city worked with federal and state officials, the Chicago Housing Authority and other city departments on a "coordinated effort" to "stabilize the properties and ensure tenants remain housed."
"Insurance has been secured for these properties, as well as continuity of property management services, as a result of the receivership efforts," the statement said.
Heartland Housing is a division of the Heartland Alliance, a nonprofit social service agency. A Heartland Alliance leader said economic conditions coming out of the pandemic made it difficult for the agency to sustain the properties.
"During the pandemic, federal mandates limited our ability to pursue rent collection and at the same time, rising inflation dramatically escalated our operating costs," Ed Stellon, Heartland Alliance's chief external affairs officer, said in a written statement. "We've also experienced the same staffing crisis as everyone else. In the end, despite our best efforts, these challenges proved too much for Heartland Housing to overcome financially."
Heartland Alliance attempted to sell its housing division, but the deal fell through, leading to receivership, Stellon said.
Officials at The Habitat Company could not be reached for comment.
Heartland Housing Properties Had Numerous Building Code Violations
The city cited at least 11 of Heartland's 14 properties for building code violations since last summer, including some as recently as March and April, according to the city's court filing.
Most of the buildings were cited for failure to provide "hot or tempered" water, install and maintain smoke detectors, remove garbage and "excessive" debris, and maintain utilities and equipment "in safe and sound working condition."
But those weren't the only citations. At Parkway Apartments, 712 W. Diversey Parkway in Lakeview, Heartland Housing failed to properly maintain the elevator or clean out debris, water and live rodents from the elevator pits, according to city filings.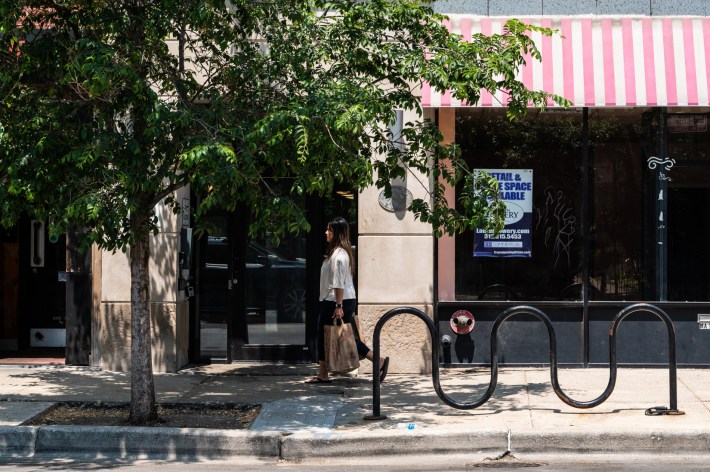 At San Miguel Apartments, 907 W. Argyle St. in Uptown, Heartland Housing neglected fixing damaged walls, ceiling tiles and lintels above windows and doors.
In March, private companies also filed three separate liens against Heartland Housing properties for unpaid repair work totaling $11,250.
For some current and former residents, signs of the organization's financial troubles were apparent for years.
Nanna Cross, a former resident at Hollywood House, 5700 N. Sheridan Road in Edgewater, told Block Club Chicago the building used to have security, until one day they stopped showing up.
"They completely took it away and the residents were very upset about that," Cross said.
Last July, Cross left Hollywood House and moved into a condo where she says she feels much safer.
Glenda Monet, a current Hollywood House resident, said garbage has sometimes piled up for two weeks before being picked up. At times, the phones in the building stopped working.
"If we needed something or needed help, we couldn't call down to the front desk," Monet said.
Since security was taken away, residents have been taking turns sitting at the front desk to make sure packages get delivered safely, Monet said.
Heartland Housing was under fire in April for removing security guards at Town Hall Apartments, its LGBTQ+ senior apartments at 3600 N. Halsted St. in Northalsted.
Residents there said removing the building's security was an act of discrimination based on age, ability, sexual orientation and gender identity. At the time, Heartland Housing failed to openly discuss why they took security away, shielding their financial woes from the public.
Heartland Housing also owns Harvest Commons, 1519 W. Warren Blvd. on the Near West Side; Mae Suites, 148 N. Mayfield Ave. in Austin; The Leland, 1207 W. Leland Ave. in Uptown; Karibuni Place, 8200 S. Ellis Ave. in Chatham; Los Vecinos Apartments, 4250 West North Ave. in Humboldt Park, an apartment building at 1235 S. Sawyer Ave. in North Lawndale; an apartment building at 1251 S. Sawyer Ave. in North Lawndale; and an apartment building at 4100 S. Drexel Ave. in Oakland, according to court records and Heartland Housing's website.
Status Of Heartland Housing's Invest South/West Property Unknown
In 2021, Heartland Alliance was part of a winning proposal to redevelop the Laramie State Bank in Austin under the city's INVEST South/West Program. That development broke ground in November with $47.7 million in city funds pledged to the conversion.
RELATED: A West Side Landmark Will Be Redeveloped Into A Museum, Cafe And Business Incubator
A highlight of the project spearheaded by Austin United: 78 mixed-income apartments to be built during the first phase of construction. According to Urbanize, a full building permit was issued for the project in January.
But later that month, city officials started to express concerns about Heartland Housing's financial status and its impact on the Laramie Bank project, according to emails obtained by Block Club.
In an email to a city Department of Housing official, Earl Chase, executive director of Heartland Housing, disclosed that his agency was parting ways with Heartland Alliance, the organization's sole financial backer. Heartland Housing was in the process of being purchased by another "not-for-profit affordable housing provider," Chase wrote.
"Subject to all required consents from lenders, partners, and other parties, closing is projected to take place later this year," Chase wrote.
Chase's message was shared with other top city officials, including Maurice Cox, commissioner of the Department of Planning and Development, and Samir Mayekar, then a deputy mayor overseeing economic development. A city lawyer said that Heartland's shaky status could threaten the financing for the bank project.
"The entire deal's credit underwriting is directly implicated with this news," said Adam Walker, assistant corporation counsel for the city.
Heartland Alliance's plan to sell Heartland Housing didn't pan out, leading to the receivership of all of its properties, Stellon said.
In a statement, officials with the city's Department of Planning and Development said a changed partnership structure for the Laramie Bank project is under review "with Heartland Housing being replaced by an experienced residential developer."
"Partnership details are expected to be finalized for a City Council introduction this summer," officials said.
Watch our "On The Block" TV show on The U, CW26 and MeTV.
Listen to "It's All Good: A Block Club Chicago Podcast":