CHATHAM — A South Side husband-and-wife duo will soon break ground on their wine and charcuterie restaurant, bringing their years-long dream to fruition. 
Owners Jacare Thomas and Charlette Stanton will break ground on Park Manor 75 on June 14. They've placed a banner on the brick-and-mortar store at 600 E. 75th St. to signal their arrival.
Park Manor 75 will bring craft cocktails, mocktails and charcuterie boards — a craft Stanton mastered during the pandemic — to Chatham, the owners said. Neighbors can expect a low-key space that prioritizes low drum music, local artists' work on the walls and community events that expose residents to the art of charcuterie making and wine tasting.
Construction work will include renovating the interior and exterior of the building while "preserving the integrity of the architecture," Thomas said.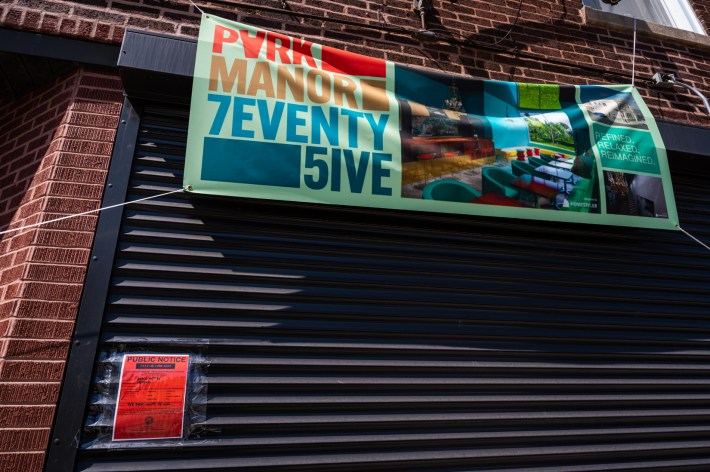 The duo has partnered with Terrence Moline and Dave McClinton, founder and founding partner of the African American Graphic Designers, to create a logo and reimagine the color palette and design of the restaurant, Thomas said. 
"The design is organic, geometric, warm and exciting," Thomas said. "It's all things that are us. We want to be a space that's welcoming to everyone. We want people to feel warm and like they can relax, sit down and chill."
Stanton and Thomas hoped to open their business last August, but permit delays halted their progress, Thomas previously said.  
In November, they received a $250,000 Neighborhood Opportunity Fund grant to begin construction on Park Manor 75. It was their fourth time applying for the grant, Thomas said. 
Thomas and Stanton will also use the city funding to hire two people from the community to work at their restaurant, Stanton said. The two new full-time staffers will earn "a living wage, not minimum wage," Stanton said. 
To "intentionally make space for neighbors," Thomas and Stanton will also host community activities and biweekly "salons" where the community can have "meaningful conversations about pertinent topics," the owners said. 
Park Manor-themed activities include monthly wine tastings, free charcuterie classes and sommelier classes for younger neighbors "to be exposed to a prestigious field," the owners said. Tuesday's "Morning Brew" meetings will offer a space for older neighbors to enjoy fresh coffee and chat.
Thomas and Stanton have been "listening for issues" neighbors might have with their wine and charcuterie business, the owners said. They've added safety measures — like reducing capacity, installing outside lighting and hiring security — so neighbors can be proud to have Park Manor 75 in their community, the owners said. 
"We're designed to be a different type of experience reminiscent of earlier times on 75th Street," Thomas said. "Some of what we're doing is not typical. We want people to see that this is going to be something different." 
The dream is to bring a James Beard Award to the 75th Street corridor, the owners said. Park Manor 75 has the potential to be the foundation for businesses to come to Chatham, the owners said.
"We hope that what we do is a model of how we can be creative with the space in our community," Thomas said. "We want to be a catalyst for other people coming into our community or who live in our community to invest in the other buildings on our block."
Park Manor 75 will be open 2-10 p.m. Sunday-Wednesday and 2-11 p.m. Thursday-Saturday.
Watch our "On The Block" TV show on The U, CW26 and MeTV.
Listen to "It's All Good: A Block Club Chicago Podcast":